Globe-trotting gastronomy: Sampling Zanzibar's culture melting pot of dishes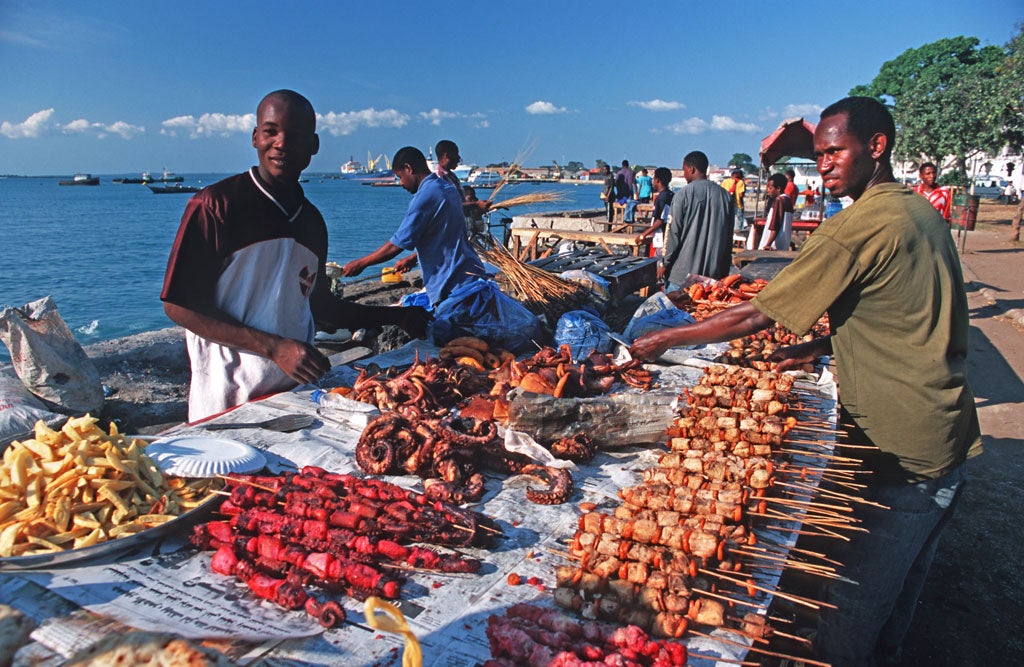 When I was last in Zanzibar, it was both just as I remembered it as a child and not at all. Today the old spice island is a hip holiday destination with posh hotels along its scenic coast. But I knew it when it was assuredly itself, not having to wheedle moneyed foreign visitors, who fly in and out and soon forget. Thankfully, underneath the tarty make-up, old Zanzibar is still there, just. With so many layers of occupation, it's a wonder it hasn't sunk to the bottom of the sea.
The Bantu were the first settlers; then, in the 9th century, Arabs and Persians turned up. The Arabs started clove-farming using black slave labour. The isle has seen bleak times. The Portuguese arrived next and fought winning and losing wars with the Arabs, until finally skulking off. Indian merchants sailed over, Chinese travellers dropped in. The British took charge after slavery was abolished and German rule cowed the place for a short while.
Each nationality left its mark. Coconut palms were introduced by Hindus; the Portuguese brought avocados, chillis and cashew-nut plants from Brazil. Ancient travelogues describe Zanzibari rice, ghee, groundnuts, cassava, wild fowls, pulses. In 1505, a Portuguese sailor noted that besides honey, maize and meat "Zanzibar produces sweet oranges, lemons, pomegranates and sugar cane". Quite a bounty.
My mum was sensual, loved food and perfumes, films and music, and Zanzibar, the place of fabulous food, scents and secret delights. She saved up all year and took me there so often that its sea, smell, sounds and culture got embedded deep in my psyche. I speak the local language, Swahili, and as soon as I land, I feel as if I've not been away.
We used to take a ferry over from Dar es Salaam. First the shoreline came into view, white houses with carved Arabian balconies, then smells wafted over. We stayed at a holiday hostel for widows and other needy women and their children. The sea air was considered a necessity for good health. Each family got one room and several mattresses. Food was delivered by local women from the mosque, who cooked in their kitchens every day and then sold it to holiday-makers. Tiffins were brought over by the servants and we paid hardly anything for the most extraordinary grub. You can still get these tiffins. I ordered one when I was last there. On the beach my very British daughter scoffed 'pek bateta – boiled new potatoes halved, sandwiched with a hot red paste and fried in batter, eaten with date ketchup – and masala fish eaten with bread, ending with jugu cake made with flour and unpeeled groundnuts, an exoticised Victorian sponge.
Some posh hotels do serve authentic Zanzibari food. In one I ordered ndizi na kastad, a favourite when I was a chubby young child: bananas in soft yellow custard with cinnamon and nutmeg. At the Serena Hotel in old Stone Town, as the sun sets they have local musicians playing their instruments and singing Swahili laments while fabulous snacks are served – lentil fritters, fried cassava, small mince patties served with coconut and coriander chutney, spring rolls and halva. Paradise would be dull in comparison.
All these goodies and more are also made and sold in Forodhani Square, the bustling, noisy evening meeting place for locals. Though intensely Muslim, Zanzibar has not yet been Saudi Arabised and so men and women mingle here, modestly attired of course. Mishkaki – skewers of small pieces of barbecued mutton – are still as good as decades back, only now instead of chipped enamel bowls, they are served on paper plates. Addictive cassava crisps are fried in great big vats of hot oil, sprinkled with salt and chilli. Sometimes you find corn-on-the cob with a thick peanut sauce, which you must suck fast if you don't want it to drip over your clothes. Then there is the famous Zanzibari "mix", a tangy soupy sauce with lentil dumplings and other stuff eaten with a spoon; it looks like dishwater and leftovers – until you taste it and are blown away.
I have left the best till last. If ever you are there, find a place, not fancy, which serves Zanzibari kuku paka and meat pilau. The first is chicken cooked in coconut; the second, rice, potatoes and meat cooked in a single pot eaten with kachumber – finely chopped onions and tomatoes and fresh chillies. The rice dish was first described by Ibn Battuta, the global explorer, back in 1324 and should never be eaten with cutlery. When I die, I hope my family makes a huge vat and serves it to mourners, a homage to the loveliest of islands where I spent the happiest of days.
Join our commenting forum
Join thought-provoking conversations, follow other Independent readers and see their replies