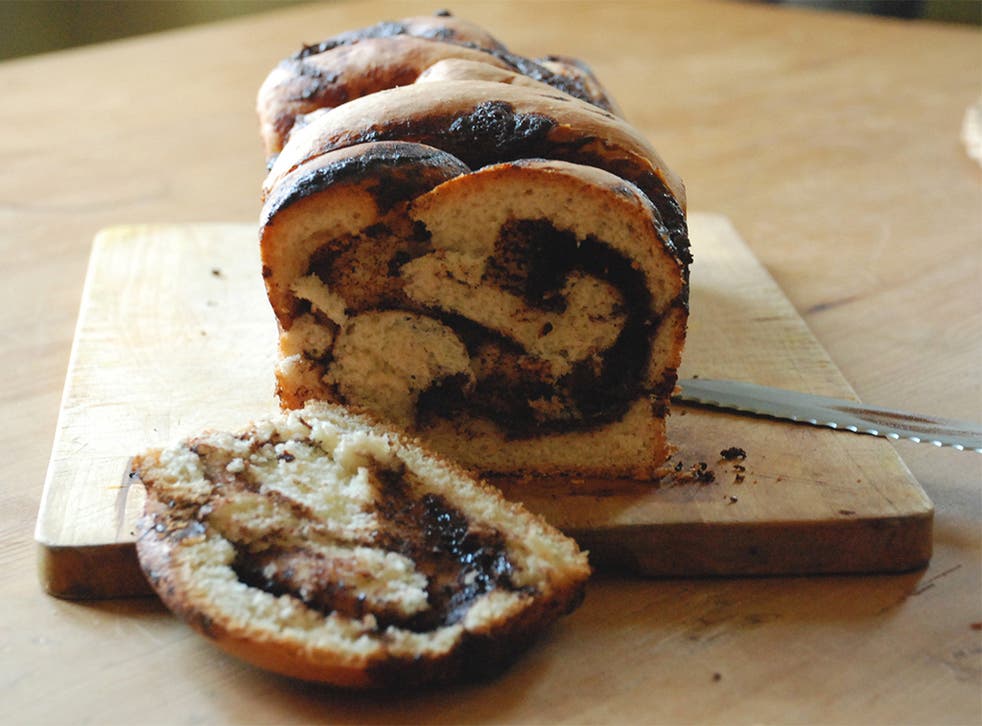 Great British Bake Off: These vegan recipes are a piece of cake
Who needs dairy products anyway?
Mimi Bekhechi
Thursday 14 August 2014 15:24 Comments
The Great British Bake Off is back on our screens, inspiring many of us to dust off the old apron and have a crack at creating the perfect cake or cookie.
Baking can be a great way to bond with children or dazzle friends and family, and the good news is that vegan baking is a piece of cake, if you know where to start. Eggs used as a binding or leavening ingredient in baking can be replaced by a powdered egg replacer, available at all health food shops, and eggs added for moisture can be replaced by something as simple as tofu, apple sauce, pumpkin or mashed bananas.
There are lots of non-dairy margarines in all supermarkets these days, and by using soya milk, oat milk, coconut milk, or any other dairy-free milk in place of cow's milk, you'll be ready to "veganise" all your favourite recipes (or those easy-to-use mixes that call for adding eggs or butter). Also look for non-dairy cream cheese like Tofutti; dairy-free chocolate chips and gelatin alternatives, such as agar-agar. The Joy of Vegan Baking or Vegan Cupcakes Take Over the World are great resources for people new to vegan baking.
If you need some inspiration, just check out the recipes below – as they say, the proof is in the (egg–free) pudding!
Rhubarb, Strawberry and Banana Pie
This vegan rhubarb, strawberry and banana pie is fruity and delicious. The pastry is made with coconut oil with a hint of cinnamon (which you can omit if you are not keen on it).
This pie is best made a day ahead as it does need to cool down completely so that the juices solidify.
If you are unsure about making the lattice top just cover the pie with a plain layer of pastry leaving a hole in the middle so that the steam can come out of the pie while it is baking.
Ingredients (Servings: 6-8)
300g plain flour
4-5 Tbsp coconut oil (solid form)
pinch of salt
2 Tbsp caster sugar
150 - 200ml cold water
1 tsp cinnamon (optional)
600g rhubarb (untrimmed)
500g strawberry
300g banana (without the skin) [3 medium bananas]
200g soft brown sugar + 1 Tbsp for dusting
2 Tbsp cornflour
2 tsp vanilla extract
Instructions
To make the pastry, place flour, salt and caster sugar in a bowl. Mix in the solid coconut oil. Work with your fingers until the oil has been incorporated and the flour looks like sand.
Add cold water little by little working the dough into a bowl. Knead until you have a smooth dough (you might need to add flour or water).
Wrap the dough into cling film and place in the fridge for 2 hours (or in the freezer for 1/2 hr).
When you are ready to assemble to pie, pre-heat the oven to 200°C/400°F/Gas 6.
Line a pie dish with baking sheet. Roll out 3/4 of the pastry on a surface dusted with flour. Place pastry at the bottom of the pie dish.
In a large bowl, trim and cut rhubarb in 1 cm chunks. Add strawberries (hulled and quartered). Add mashed bananas.
Mix well together with sugar, corn flour and vanilla.
Transfer fruit mixture to the pie dish and flatten carefully.
To make the lattice, roll out the rest of the dough and cut long thin strips with a knife (or, if you have one, a fluted pastry wheel). Place one layer of strips on top of the pie evenly spaced. Add another layer of strips perpendicular to the first layer.
Dust pie top with 1 Tbsp of brown sugar.
Place in the oven for 20 mins then reduce oven temperature to 180°C/350°F/Gas 4. Cook for around 1 hour until pastry is golden.
Remove from oven and leave to cool completely before serving so that the juices can solidify.
Lemon Drizzle Cake
Serves 8 -10
13cm x 23cm (5″ x 9″) loaf pan (measured from the top of the pan)
Batter:
250g / 8¾oz / 1 2/3 cups plain flour
2 tsp baking powder
¼ tsp salt
170g / 6oz / ¾ cup + 3 tbsp unrefined caster sugar
2 TBSP maple syrup (or agave syrup)
70ml / 2½ fl oz / 1/3 cup organic rapeseed oil
250ml / 8½ fl oz / 1 cup soya milk (or almond milk)
2 tsp apple cider vinegar
2 TBSP freshly squeezed lemon juice
zest of 2 lemons
Drizzle
juice of 1 lemon
2 TBSP unrefined granulated sugar
Method
Lightly oil the loaf tin and line the bottom with non stick baking paper (or use a loaf tin liner). Preheat the oven to 180C / 350F / Gas 4.
Sift the flour, baking powder and salt into a large bowl. Mix through.
In a separate bowl, whisk together the sugar, syrup, oil, milk, vinegar, lemon juice. Stir in the lemon zest.
Pour the wet ingredients into the bowl with the dry ingredients. Stir until thoroughly combined (but do not over stir).
Tip the mixture into the prepared tin. Place on the middle shelf in the oven and bake for 40 minutes, or until a toothpick inserted into the middle comes out clean.
Meanwhile, place the juice of one freshly squeezed lemon in a small bowl with the granulated sugar. Stir to combine.
When the cake is baked, remove from oven and pierce all over with a toothpick. Spoon the lemon drizzle evenly over the top of the cake. Allow to cool for ½ hour or so before transferring to a wire rack. Leave to cool completely before storing.
The cake will last about 3 days in an airtight container. It also freezes well. If you wish, you can slice the cake into single sized portions prior to freezing.
Notes
- If you use a round cake tin, I suggest testing after 30 minutes with a tooth pick to see if it's cooked through.
Chocolate Beetroot cake
With Beetroot Dust and Beetroot 'Buttercream' Icing
You will need 2 x 8 inch round spring form cake tins for this cake
Serves 12
425g plain flour
75g cocoa powder
11/2 teaspoon bicarbonate soda
1 teaspoon baking powder
Pinch of salt
180g golden caster sugar
400ml soya milk
2 tablespoons white wine vinegar
200ml vegetable oil
2 medium beetroots, peeled and grated
Method
Sieve the dry ingredients first over a large bowl, then stir in the sugar. In another bowl, combine the wet ingredients, then carefully pour into the dry ingredients and combine well. Then quickly stir in the grated beetroot and pour evenly into 2 baking tins.
Bake at 180C / 350F / Gas 4 for 35 - 45 minutes of until a toothpick comes out clean. Cool.
Best decorated the following day.
For the Beetroot 'Buttercream' Icing
115g vegan margarine
170g icing sugar, sifted
1 - 2 tablespoon beetroot juice OR omit this and use red food colouring and use according to instructions.
Method
Place all the ingredients into a food processor and blend until smooth and creamy and the colouring from the beetroot juice is well combined to achieve the colour you require.
Transfer to a bowl and put in the fridge to firm up. When firm, spread over the cake as required.
http://allotment2kitchen.blogspot.co.uk
Banana Nut Cupcakes with Chocolate Frosting
For the cakes you will need:
3 over ripe bananas, mashed
55g vegan butter
200g brown sugar
250g plain flour
1 tsp bicarbonate of soda
1 tsp salt
100g walnuts or almonds
For the frosting you will need:
115g vegan butter
170g icing sugar
60g cocoa powder
1tsp vanilla extract
Dried banana pieces, walnuts or almonds for decoration
14 cupcake cases
Makes 14 cakes
Method
Pre heat the oven to 180C / 350F / Gas 4
In a mixing bowl cream together the mashed bananas, vegan butter and sugar with an electric whisk or mixer.
In a separate bowl, sieve the flour and bicarb together and add the salt. Put the nuts into a food processor until finely chopped and add to the flour mixture. Stir together.
Next, add the dry ingredients mixture slowly to the banana mixture and continue to mix or blend until combined.
Place your cases into a deep muffin tray and fill each case 3/4 full of the batter.
Bake on the middle shelf for 25 minutes.
Once baked, take out of the oven and leave for 5 minutes in the muffin trays. Then transfer the cakes in their cases to a cooling rack until completely cool.
Once cool, it's time to prepare the frosting.
In a mixing bowl sieve together the icing sugar and cocoa powder. Add the vegan butter and vanilla extract. Place a clean tea towel over the mixing bowl and then mix together with an electric hand whisk or mixer. This will stop the fine powder coating everything in your kitchen! Once the frosting is combined to a nice consistency spoon it into a piping bag with a star nozzle.
Pipe the buttercream onto the cupcakes as a small star in the centre (heathier) or a large swirl all over the cake (yummier) and top with a dried banana piece or nut for decoration.
Eat and enjoy! The cupcakes will keep for 3 or 4 days in a tin or air-tight container. The cakes can be frozen without the frosting.
Braided Chocolate Cake
Bread dough:
30 cm loaf tin
500 g flour (either plain white or 1/2 plain, 1/2 spelt)
3 tablespoons sugar
1 packet (about 8 g) dried yeast
pinch of salt
about 250-300 ml warm water (depending on your flour)
The filling (adopted from Artisan Bread in Five):
4 tablespoons vegan butter
60g semi-sweet chocolate
1/4 cup powdered sugar/icing sugar
2 tablespoons cocoa powder
1 teaspoon cardamom or cinnamon (optional)
1/2 cup semi-sweet chocolate drops
Method
For the dough, combine flour, sugar, yeast and salt in a bowl. Slowly add some of the water until about 250 ml, and mix. If your dough is too crumbly or dry, add a little more water by the tablespoon until you have a dough ball forming. Give the dough a good knead for several minutes, best on a floured surface. Roll out the dough in a rectangle of about 1 cm in height (slightly under 1/2 inch).
For the filling, melt the butter and the chocolate on low heat in a small pot and stir. When melted, remove from heat and add the powdered sugar, cocoa powder and spices if using. Mix until smooth. Spread the chocolate paste on the dough, leaving a boarder of about 2.5 cm/1 inch. Sprinkle the chocolate drops more or less evenly over the chocolate.
Then, from a long end of your dough rectangle, roll up the dough into a long log. Take a sharp knife and cut the log into half lengthwise. Having both halves vertical to you, press together the ends of the halves on the top. Then lift the right braid over the left one and continue until you are at the bottom. Gently press the ends together here too (for some pictures on how to do this have a look over to Artisan Bread in Five). Then lift your braid into your (greased) loaf tin, cover with a kitchen towel and let sit for at least one hour in a warm spot. The dough should double in size and fill out the loaf tin. Preheat the oven to 180C / 350F / Gas 4and bake for about 35 min (until a wooden skewer inserted comes out clean). Let the bread cool for about 10 minutes then remove from the tin and cool on a wire rack. Enjoy a big slice with a cup of almond milk and some good company!
If you're less confident in the kitchen and prefer to buy your baked goods, check out Lola's new vegan passion fruit and coconut cupcakes, Miss Cupcake (vegan bakery in Brixton) or enquire about the options at your local supermarket.
If you fancy yourself a bit of an expert baker, why not put your baking skills to the test by entering People for the Ethical Treatment of Animals' (PETA) Great Vegan Bake-Off? You'll find all the information you need to enter at PETAUK.org/bakeoff, where you can also see last year's mouth-watering entries
Register for free to continue reading
Registration is a free and easy way to support our truly independent journalism
By registering, you will also enjoy limited access to Premium articles, exclusive newsletters, commenting, and virtual events with our leading journalists
Already have an account? sign in
Join our new commenting forum
Join thought-provoking conversations, follow other Independent readers and see their replies