Great Scotch! Manchester's take on the Scotch egg has become a snack sensation
What do you get if you cross black pudding, sausage meat and secret seasoning with a humble pickled egg? Only the finest new export from Manchester...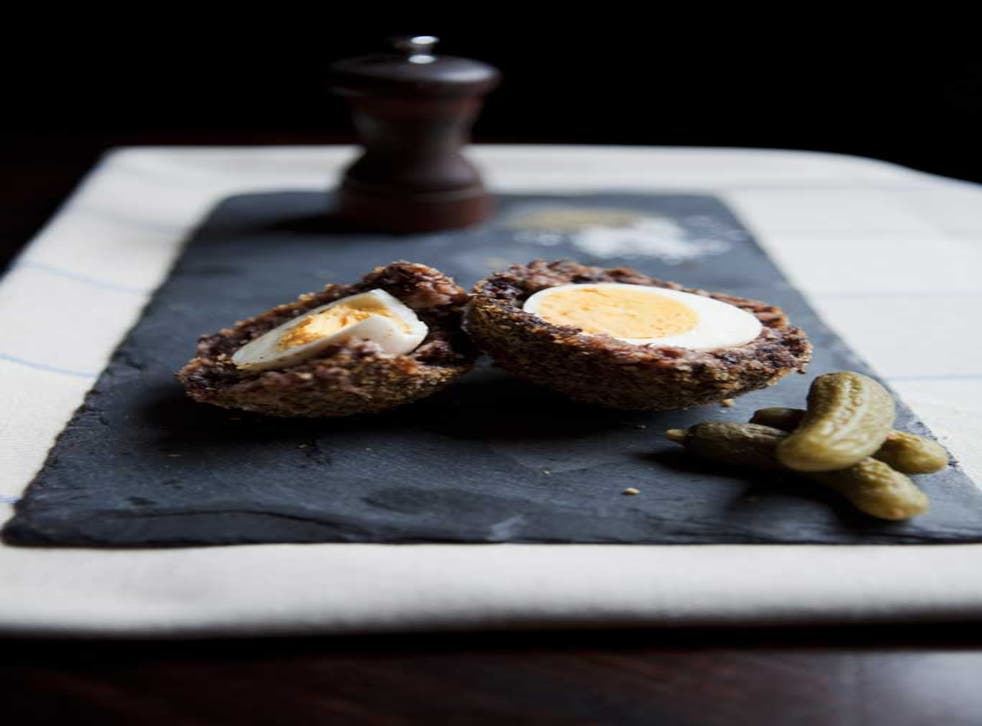 Would it taste as I remembered? It had been the most exciting gastronomic experience I had had in months. But it had been enveloped in an alcohol-induced memory haze. Now here I was in the thin light of a wintry afternoon, about to do it again, only cold-sober.
A fortnight before, I had emerged from a branch of Livebait where I had been presented with the most insipid platter of fruits de mer I've ever had in my life. To make matters worse, the service had been so execrably slow that four of us had consumed a bottle of champagne and three bottles of Picpoul de Pinet before the main course arrived. We emerged from the restaurant hungry and ebriose.
Across the road, Albert Square was filled with the tents and stalls of the Manchester Food and Drink Festival. We entered in search of sustenance and discovered that one stall seemed particularly popular. The Manchester Egg, its banner proclaimed. There we picked up what looked like Scotch eggs. But this was an entirely different beast from its cold Caledonian cousin, which is usually served fridge-chilled.
The Manchester Egg was still hot, fresh from the deep-fat fryer. When you bit into it, warm, meaty juices trickled into the mouth with a dark richness. A heady, aromatic smell met the nostrils before an unexpected piquancy hit the back of the mouth, cutting the richness of the pale yellow yolk. The rare-breed sausage meat surrounding the egg had been mixed with Bury black pudding imparting a fulsome richness. And the egg at the centre was not hard-boiled but pickled – creating a long, lingering balance between the tastes of warm, oozing meat juices, creamy yolk and the tartness of a mild vinegar.
But perhaps it was just me that had been pickled.
So two weeks on, here I was, in The Castle, a traditional Victorian brown boozer in the city's bohemian northern quarter, to see if the experience could be replicated. It was here that the Manchester Egg had been invented by an amateur chef named Ben Holden, during his lunchbreak from his work as a web designer.
Holden, an innovative character, had long developed the habit of crunching up the remnants of his salt'n'vinegar crisps into a rough powder and dipping a pickled egg into them. "I enjoyed the contrast between the savoury crunch and the smoothness of the egg white," he recalls.
But on the day in question, he also ordered a Scotch egg from the pub's pie warmer. The combination set him thinking. He went home that night determined to fuse the tastes. After several experiments he fell into conversation with another Castle regular, Robert Owen Brown, the chef at the Mark Addy gastropub in Salford, who has a fondness for all things offal. He suggested mixing black pudding in with the sausage.
Over the next three months, Holden experimented, making 30 or 40 eggs every Thursday evening and putting them in the Castle pie warmer on Friday lunchtimes. They became a local sensation. People came from miles to try them with a glass of Old Tom, the dark ale from the Stockport brewer Robinsons, which was voted best beer at the 2009 World Beer Awards. Often they would sell out in half an hour.
Each week he tried different spices, varying proportions of sausage and black pudding and a range of crumbs on the casing. He settled on a 6:4 ratio of sausage to pig's blood, Japanese panko breadcrumbs and a blend of spices with paprika, salt, pepper and two secret ingredients. The recipe was finalised by the Manchester Food and Drink Festival which went wild for the eponymous egg.
"We sold 2,500 in four days," he says. "I was drafting friends in but we still couldn't make them fast enough. Everybody wanted them, from young kids to old ladies. It has become a gateway to black pudding and pickled egg for people who say they didn't like either of them. We even turned three vegetarians."
But would it taste as good to me as it did that night, when it was aided by the world's two best relishes, alcohol and hunger?
Up in the Castle's kitchen, Holden's business svengali and amateur sous-chef, Rob Wales, is preparing the eggs. He's in a bit of a flap because the butchers, the esteemed WH Frost of Chorlton, have mixed the sausage and pudding by hand instead of mincing them together as they usually do.
But Holden is un-flummoxed, remixing the meats by hand, adding the spices and forming the case around the pickled egg before dropping them into simmering oil. "The oil is the healthy bit – we use sunflower," he says. Your average supermarket Scotch egg contains a massively calorific 21 grams of fat – nearly one fifth of an adult man's daily recommended intake.
When they are cooked and cut, the meat casing looks attractively mottled, but Holden is not happy. "It won't taste the same, or look right in the photographs," he says. He sends off to Frosts for the correct mix. When it arrives, he gives it to Rob Wales to make the proper version while he goes down to meet Rufus Carter, the managing director of Patchwork Paté, which makes Old Tom Chutney using the celebrated Robinsons ale. Holden is hoping Carter will develop a special chutney for his Egg, with a base of caramelised red onions spiked with the city's native, red-fruit beverage, Vimto.
As they speak, Rob Wales enters with Eggs made from the correct mix. He has made them the size of cricket balls. They look like bull's testicles. Holden, the perfectionist, goes upstairs for a third attempt.
But we have waited long enough. Rufus and I urge Rob on to cut open his creations. There is a surprising but delicious crunch as he cuts through the panko. We each take a slice.
"Oh!" cries Rufus Carter before falling silent as he chews, his eyes closed. "This is the best new taste I have had in years," he concludes. "The cut, the crunch, the lift, the piquancy. The balance. And it lingers in the mouth. This tastes better than it has the right to with such a mix of ingredients."
He is right. It is warm and peppery, rich and sharp, moist and has a huge depth of flavour. My memory had not lied.
It would go well with Old Tom but also with a Gewürztraminer, a St Nicolas-de-Bourgueil, a Vouvray, a St Emilion or a Pomerol. "Or a champagne," cries Rufus. "This is extraordinary – it is like the funky love child of Kate Moss and Pete Doherty," he adds, though he might have chosen a Mancunian musical maverick, of whom there are plenty.
Manchester has taken the Egg to its heart – and has done so across the board. It is on sale at Manchester City's ground, sold out before a crowd of United supporters and has been embraced by FC United, the breakaway club formed by die-hard fans when the Glazers took over at Old Trafford.
Four local restaurants are making it under the licence of Mr Holden's Famous Manchester Egg. There are plans for an Egg Van to transport the product round the region and a mobile fryer to serve it at sporting venues, festivals and pop concerts. Holden's Twitter account now has 2,000-plus followers.
Britain has a pantheon of genuinely original regional dishes: the Yorkshire pudding, Cornish pasty, Cumberland sausage, Lancashire hotpot and Bakewell tart. In that firmament the Manchester Egg, I predict, will take a deserved place.
Mr Holden's Famous Manchester Egg
Makes 5
300g premium sausage meat
200g Bury black pudding
5 free-range pickled eggs (ideally pickle your own, but shop-bought work just fine)
Japanese panko breadcrumbs (from the Chinese supermarket or easily ordered online)
Salt and pepper
Beaten egg
Vegetable oil for frying
First of all, take the Bury black pudding and the premium sausage meat and remove the skin. Mix them together at a ratio of 60-40 (as per measurements above) with your hands (you have to boil the black pudding for a minute to soften it up; alternatively, ask your friendly local butcher to grind them together for you).
Next, wrap the mix around a pickled egg. The best technique for this is to flatten the mix into a patty about 12cm in diameter and place the egg in the middle, then fold the mix up around the egg.
I find Pandora's is the best pickled egg brand you can get from the supermarket – and the right amount of mix is around 100g per egg.
Roll the mix into a perfect ball around the egg.
You then dip into the egg mix and roll it in the breadcrumb (I also add a secret blend of my own Mr Holden's spice mix into the crumb – I can't tell you what the ingredients are, but have an experiment with spicing it up a bit; you can't go too wrong by just making sure the crumb has a good amount of top-quality sea salt and freshly cracked black pepper added). Press down to make sure as much crumb is coating the egg as possible – for extra crunch, try double-dipping in egg and crumb for a really substantial bite.
Deep fry at 170C for 7-8 minutes and give it a moment or two to cool before tucking in.
Easy peasy.
Register for free to continue reading
Registration is a free and easy way to support our truly independent journalism
By registering, you will also enjoy limited access to Premium articles, exclusive newsletters, commenting, and virtual events with our leading journalists
Already have an account? sign in
Register for free to continue reading
Registration is a free and easy way to support our truly independent journalism
By registering, you will also enjoy limited access to Premium articles, exclusive newsletters, commenting, and virtual events with our leading journalists
Already have an account? sign in
Join our new commenting forum
Join thought-provoking conversations, follow other Independent readers and see their replies