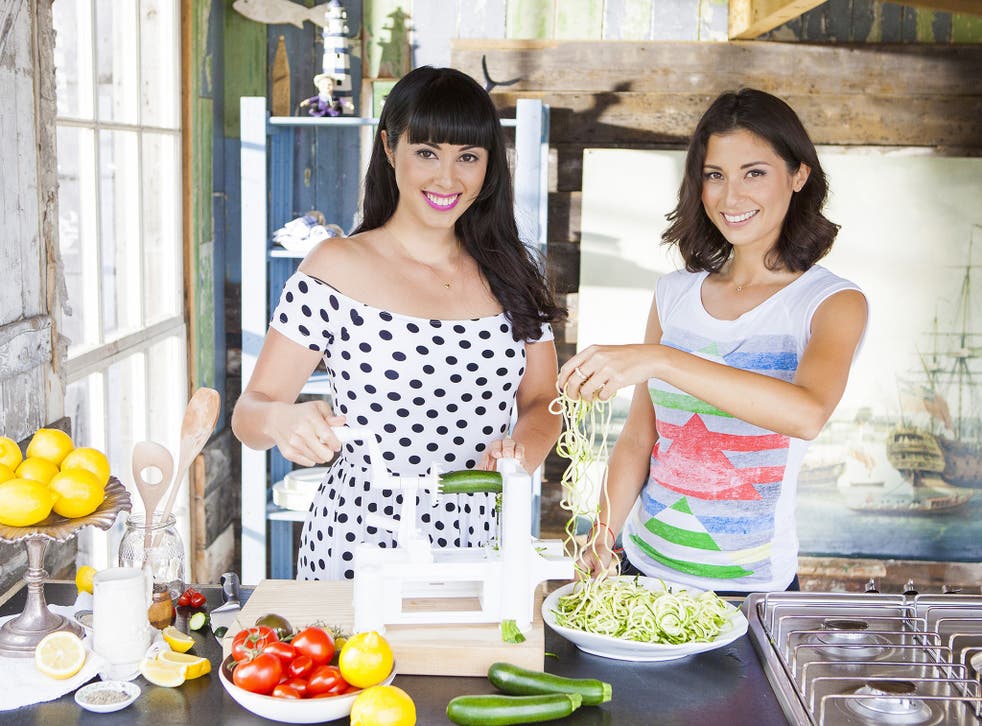 Guilt-free gourmets: The latest healthy-eating bloggers are providing culinary inspiration to a new generation of conscious eaters
Grace McCloud discovers how their perky presentation and quirky cuisine have got millions of cooks logging in
Grace McCloud
Friday 09 January 2015 01:00 Comments
Ella Woodward
After being diagnosed with postural tachycardia syndrome (Pots), Ella Woodward realised that conventional medicine wasn't doing much to help her to treat the condition, which causes abnormal heartbeat when standing or sitting up. Like so many, she turned to food. But instead of taking comfort in a tub of ice cream, she focused on working out how an animal-free diet with no refined carbohydrates or sugars might play a role in her recovery. It worked; Woodward says her symptoms have all but disappeared, and with enviably bright skin and leonine locks, it seems to be doing the job on the outside, too.
This is not just down to the whole foods, though – a UK and US book deal (set for publication later this month) must have helped to sweeten the deal, even if there's no Häagen-Dazs in sight. But her recent success isn't surprising, or indeed undeserved. Before writing her book, Woodward's blog – full of imaginative recipes without any of the nasties – won her thousands of Instagram followers and the No 1 app, too. Woodward's secret lies in her ability perkily to persuade her readers of the benefits of a plant-based diet without ever appearing holier-than-thou. Never prescriptive, she doesn't say that we all need to eat exactly as she does (after all, we don't all have Pots), but instead gives a generation of conscious eaters some inspiration to change their eating habits.
Top recipe: Sweet-potato brownies. Yes, you read that right.
Most likely to say: "This almond butter is awesome!"
Least likely to say: "Screw it. Give us a Snickers."
Melissa & Jasmine Hemsley
If someone had said in the Seventies that health foods could be made sexy, the world would have laughed. But sisters Jasmine (an actress and former model) and Melissa (a footwear brand manager) Hemsley have done just that; they're now the perfect poster girls for the food revolution. They're lean, clean eating machines who are waging war on all things starchy, sugary and (butter-lovers rejoice) "low-fat", and have got a blog on Vogue and now a book to help them. The Art of Eating Well, which was published last summer and has been sitting in Amazon's Top 100 Food & Drink list for much of the time since, is out to defend fat, reminding us that it is completely "essential to human wellbeing": it's dense in nutrients, energy and taste, and it fills you up to boot.
The sisters' ethos is that every food we crave has a healthy substitute and that restriction will end only in disaster – hence their recipes for cocktails, mince pies, scones with cream and jam, or steak and mash (just don't expect any potatoes…). These women are the goddesses of guilt-free gourmet; it's no wonder that Vogue snapped them up. But the best thing about them? There's nothing they like more than a bit of cake (with lots of icing). Their website is a dream, too, with comprehensive recipes and filters for most dietary requirements.
Top recipe: Cottage pie with cauliflower mash
Most likely to say: "Who wants another slice?"
Least likely to say: "I'm not actually that hungry today."
Calgary Avansino
Writer Calgary Avansino is widely regarded as the Queen of Clean. (Living, that is, though it's hard to imagine that anything in this leggy Californian's house is in need of a polish, either…) She's not necessarily the go-to girl for first-timers, though – her enviably healthy lifestyle, documented in her Vogue blog, Weekly Wellbeing, can make even the best of us feel like couch potatoes. That said, Avansino, who is contributing a editor of Vogue, is certainly on to something good; her green smoothie is apparently now famous in the magazine's offices. Her blog, however, isn't just chock-a-block with recipes but rather tips for a healthier lifestyle: how to get more protein in your diet, which trainers you should buy, and where to eat in London, for example. I'm not one to be told what to do, but I do know that we can trust Calgary. She knows.
Top recipe: Vanilla coconut almond chia pudding
Most likely to say: "These yoga pants will change your life."
Least likely to say: "I don't think I can be bothered to go on a run."
vogue.co.uk/topic/weekly-wellbeing
Madeleine Shaw
After battling with her body image for the entirety of her teens, Madeleine Shaw realised that something had to change. And boy, did she change. Shaw is now a nutritionist, chef, writer, yoga nut, and lifestyle coach, counting a number of celebrities as clients. She's intent on persuading the world that preparing nutritious, beautiful food can (and should) be done at home. She also thinks that calorie counting is for losers (though, of course, she's quick to remind us that there are calories, and there are calories). Her sugar-cleanse is about as tough as they come, but it's also becoming increasingly popular as people learn more and more about the evil white stuff.
The detox plan encourages you to cut the "Crap" (nice work, Shaw) – namely: caffeine, refined sugars, alcohol, and processed foods. Tough stuff. Like Calgary Avansino, she focuses on the lifestyle, exercise and nutrition side of things as well as the cooking bit, and her blog is full of tips for better general well-being. Also like Avansino, Shaw, too, sometimes errs on the side of piety, but there's a reason why she is one of London's biggest names on the health-food scene. Her recipes are fantastic, too; they may not always be cheap to make, but they are inventive and delicious.
Top recipe: Banana breakfast bites
Most likely to say: "Why are you sitting still?!"
Least likely to say: "Shall we just get a takeaway?"
Thug Kitchen
This foul-mouthed blog gives Thug Life a whole new meaning. This is veganism with attitude, and it's not for the faint-hearted. With an F-bomb on every meme-style photo and a book called Eat Like You Give a F*ck, you may have guessed that eloquence isn't really high on the Thug Kitchen agenda. Instead, the duo behind this blog are more interested in no-nonsense, healthy vegan food. That's really all there is to it. The expletives are just the icing on the (egg-free) cake.
Its writers, Michelle Davis and Matt Holloway, are relatively new in the blogosphere. Until last year, so bored were they by the cult of self-celebrity on blogs (namely, other bloggers' pictures of their perfect homes/children/holidays) that they decided to stay completely anonymous. They stepped out at around the same time as they announced their book, which was published in the UK last autumn. Davis and Holloway are a couple who cook and photograph all their food in their one-bedroom ground-floor flat in Los Angeles. Yes, it's militant, but only in its mission to make vegan food that people can identify with – easy, delicious and, unlike so many "healthy living" blogs around, cheap.
Gwyneth Paltrow gave Thug Kitchen a shout-out last year, saying it "might be my favourite thing ever". Take this as you will, depending on which side of the Gwynnie fence you sit, but be sure of one thing: this is real food for real people. Just don't look them up at work.
Top recipe: Roasted chickpea and broccoli burritos
Most likely to say: "Get your *&$! together and whack some *@?*&% spice on that *&@!"
Least likely to say: "Please could you kindly pass the salt?"
Green Kitchen Stories
Another dream team are Scandinavian sensations David Frenkiel and Luise Vindahl. Based in Copenhagen with their young daughter, Elsa, they continually publish bright and beautiful vegetarian recipes without any weird ingredients or bossy instructions. It's straightforward stuff; like more and more people, Frenkiel and Vindahl want vegetables to be at the centre of every plate (and not just for veggies) and are advocates of eating seasonally, too. It's hardly rocket science, but there aren't many in the mainstream who are continually creating new ways to use up fruit and vegetables at the right time of year.
GKS's second book, Green Kitchen Travels, has just come out following the roaring success of their first, The Green Kitchen. Their blog has won a number of awards and they've now released not one but two apps (with one dedicated solely to puddings). It's clear that these bloggers are in for the long run, and their thousands of followers are behind them.
It's for good reason. Not only do the couple have hundreds of (beautifully photographed) recipes on their blog, they're also full of expert tips on how to get small children, growing up in a world that peddles sugar highs, interested in nutritious, healthy food. We all know that the next generation will be in dire straits if they don't change their eating habits, and Green Kitchen Stories gives parents an opportunity to lend a hand before it's too late.
Top recipe: Frozen pink cheesecake
Most likely to say: "A falafel is a truly beautiful thing."
Least likely to say: "Top tip: when your baby's crying, we find a packet of crisps really does the trick."
Register for free to continue reading
Registration is a free and easy way to support our truly independent journalism
By registering, you will also enjoy limited access to Premium articles, exclusive newsletters, commenting, and virtual events with our leading journalists
Already have an account? sign in
Join our new commenting forum
Join thought-provoking conversations, follow other Independent readers and see their replies