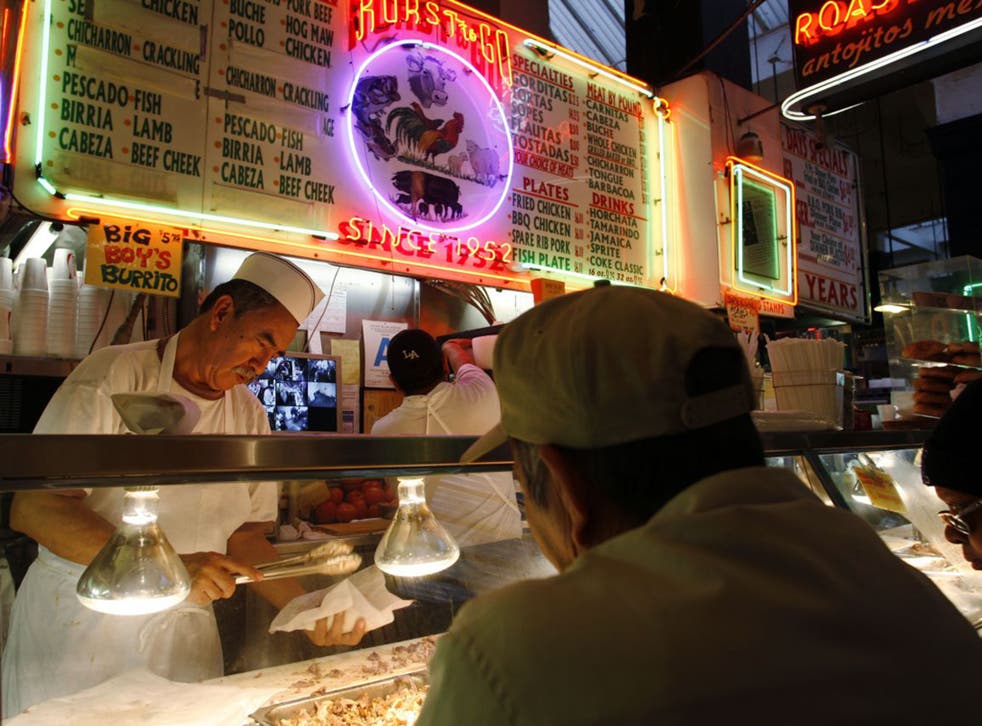 Hollywood's new diet: Has LA stolen New York's crown as the ultimate foodie trend-setter?
What they're eating now at the markets and food trucks of Los Angeles is what British diners will be tucking into before you can say 'cold-pressed broccoli'. Samuel Muston finds out the trends we can expect next from the city that gave us sushi rolls, spiralising and quinoa
A light wind is blowing through the Doric columns on the roof of the Peninsula Hotel in Beverly Hills, ruffling the jasmine that twists around them. Clouds the colour of dreadnoughts begin to muscle in on the blue. The man who looks after the pool worries. "Rain's coming," he says from behind his reflective ¬sunglasses, as if announcing the imminent arrival of the Four Horsemen.
Still, for the moment, the surface of the pool is serene. And I am happy. Because in front of me I have one of the simplest, most pleasing dishes I have eaten all summer. It consists of sliced avocado crowned with raw tuna and ¬garnished with a diaphanous golden-yellow disc of freeze-dried pineapple and herbs from the hotel's garden. It is possibly the most LA dish you could imagine: avocado, check; raw protein, check; home-grown; high-level cooking technique casually used, check. But the thing is, if I was eating this same dish in Bournemouth, no one would think it was ¬particularly unusual. It would not draw comment in Birmingham or Bath.
Both raw fish and avocados are fairly ubiquitous. Avocados are so ubiquitous, in fact, that not only do they have Tumblrs dedicated to them, people now write articles about them with headlines like, Is There Such a Thing as Too Much Avocado? Why is this so? Why are these two climactically unsuitable dishes a feature of British cuisine? The answer is simple: Los Angeles. Not so long ago, if you wanted to find out what was going to be the Next Big Foodie Thing here, you got on a plane and you went to New York. M&S has always maintained an innovations team there; wannnabe London restaurateurs would chivy the latest trends from the eating- and watering-holes of Brooklyn and Tribeca (yes, that is where sharing plates came from). No longer, though.
50 best foods for healthy living

Show all 50
Consider for a minute the big things in food today, the things that are never off the TV and the radio and maybe your own plate: kale, quinoa, juicing, spiralising, California sushi rolls, food trucks (for those, you have to thank LA chef Roy Choi), they were all born and brought up in LA before being shipped off to Europe as fully fledged trends. You may hate them; you make think they are an affectation, but you cannot deny them. LA food is in the ascendant.
As Dawn Davies, grocery manager at Selfridges, points out, part of the attraction is the lifestyle. "Fresh and healthy as a trend is massive in the UK. And LA health is fun health; it's decadent. It is treat-yourself health; it's not like, 'eat nothing, go throw up and eat only apples,'" she says. In fact, an apple wouldn't do at all – you can't spiralise an apple.
It is not just about one flash of a trend aligning with the UK, either, it is about the place itself. The Californian city is the perfect breeding ground for a UK food culture that is forever eating itself. It is a young city – 150 years ago it was a village – a place of films and film stars and all the other accoutrements of ephemeral power and influence that go with those two things. It lives and dies on trends – for people, for things and, most of all, for food.
What are the biggest trends today, then? What might we expect to fetch up here soon? The first place we visit is Sweetfin Poke in Santa Monica. It is a "pole to bowl" cafe and takeout – ¬specialising in bowls of raw fish with avocado and rice. It tastes divine and also like something that might counterbalance all the beer I drank the night before. It is quick, it is simple, it is raw and it isn't expensive. As Sweetfin's owner Seth Cohen says, "It is the natural evolution of sushi. And in LA, there seems to be a sushi bar on every corner."
The focus on eating more protein is something we Brits are increasingly cottoning on to, say Dawn Davies. "People in the UK used to see protein as a negative thing. But today, it's all about getting good protein, not red meat," she says. Putting protein first is very much LA, as you also see at the 194-room, five star Peninsula hotel, which occupies the other end of the dining spectrum. This place is a big deal in LA, as the line of Bentleys and Ferraris outside, and the presence of Larry Flynt in the old-world bar inside attests. It regularly plays host to princes and if you want one of the rooms, let alone one of the bungalows, during awards season, well, you better be up for a gong yourself. The ethos of the place, which is low-rise by comparison to its surroundings, is that it is like a private home. Sure, you can have afternoon tea downstairs and dinner in the Frenchified main restaurant – but where the restaurant is really on trend is on the roof. Aside from the raw dishes, head chef David Codney offers rooftop barbecues – on the roof, protein is king: grilled snapper fish and full chickens roast on the grill.
After all that meat, healthy or otherwise, you need your veg. You could, of course, cook this veg. But in LA you are more likely to put your broccoli in a high-pressure processing unit that uses approximately seven tons of force to extract all the goodness from it. Sound a little extreme? Jonathan Moore, Executive Chef at Waitrose, has marked the beginnings of the trend here, too. "Since the juicing trend began, we sell more kale and avocados than ever. ¬Avocados particularly, as they give a nice creamy texture".
In LA, they are beyond simply juicing banana and blueberries – "too sugary, darling". Cold-pressed veg mixes are what it is really about. The idea is that by crushing the fruit and greens, rather than running them through a centrifugal blade, the nutrients are better preserved (though evidence for this is sketchy). Still, it tastes nice. And you can buy them over here in posh health food shops and the Press concession in Selfridges, which now has a turnover of £15,000 a week.
As Davies says, "10 years ago, you would never thought that would happen unless it was Coca Cola". You don't want it instead of your lunch, but as a mid-afternoon snack. It will give you more energy than those Maltesers.
Not so long ago, a scallop was something only hostesses in the Dame Barbara Cartland mould would serve. It was posh; it looked faintly foreign. In LA, you can barely look at a menu without seeing the quite delicious next step, the sea urchin. They are velvety in the mouth and have a briny flavour, but, admittedly, look rather like aliens. They are a good thing, though. Why not make full use of the sea's bounty? Our Italian cousins certainly know their worth and Peter Weeden, head chef at London's Newman Street Tavern, already has them on his menu when they are in season. Coming to a M&S near you soon, then (well, maybe).
I received a tip-off from this newspaper's LA correspondent that I should probably head to Grand Central Market to try something else that is massive in LA: a slightly fermented tea drink called kombucha. Now, Grand Central may have been here since 1917, but it is no ¬geriatric. It contains, for example, the egg-based and fruitily named takeout joint, ¬EggSlut (inspiration for London-based eateries Bad Egg, Yolk London, The Good Eggs). It is at the bleeding, if a bit silly, edge of inexpensive culinary advancement.
Navigating the crowds and the neon signs that attempt to draw you in hither and thither, I see the chic, minimal bar I am after. A large, bold-type sign announces its name: Better Booch Kombucha Bar. They have six flavours of the drink. I plump for Golden Pear, which promises, with all the plausibility of myth, to "relax my mind and refresh my spirit". It tastes good. Similar in style to an iced tea, it would be nice on a hot day.
Of course, not all food trends are born equal. Gourmet vegan food is a big thing here – and why not make the most out of fruit and veg and all things healthy? Thing is, no matter how gourmet it is, I can't see anyone in Barnsley saying, "Let's go for a vegan" on a cold night in January. Nor does elevated, artisan toast – "Do you want rye, sour dough rye, or pumpernickel bread, sir?" – seem to have much prospect of success beyond the more chi-chi enclaves of East London. Same goes for Bulletproof Coffee, a branded coffee that is served with "grass-fed unsalted butter and Brain Octane oil".
I find at Shutters on the Beach, the queen of the beach-front hotels in Santa Monica, the beginnings of a much finer trend, however. It is beautiful old place, Shutters, perched right on the sands like some Grand Dame having a breather from Beverly Hills. In its large, airy, wood-panelled dining room, the tables are all set with bright-white plates and even brighter cutlery. Staff glide around purposefully serving the guests who have tottered down from their sea-view rooms above –the LA Times calls them 'divine nests' – or escaped the tractor-beam of the pool which itself has, yes, a sea view. In the middle of the table there is a small sign: "Please join us in our efforts to conserve California's water supply". And then, in bigger type above, "Conserve Water, Drink Wine". Whatever we think of the other trends hurtling our way, this is the sort of thing we can all get behind.
The writer travelled to LA with Air New Zealand (flights daily from London Heathrow to LAX. A return ticket costs from £474, Airnewzealand.co.uk).
Peninsula Beverly Hills, 9882 S Santa Monica Blvd, Beverly Hills, CA 90212, +1 310-551-2888, beverlyhills.peninsula.com, $550/night;
Shutters on the Beach, 1 Pico Blvd, Santa Monica, CA 90405, +1 310-458-0030, shuttersonthebeach.com, $550/night
Register for free to continue reading
Registration is a free and easy way to support our truly independent journalism
By registering, you will also enjoy limited access to Premium articles, exclusive newsletters, commenting, and virtual events with our leading journalists
Already have an account? sign in
Register for free to continue reading
Registration is a free and easy way to support our truly independent journalism
By registering, you will also enjoy limited access to Premium articles, exclusive newsletters, commenting, and virtual events with our leading journalists
Already have an account? sign in
Join our new commenting forum
Join thought-provoking conversations, follow other Independent readers and see their replies