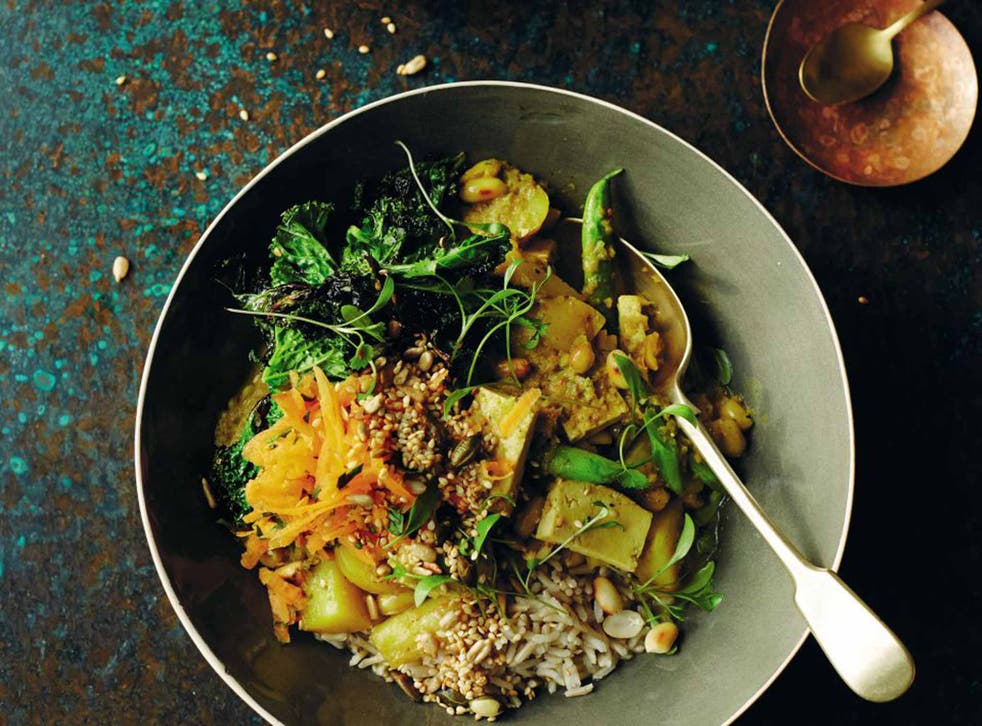 Instagram sensation #bowlfood: 'Throw healthy ingredients into a dish'
Is this the end of the plate? Sophie Morris is bowled over
Sophie Morris
Tuesday 16 February 2016 21:45 Comments
If you're an Instagrammer with a food fetish, you'll have seen a particular style of shot crowding your feed, generating likes and swooning comments with incredible ease. Delightful, delicious-looking, vibrant and wholesome, pictures tagged #bowlfood are inspiring cooks across the social-media space with food in bowls. That's right: it's just food in a bowl. There are no other rules, really, but this kind of food, in this kind of vessel, is the digital native's ideal meal – balance the bowl on your knee, and eat with a fork using one hand, leaving the other hand free to scroll through Instagram and take pictures of your dinner.
"The bowl is the perfect receptacle for eating on your lap while watching TV or reading a book," café owner and cookbook author Elly Curshen confirms. "Of course I sit at a table when eating with friends or family, but when I get home after a day at work, I invariably cook something I want to eat on the sofa with a fork, like so many people living in house-shares."
Curshen owns the very popular Pear Café in Bristol and has been on Instagram, growing her following of close to 30,000, for around four years. Prettiness is as important, if not much more so, than practicality on Instagram, and here Curshen's food fits right in. Everything she makes is fresh and seasonal and she layers up her favourite flavours and textures to create edible masterpieces, such as the marinated tofu Buddha bowl, with udon noodles, pak choi, red pepper, spring onion, coriander, sesame seeds and seaweed confetti, or the cucumber, brown shrimp and tarragon bowl from her forthcoming book Elly Pear's Fast Days & Feast Days.
Buddha bowls have Eastern origins, as the name suggests, and broadly consist of a base of grains or pulses bulked out with vegetables, then toppings and sauces, which could be sprinkles of toasted seeds, nuts, fresh herbs and pickles, perked up with dashes of sesame oil, soy sauce, chilli, a tangy vinegar. Anything goes, so Buddha bowls are an excellent way to get through small amounts of leftovers.
Curshen offers guidelines for creating your own in her book, but no rules. "It's my dinner, I'll do what I like," she laughs. "If people think, 'Oh, gochujang is Korean and nori flakes and that six-minute egg you're doing are Japanese, but you're putting it with a slaw, which isn't at all Japanese,' I just don't care. For me it's all about flavour and texture: crunchy and soft, sour and sweet, with a huge amount of veg. I love encouraging people to use up little bits and pieces instead of throwing them away.
"Even if I'm in on my own on a Tuesday night, I'll always garnish my food. A pinch of seeds, finely sliced chilli or coconut flakes takes 10 seconds' more work and will really elevate your food. It's your dinner. You should take pride in it."
Curshen says she's been pondering whether the spread of beautiful food on Instagram is having an effect on what people are cooking. Are people now drawn to cooking pretty food, just so they can post pictures of it?
Food trends in 2016

Show all 11
There is also an emphasis on healthy food. Curshen has followed the 5:2 diet for several years and her book reflects this, with some recipes for fast days and some for feast days. Stunning bowlfood, with its abundance of fresh produce, colourful herbs and flavoursome spices, owes a trick or two to the popular health-food bloggers of recent years, who include the Hemsley sisters and Ella Woodward. The emphasis is on nutritious, affordable and satisfying meals, not denial.
Fans of sashimi and ceviche (a Peruvian dish of raw fish marinated in citrus juice and chilli, do catch up) will be loading up their bowls with poke this year, a Hawaiian dish which has made its way (via LA) from exclusive food circles to street food and hip east London venues – and now Nigella and Gizzi Erskine are drooling over it on Twitter. In Hawaii, bowls of poke (say it like "OK") are layered up with chunks of raw fish, often tuna, doused in soy sauce, sesame oil and onion, and can be found at corner shops and local caffs as well as upmarket restaurants.
Anna Jones, author of A Modern Way to Cook and A Modern Way to Eat, is a leader of the bowlfood brigade. She calls it common sense. "I'd always served food like this, without realising it was a 'thing'. When I was a student, I'd have leftovers in my bowl, and this style of eating always works when craving something nourishing and healthy. It's a lovely way of putting a meal together quite quickly, and it's a visual way of eating, which I love. Bowls are often styled in an intricate way but they're quite simple to prepare. If you have some quinoa cooked at the weekend you can use it as the base of a really delicious bowl: stir it through a soup or salad, add yoghurt, harissa, olive oil and some fresh chopped vegetables.
"It's basically a really easy way of making a dinner, but the same ingredients on a plate would look disjointed. In a bowl they become more of a meal, and there's something comforting and informal about eating from a bowl."
The wonders of the humble bowl run over. As a new mum, Jones has found eating one-handed indispensable recently, and points out that bowls can evoke toddler-hood nostalgia of when you used to eat everything from one, too. The combination of visual and taste cues can also create a better experience all round.
"You can make a base out of lots of different oats or grains, then – adding seasonal fruits, spices, maple syrup, and some crunch from nuts, seeds or granola – you can elevate a very boring run-of-the-mill porridge into something which becomes much more interesting. This means we leave the table more satisfied."
Bowlfood looks lovely and tastes great, and Instagram is full of inspiration if you want to start building-your-own, but I'll reserve the right to use a plate when it's time for a slice of cake.
'Elly Pear's Fast Days & Feast Days' by Elly Curshen (Harper Thorsons, £20); 'A Modern Way to Cook' and 'A Modern Way to Eat' by Anna Jones (4th Estate, £25)
Marinated tofu with udon noodles, pak choi, red pepper, Spring onion, coriander, sesame and seaweed confetti by Elly Curshen
Ingredients to serve 1
For the marinade
1 tablespoon dark soy
1 tablespoon chilli and garlic sauce
Half a tablespoon sesame oil
5 or 6 firm slices of tofu
Seasonal, local green veg
Brown rice, cooked as per packet instructions (or noodles – any kind)
A little oil for frying
Garnishes: fresh coriander, a medium boiled egg cut in half, sesame seeds, finely sliced fresh red chilli, finely sliced spring onion, furikake (a Japanese seasoning blend of toasted sesame and nori flakes, among other things). I like to use all of these things at once!
Lay the tofu slices on one half of a doubled-over (clean and dry) tea towel and wrap the other side over, patting firmly dry. Mix the marinade ingredients in a shallow, wide dish that will fit all the tofu slices in.
Lay the slices in the dish and toss them over so they're all evenly coated with the marinade. Leave for a while. An hour would be good but even 10 minutes is fine.
Cook the rice. Prep the green veg.
Now prep your garnishes – pick some nice coriander leaves. Get your thinly sliced chilli and spring onion ready. Toast your sesame seeds. Get out your bottle of furikake.
Once the rice is about 8-10 minutes from being ready, heat a little oil in a large frying pan until hot. Pick the slices of tofu out of the dish and shake off any remaining marinade. Lay them in the pan. It's going to spit like mad so wear an apron. And have a lid to hand to cover the pan if it starts going crazy. Boil a little water in the kettle.
Don't move the slices. Leave them to get a nice crust before carefully flipping them over. It'll probably take 4-5 minutes on each side.
When they're all brown on both sides, remove to a plate and keep warm (cover loosely with foil).
Slosh a bit of water from the kettle into the pan. This will act to deglaze the pan and create some steam to cook the veg. Add the remaining marinade and the veg. Stir everything well and stir-fry for a couple of minutes until all the veg is hot but still al dente.
Put the cooked rice in a nice bowl and top with the veg. Add the tofu and the garnishes. Take some soy and sriracha to the table if it needs a bit extra once you've tasted it.
Recipe from ellypear.com
Cucumber, brown shrimp and tarragon
This is a simple yet delicious combo inspired by a Fergus Henderson dish of white cabbage, brown shrimps and chervil.
Look for little tubs of peeled, cooked brown shrimps (readily available at fishmongers and supermarkets). They are so sweet and have a lovely texture that works brilliantly with something crunchy – the cabbage, like Henderson uses, or sticks of cucumber, as I've used here.
The tarragon could be swapped for flat-leaf parsley, if you can't find it, but it would be a shame as the tarragon really adds a special flavour to the salad. I've used argan oil here (a delicious nutty oil from the Moroccan argan tree), but use a good extra virgin olive oil if you can't find it.
This is both ridiculously low in calories and very, very quick, so it makes a perfect fast-day dish.
Ingredients to serve 1
160g cucumber, cut into batons
40g cooked brown shrimp
Half a teaspoon argan oil or extra virgin olive oil
1 teaspoon white wine vinegar
A few tarragon leaves
Flaked sea salt
Black pepper
Method
Combine everything and serve. It's that simple.
Recipe from 'Elly Pear's Fast Days & Feast Days'
Register for free to continue reading
Registration is a free and easy way to support our truly independent journalism
By registering, you will also enjoy limited access to Premium articles, exclusive newsletters, commenting, and virtual events with our leading journalists
Already have an account? sign in
Join our new commenting forum
Join thought-provoking conversations, follow other Independent readers and see their replies