Lima has a new generation of foodies – and they're driven by sustainability
Cutting back on the likes of fancy white table cloths, the next generation is focusing on sustainable Peruvian produce and succinct daily menus that are big on flavour and technique
Friday 01 March 2019 16:58 Comments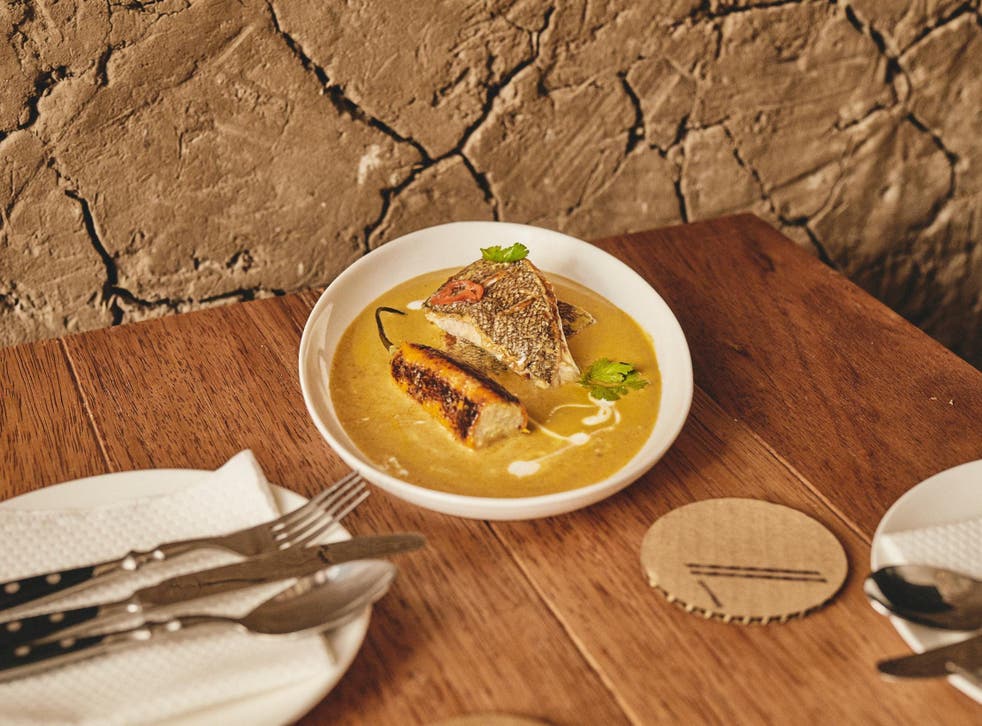 Latin America's food capital Lima is known for award-winning fine-dining restaurants Central, Maido and Astrid & Gastón, but a new wave of highly trained young cooks are opening their first establishments and moving away from elaborate multi-course tasting experiences.
Cutting back on the likes of fancy white table cloths, the next generation is focusing on sustainable Peruvian produce and succinct daily menus that are just as big on flavour and technique as their more established counterparts, conscious to apply ethical business practices and innovative ideas in pared-back spaces.
Lima's picky diners are ready to embrace change, says chef Matías Cillóniz, who opened Mó Bistró in the Miraflores district eight months ago.
"For the most part, Limeños enjoy eating classic dishes made with imported meat or overfished lenguado (flounder), but some want to take risks and try new products. Lima is ready for a breath of fresh air," he says.
After honing his skills in Australia, Madrid and Boston, Cillóniz formed part of Virgilio Martínez's first culinary team at his restaurant, Central, when it opened a decade ago, which featured on Netflix's Chef's Table series, where Martínez wowed viewers with his altitude inspired menu.
But the haute cuisine environment wasn't for him and Cillóniz was determined he'd manage his own business differently.
He says: "I'm grateful to Virgilio as he taught me so much. But the level of stress got me down. I'm a cook and I always will be, but I also want to spend time with my family, play sport and have a good quality of life."
Mó, which also houses a tiny market, is one of the Peruvian capital's few establishments to open from 7.30am until close of dinner at 11pm, and others have fast followed suit.
"Obviously I didn't invent breakfast!" he laughs. "But it's a positive change as others are starting to offer the same, which improves their staff's working hours." Daily brunch at Mó is a highlight, given that Cillóniz source organic eggs and tomatoes, smokes trout in house and produces his own yoghurt, ricotta and sour cream from organic milk.
Over in the Barranco district, Kjolle, led by Pía León, was Lima's most-anticipated 2018 opening. Sister restaurant to Central, where León was head chef for several years, Kjolle offers a more laid back experience, where she creates family-style dishes such as jungle tiradito made from sustainably sourced Amazonian fish and pato curado (cured duck).
Dishes are equally as photogenic as Central's and she also sources ingredients from Mater Iniciativa, the research arm of both restaurants. However, León's hand deciphers Peru and its ingredients in a sensitive and comprehensible way.
She says: "Peru is everywhere at Kjolle: from the crockery to the handwoven wall hangings, the stone tables and hand-carved wooden spoons. Stone – and onyx in particular – comes from Ayacucho and Junín, which are Andean areas. Ingredients are 100 per cent Peruvian and it's a freer concept, less structured than Central."
A block away from Kjolle is Mérito, a compact two-floor space combining industrial décor with original adobe walls opened by Venezuelan chefs Juan Luis Martínez and José Luis Saume in August.
Like León, Martínez also honed his skills at Central but when it came to flying solo, he wanted to give credit to his roots as well as Peru's ingredients. The short and sweet menu best enjoyed at the kitchen bar features playful dishes for sharing such as the catch of the day, home-churned butter and sofrito tomato salsa to stuff into roasted arepas, and mouth-watering "rockolate", chocolate presented five ways from mousse to ganache smoothed within a large grey stone.
Martínez says: "I wanted to incorporate Venezuelan products like arepas but show them in a more refined way. By using emblematic Latin American ingredients, I'm linking what we have both in Venezuela and Peru."
Also located in Barranco, Siete has been in a soft-launch phase for the past few months although chef Ricardo Martins vows to officially open this December. Based within a 1905-constructed mansion whose adobe walls are shared with neighbouring restaurant Isolina, Martins brings an array of experience honed at restaurants in Sydney, Berlin, Amsterdam and Stockholm – he most recently opened Félix for Rafael Osterling in Lima – to Siete, where he's enjoying mashing all those ideas and flavours up to a The Doors soundtrack.
He says: "I like the fact you can't identify my dishes' origins. Maybe it's Korean or Australian but no matter; I want the freedom to create."
Star dishes include sea urchin with dashi butter, razor clams with clam vinaigrette, and a mind-blowing catch-of-the-day curry teamed with a plantain-stuffed yellow chile pepper served on handcrafted dish ware. He adds: "Maybe this is contemporary Peruvian cuisine – I just don't know! But it shouldn't matter as long as it's delicious."
Despite his upbeat attitude, Martins recognises there's plenty of work ahead. "Lima needs change and it's starting to happen. The new generation is more diverse but its outlook is difficult as there's lots of competition. But we collaborate with the previous generation: for example, Matías Cillóniz and I are talking with Pedro Miguel Schiaffino of Malabar about sharing his orchard and working together."
Back in Miraflores, Jaime Pesaque has raised the bar to open not one but two ventures this year. While 10-year old Mayta recently reopened, his other restaurant, 500 grados, concentrates on a particular concept: fires and coals. Pesaque says: "The market's brakes have been on for the past few years but a heap of younger chefs are coming through who are doing things right, and that's doing Lima some good.
Support free-thinking journalism and attend Independent events
"In my case, I wanted to do something different so everything is cooked through our two ovens that are called Celsius and Fahrenheit: even part of a salad will pass through the embers." Also opening daily from breakfast onwards, serving specialty coffee and sourdough early on before moving on to slow-baked ossobuco and pizzas, the flaming concept has been well received, he adds.
Other new additions from young chefs to Lima's food scene include Alinea Bistró and La Niña in Miraflores, dealing in classy comfort food and an elegant tasting menu paired with natural wines, respectively.
But there's still work to be done in terms of creating new gastronomical references, according to Cillóniz. "Lima has changed a lot with these new airs, and what's happening is fresh. It's a strong gastronomical city but we need more voices," he says.
Register for free to continue reading
Registration is a free and easy way to support our truly independent journalism
By registering, you will also enjoy limited access to Premium articles, exclusive newsletters, commenting, and virtual events with our leading journalists
Already have an account? sign in
Join our new commenting forum
Join thought-provoking conversations, follow other Independent readers and see their replies