Wines of the week
7 malbecs to drink in March, now we're almost out of winter
It's time to put away the heavy reds you've been enjoying since November, says Terry Kirby. This wine can be drunk with lighter vegetable dishes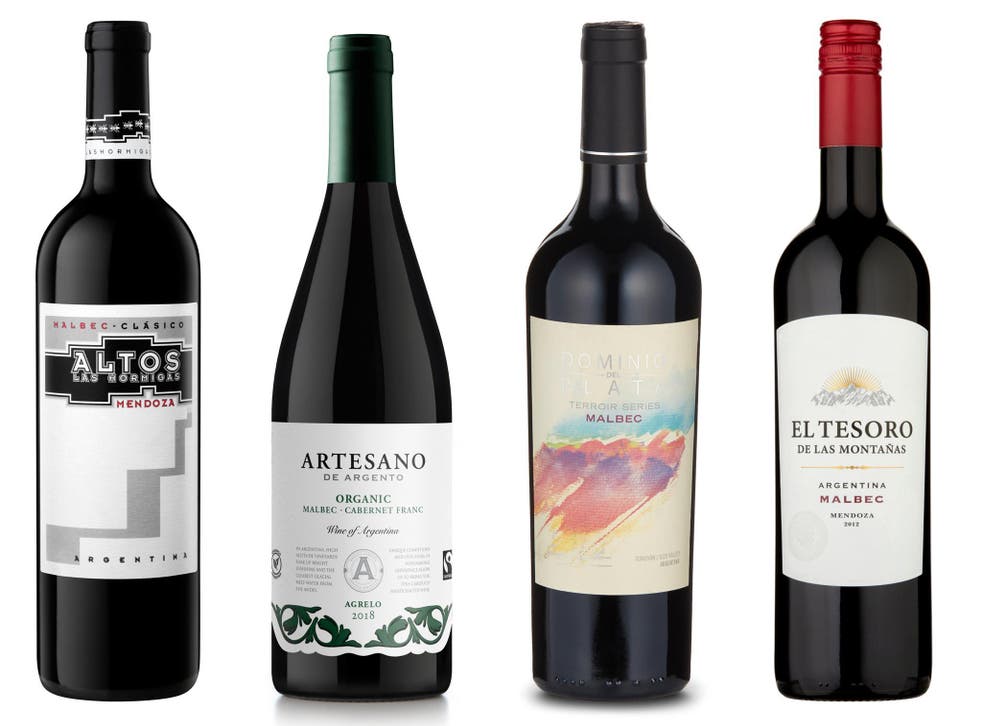 Well, there might be the odd sunny day, but I don't think we are quite out of the grip of this sodden, grey winter just yet: I'm reluctant to completely abandon casseroles and wintry, comfort food dishes mode for the next couple of weeks at least.
But, by this time of the winter, I'm also longing for something a bit fresher and brighter on the palate to drink with these foods than some of the heavier reds I've been mostly drinking since sometime in November. And I might just match them with some lighter dishes at least…
And my thoughts in these kind of situations often turn to malbec, which is always associated with steak and red meat dishes, but it must be remembered that many Argentine malbecs also work perfectly well with white meats and with richer vegetable dishes.
You might even find them suitable for a fish stew or pie or a tuna steak. Why is this? Well, there is a natural freshness and minerality to malbec, particularly when grown at altitude, but some Argentine malbecs are now made with only minimal or no oak ageing, so these qualities shine through unadorned. Tannins are light and supple and the intense black fruit flavours are prominent, without being weighty and the finish is long, but clean and mineral. It's a lovely balance of subtle, but concentrated power and finesse.
There is a lot of malbec in the high street and online and generally the standard is high and mostly good value for money, but here are some of my recent favourites at the lighter end of the spectrum.
The Domino Del Plata Terroir Series Malbec 2017 (£12, marksandspencer.com) is a great introduction to malbec for newcomers. It hails from the Chacayes area of the Uco Valley of Mendoza, where the grapes are grown on high altitude slopes, giving lovely ripe blueberry and plum flavours, underpinned by clean mineral freshness and no oak ageing. In a very similar vein is the El Tesoro De Las Montanas 2018 (£8.99, ocado.com), a wonderfully food-friendly wine, also from Mendoza, with mouth-filling flavours of black fruits and, in this case, some spicy notes of cedar and tobacco – full of freshness and approachability.
Both these wines get their palate-tingling freshness from the combination of mineral-rich soils and grapes grown at altitude. The Artensano De Argento Organic Malbec Cabernet Franc 2018 (£10, sainsburys.co.uk) from Mendoza's biggest organic producer, gets its vitality not just from soil and altitude, but also the organically grown grapes and the presence of cabernet franc, which is used to deliver fragrance, elegance and minerality in Bordeaux blends, where malbec originally came to prominence. Here the combination works wonderfully well, producing a rich but juicy and succulent wine.
And terrific value for the price point. All three of these are excellent with lighter meat dishes, chicken casserole, pasta with ragu or a vegetable lasagne or cottage pie. Moving up a little in price, the Altos los Homigas Malbec Classico 2018 (£13.93, richardgrangerwines.co.uk) comes from a biodynamic producer who has renounced using oak in favour of a fresher, more elegant style of malbec, again relying on the quality of the high-altitude grapes from Lujan de Cuyo in Mendoza. Stainless steel fermentation and ageing in concrete vats preserves that freshness and minerality, with a good balance between red and black fruits and with just the slightest hint of mints and violets; a great wine for a fine steak, whether it is from a cow or a tuna…
While malbec has long fallen out of use in Bordeaux blends, it survives, sometimes known as cot, in Cahors and other parts of southwest France, where the wines have been renowned for being very black, very strong, dark and robustly tannic, ie the opposite of some of these new malbecs – although they are fine for the local cassoulet. But some Cahors producers are now going in the opposite direction and capitalising on the minerality of limestone soils to producer fresher, lighter, unoaked wines. Altos los Homigas has brought its Mendoza expertise back to France in partnership with a local vineyard to produce the excellent Causse Due Theron En Pente 2014 (£21.45, whiteswanwines.co.uk; £24.70, qwines.co.uk) where the ageing is in tanks rather than oak and the bright, blueberry and raspberry fruits dominate, gorgeously aromatic and drinkable; one for special occasions and ideally with an organic roast chicken, veal steaks or confit duck.
Staying with special occasion wines, but back in Argentina, the Colome Authentico Malbec 2018 (£27, vinvm.co.uk; £30, cellarselected.com) comes from the oldest working winery in Argentina which again eschews oak and uses grapes from nearly 100-year-old vineyard sited 2,300 metres up in the Upper Calchaquí Valley to produce this exceptional wine, which has pure flavours of plums and black cherries with some very light spice notes. Game in season or lighter red meat and poultry dishes.
Finally, back to oak for something a little different. Domaine Bousquet Malbec Dulce 2017 ( 50cl £15.95, davywine.co.uk) is a dessert wine made from malbec: late harvested grapes are fermented, fortified and aged in oak, giving flavours of black and dried fruits, cassis chocolate and coffee. Despite the oak, there is plenty of lip-smacking freshness here and it does not feel cloying on the palate, as do some dessert wines. Fine for all desserts, but particularly anything chocolate-based.
Join our new commenting forum
Join thought-provoking conversations, follow other Independent readers and see their replies