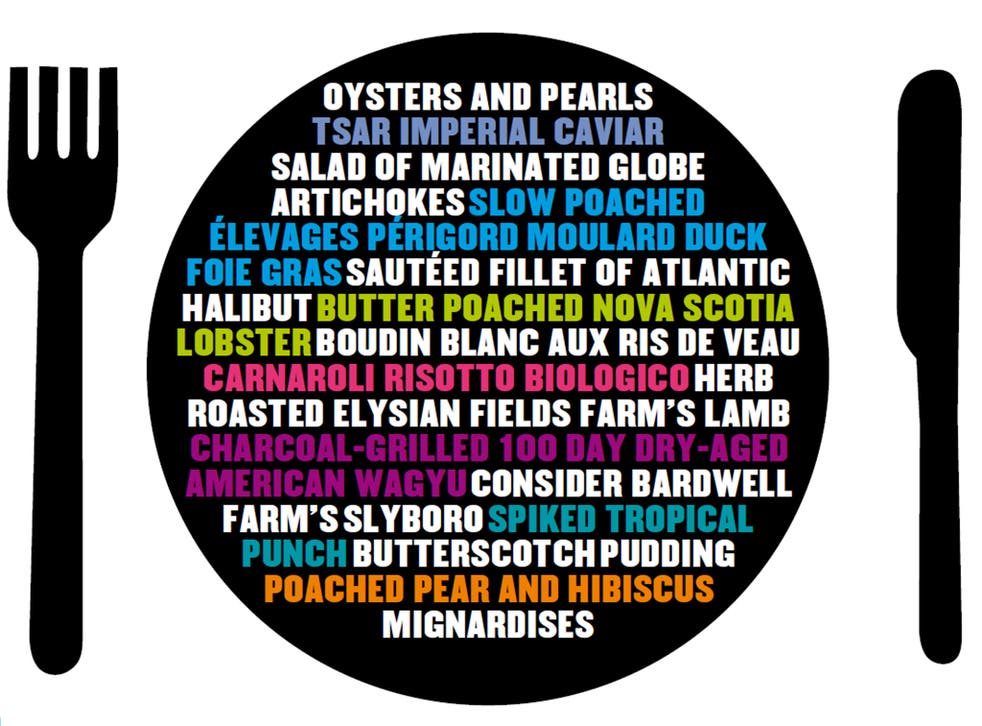 The march of the tasting menu
The 12 or 15-course meals that restaurants increasingly offer are a great way to showcase  a chef's creations. But, wonders Samuel Muston, are they really what diners want?
One of the most superfluous questions I've ever been asked in a restaurant came at the end of a dinner at Per Se in New York back in April. The captain, which is what they call the head waiter there, took away the empty coffee cups and asked: "How was that for you?"
He said it, head tilted, donnish smile, in a way that suggested I had just completed a rather taxing, but edifying puzzle to his satisfaction. He didn't expect a serious answer.
Why? Well we had, over the course of four hours, consumed 12-courses, innumerable amuse bouche, and a magnificent flight of wine that had taken us from the old world to the new world – and onto another world.
I was drunk, it was 11.30pm and I was so full I thought I would have to go out on a trolley. I replied feebly, "I don't know quite what to say." But, hey, this was fifth best restaurant in the world, so I sucked it up.
It was certainly one of the most memorable meals of my life. Each dish its own little constellation of genius, everything taut and precise. No speck of caviar out of place, no pat of butter spared a scoop for a dish. Everything the finest, food as seldom experienced. At one point a chef emerged, dazzling in whites as shiny as his teeth, and grated preserved tuna heart over one of our courses. It was intricate, down-the-line consistent, a sort of culinary symphony; it was also a slog, palate-crushing and an evening in which conversation was frequently stretched and broken by the endless ministrations of the staff. The pressure to create 15 dishes, each unlike the previous, and then serve them with the reverence due to diners paying $400 (£250) a pop, was simply crushing.
I felt like I'd been whirled into a machine, from which I had been spat, albeit with full ceremony, only with the coffee. But then you might say, "you knew what you were getting into." And indeed I did: at Per Se you must cede all choice to the chef and order the tasting menu if you wish to eat in the dining room.
Six or so years ago, a three-hour, nine–course meal would have been an oddity in Britain (though they have been around since the 1970s). We liked our starter, main and pudding, and possibly a spot of cheese, but that was it. But steadily, tasting menus have spread here like an office cold. Now the trend has reached its conclusion: tasting-menu-only restaurants.
This month in London alone, two such restaurants were born, Hakkasan group's HKK on Snowden Street (nine or 15 courses) and Ben Spalding's John Salt (four, eight or 12 courses) in Islington. They join Kenny Atkinson's The Orangery at Rockcliffe Hall in Co Durham, which opened in May and offers only five, seven or nine-course menus, which the chef hopes gives a taste of "the north-east larder".
It doesn't take a great leap of imagination to think we may be seeing the future of upper-end dining here – but is it something we necessarily want?
Of course, tasting menus can be things of wonder that don't overwhelm the diner. In London, Oli Dabbous creates elegant menus that unfold as meditations on seasonality and natural forms – and do so at £54 for eight courses. At Noma in Denmark, Rene Repzepi has harnessed the form as means to produce parades of dishes of staggering imagination and quality. Though even he, the finest chef in the world, may feel the pressure to produce another course that delights and surprises more than the last; look, for example, to the live ants he served at his summer pop-up in London. Were they a genuine pleasure for diners?
Question is: does that really matter? Should food be what diners want to eat or what chefs want to serve? Ben Spalding is firm: "It's not about me being arrogant and telling you what to eat. I've learnt a lot in my career and I just want to share it with diners. I feel that tasting menus are like songs, you can play with them to create different effect. They are a way for me to give diners the benefit of that."
Tong Chee Hwee of HKK expresses a similar sentiment. "Tasting menus aren't the only way to express creativity but the inspiration behind HKK called for a carefully crafted menu… something that a tasting menu really captures. I work in the Chinese feasting tradition."
Fair enough, but it will be a brave diner who stops midway through a 10–courser, says "that's it" and asks for only half the bill. More likely they will take it on the chin – an inversion of the restaurant hospitality principle – or will be so rich they won't care.
Spalding (menus from £28), Dabbous and Chee Hwee excepted, this type of dining is pinchingly expensive. At Heston Blumenthal's Fat Duck, prices start at £195 per head.
But sometimes, even the cheaper ones can fall prey to shapelessness. "They are very often not that innovative at all and simply follow a bell curve approximation of a classic European meal – the fish, the meat, the soup" says Richard Harden of Harden's Guide.
Or else they fail because they are unable get feedback from diners – how could it be any other way when the food sent out is only a couple of mouthfuls. Who leaves half a mouthful on a plate as nod to the chef that your pigeon is a bit dodgy? You just eat it.
So putting creative scope to one side, what's the advantage? According to Richard Harden, there are two advantages. "If you offer a full à la carte menu, by definition, you end up throwing a lot away, as you never know who will order plaice or whatever. If it is a fully booked, no-choice tasting-menu restaurant you know exactly what you are serving and that cuts wastage and saves money," he says.
There are also spiritual economies. "If you are making the same menu time and again it gives you the chance to make dishes perfect – which obviously every chef wants to do," says Harden.
Sometimes, it is simply worth taking the gamble that a meal will change the way you think about food. But just as one might not want every film to be the length of Gone With the Wind – one doesn't want every dinner to last the same time as a flight to Portugal.
Join our new commenting forum
Join thought-provoking conversations, follow other Independent readers and see their replies