Mark Hix recipes: From crudités to scallops, beetroot to duck - sometimes the best dishes are served cold
If the ingredients are good enough, keep the cooker switched off, advises our chef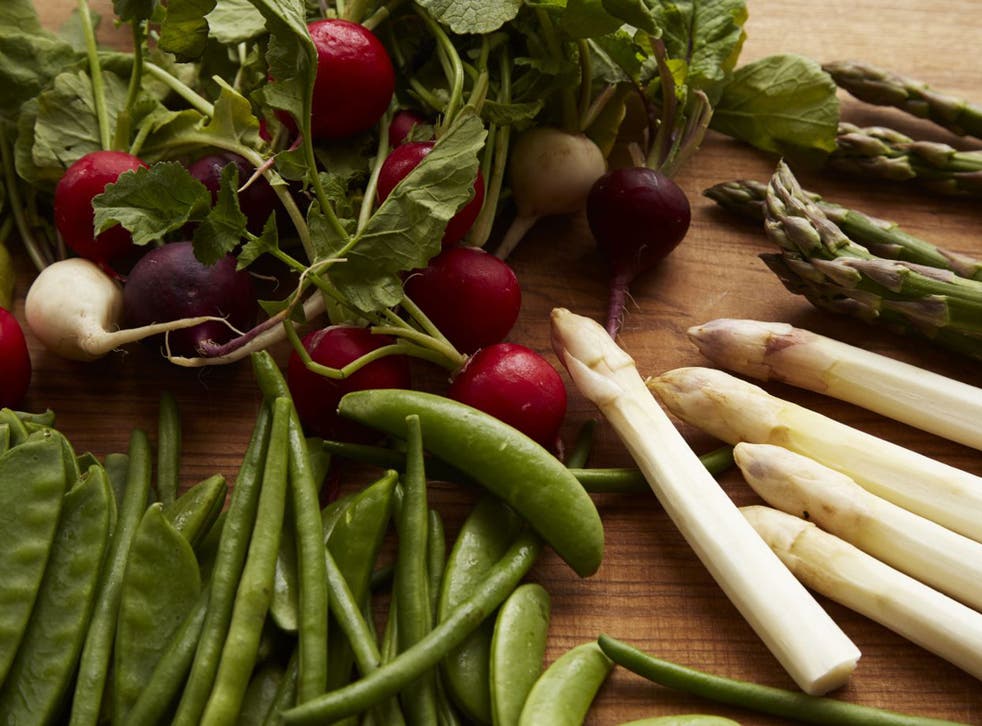 Every now and again, you come across raw ingredients which are so fantastic, that cooking them would bring no improvement.
There are myriad advantages to raw food: not only does it keep all the natural vitamins, minerals and proteins intact, but it also makes for clean-flavoured, healthy dishes.
Nowhere is the taste advantage of raw more pronounced than when it comes to fish. With the help of just a sharp knife and a little skill, you can create some stunningly attractive dishes without too great an effort.
Crudités
Serves 4-6
An old-fashioned starter – or snack – that needs to be both cut and served as quickly as possible. Remember, most vegetables can be served raw, including asparagus and small tender artichokes, so do give them a try. Vary the colour of the veg you use as much as possible for maximum visual effect.
Feel free to vary the sauces you serve with this – anything from lemon and herb-flavoured mayonnaise to pesto – it is, as ever, wholly up to you.
4 green asparagus spears with the woody ends removed
4 white asparagus spears with the woody ends removed, and peeled all the way from just below the tip
8-12 radishes with their leaves left on, if they are in good condition
8-10 small carrots such as chantenay, halved if large
4 spring onions, trimmed and halved if large
A handful of green beans, trimmed
Any other seasonal vegetables, such as mange tout or sugar snaps
Sea salt and freshly ground black pepper to serve
4-5tbsp good-quality mayonnaise
2-3tbsp chopped herbs such as chives, chervil and tarragon
A good squeeze of lemon juice
Put the vegetables in iced water for about 30 minutes, then, when the time is up, drain. Cut the asparagus in half lengthways and arrange all of the vegetables on a large sharing dish. Mix the mayonnaise with the herbs and lemon, transfer to a dipping dish, and place in the centre of the vegetables.
Scallops with Ocho Blanco tequila
Serves 4
I recently hosted a dinner at my restaurant, Hixter, with Stuart Ekins – the importer of Thomas Estes' fantastic Ocho tequila – whom I had visited in Mexico earlier this year. It's interesting how spirits such as tequila, which most think should be knocked back in shots in vast quantities, actually marry up with good-quality ingredients – both as an accompaniment and, as here, a light marinade for seafood.

For this dish, make sure you find the freshest, plumpest scallops and have them shucked in front of you, if at all possible.
4 large or 8 medium scallops
4tbsp freshly-squeezed grapefruit juice
A few good pinches of Cornish sea salt
2tbsp good-quality tequila
1 small green or red chilli, seeded and finely chopped
A few sprigs of coriander
Cut the scallops as thinly as possible and arrange in the centre of a cold serving plate. Arrange in a line, slightly overlapping, or in a circle. Mix the grapefruit juice, salt, tequila and chilli together and spoon over the scallops. Leave for a couple of minutes, then scatter over the coriander and serve immediately.
Beetroot tartare
Serves 4
You can serve this as an individual starter, as a sharing dish on a buffet, or spooned on to toast as a snack or canapé. If you want to give it added depth, it is worth noting that it's rather nice mixed with some chopped, pickled herrings.
2-3 medium to large beetroots, peeled, thinly sliced and finely chopped
1 small red onion, peeled, halved and finely chopped
2 dill pickles, sliced and chopped into small pieces >
1tsp mayonnaise
½tsp tomato ketchup
1tsp chopped dill
Salt and freshly ground black pepper
A few drops of Tabasco to taste
Thin slices of toast to serve
Mix all of the ingredients together and season to taste. Spoon on to one large, or several individual serving dishes, and serve with the toast.
Raw duck with prawn 'quackers'
Serves 4, as a starter
I served this dish when I was guest chef at Clare Lattin's restaurant, Raw Duck on Amhurst Road in London's Hackney, a year ago. Since then, due to a great big crack opening up in the building she was renting, they have moved the place to a new site down the way on Richmond Road, and already it is proving a hit with both the locals and foodie-destination diners, alike.

You can buy the small duck under fillets for this, or use a skinned duck breast. When it comes to prawn cracker, I prefer using the Indonesian versions that you cook yourself, they are much larger and tastier than the standard Chinese versions. But, that said, it depends what you can get your hands on.
250g duck under fillets or skinless breast, very finely chopped
1 small dessert apple, cored and very finely chopped
1 small red chilli, trimmed and finely chopped
2 spring onions, finely chopped
1tbsp chopped coriander
Salt and freshly ground black pepper
½-1tbsp soy sauce
4 large Indonesian prawn crackers, cooked, or smaller good-quality ones
Mix the duck, apple, chilli, spring onions and coriander together, then season and mix in enough soy sauce to taste. Serve as soon as possible after mixing, spooned on to individual serving plates or one large sharing plate, with the prawn 'quackers' on the side.
Register for free to continue reading
Registration is a free and easy way to support our truly independent journalism
By registering, you will also enjoy limited access to Premium articles, exclusive newsletters, commenting, and virtual events with our leading journalists
Already have an account? sign in
Register for free to continue reading
Registration is a free and easy way to support our truly independent journalism
By registering, you will also enjoy limited access to Premium articles, exclusive newsletters, commenting, and virtual events with our leading journalists
Already have an account? sign in
Join our new commenting forum
Join thought-provoking conversations, follow other Independent readers and see their replies