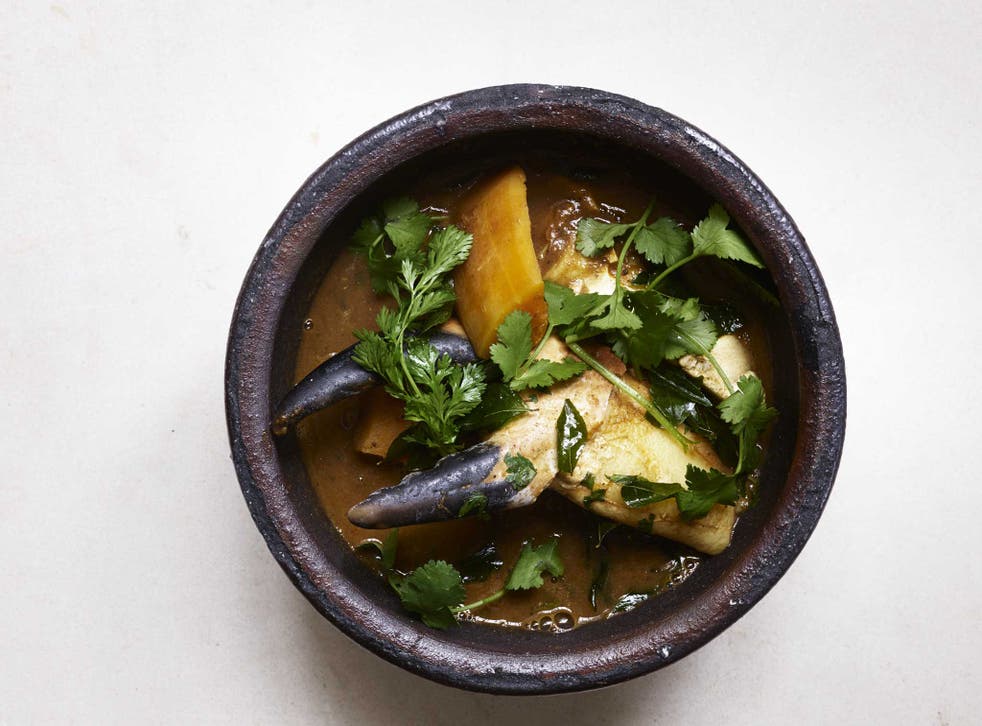 Mark Hix recipes: Our chef celebrates crab festival time in Lyme Regis
Last week, we hosted our crab festival in Lyme Regis. Every year we encourage local restaurants and pubs to celebrate the beautiful local crabs. I host a challenge on the seafront, this year with the head chef from my restaurant Tramshed, Shaun Rowland. We cook as many crab dishes as we can in 45 minutes and sell them to the audience, with all the proceeds going to the RNLI.
Then, later, continuing the theme, I host a crab feast in the marine theatre, where we all tuck into mugs of crab soup and whole crabs in the middle of the table, which we crack with pebbles. It is both delicious and rather messy, with the cash going to the very worthy Fishermen's Mission.
Local foodies such as Nigel Bloxham from the Crab House, Gelf Alderson from River Cottage and Si Bennett, our local fishmonger, join in, giving talks and leading demonstrations on all sorts of fishy topics.
The highlight of the event, though, is the crab recipe competition, which this year was won by Gordon Gleave with his delicious crab beignets, which he served with a spiced coconut foam – it's so good, it will go on the menu at my restaurant Fish House soon.
Crab and squash curry
Serves 2-4
You can use brown crabs or spider crabs for this. Bear in mind some fishmongers will sell you just the claws if you ask. It's a bit of a messy dish but well worth the effort – just make sure you wear a bib!
1 crab weighing about 2kg, or 2 smaller ones, cooked (or spider crabs or claws)
1 small butternut squash weighing about 600-700g peeled, seeded and cut into rough 3cm chunks
For the sauce
60g ghee or vegetable oil
3 medium onions, peeled and roughly chopped
5 large cloves of garlic, peeled and crushed
1tbsp chopped root ginger
3 medium-strength chillies, seeded, finely chopped (more if you wish)
1tsp cumin seeds
1tsp fenugreek seeds
1tsp cumin powder
1tsp freshly grated turmeric or 1tsp powder
1 pinch saffron strands
1tsp curry powder
A good pinch of curry leaves
1tsp paprika
1tsp fennel seeds
1tsp mustard seeds
2tsp tomato purée
Half a lemon
1.3 litre fish stock (a good cube will do)
3tbsp chopped coriander leaves
To make the sauce, melt the ghee in a heavy-bottomed saucepan and fry the onions, garlic, ginger and chilli until they begin to soften.
Add the rest of the spices; continue cooking for a couple of minutes with a lid on to release the flavours, stirring every so often.
Add the tomato purée, lemon and stock, bring to the boil, season with salt and pepper and simmer for 45 minutes. Remove the large part of the shell from the crab by holding the legs with both hands and pushing the shell up with both thumbs. Scoop out any brown meat from the shell and add to the sauce.
Remove the large claws and crack the shells a little to expose the meat. Remove the 'dead man's fingers' and cut the body into four with a heavy chopping knife.
Take a cupful of the sauce from the pan and blend in a liquidiser until smooth – pour it back into the sauce.
Add the squash and simmer for about 10 minutes until almost tender, then add the pieces of crab and simmer for 15 minutes. Add the coriander and simmer for a further 5 minutes, seasoning with salt and pepper if necessary. Serve with basmati rice.
Grilled cucumber with crab and samphire
Serves 4
I'm a big fan of cooked cucumber, the flavour changes a lot, like a courgette or marrow, and has more of a subtle flavour than the raw variety.
1 cucumber, cut in half then cut lengthways into ½cm slices
A little vegetable or corn oil for brushing
Salt and freshly ground white pepper
120-150g cooked white crab meat
A handful of samphire with the tough woody ends removed
For the dressing
1 red chilli, finely chopped
The grated zest of ½ a lemon
2-3tbsp olive or rapeseed oil
The juice of half a lemon
Heat a ribbed griddle or heavy frying pan on a medium heat, lightly brush it with oil and cook the cucumber slices for about 40-50 seconds on each side until tender.
Meanwhile, mix all of the ingredients for the dressing and season.
To serve, blanch the samphire in boiling water for 20 seconds, then drain.
Arrange the cucumber on serving plates then spoon the crab on top and the dressing over and around all of it; scatter the samphire over.
Velvet crab soup
Serves 4-6
You may think that those little velvet green crabs that kids catch on the seaside are merely tourist crustaceans, but they actually make a delicious crab soup. The thin shells blend better than the largest brown varieties, so you can get more flavour from fewer crabs.
So while you are having a glass of wine on the quay, send the kids to catch your supper.
500g or so of velvet, green or shore crabs
1tbsp vegetable oil
1 small onion, peeled and roughly chopped
1 small leek, trimmed and roughly chopped
3 garlic cloves, peeled and roughly chopped
1tsp fennel seeds
A few sprigs of thyme
1 bay leaf
40g butter
2tbsp tomato purée
3tbsp flour
1 glass of white wine
2 litres fish stock, or a couple of good fish-stock cubes in 1.5 litres of hot water
100ml double cream
Salt and freshly ground white pepper
White crab meat to serve (optional)
If the crabs are still alive, put them in a freezer for about 2 hours until they are rendered insensible, then sever their hind and front nerve centres (see this RSPCA guide for more details, http://bit.ly/1l0ZTAG).
Now heat the vegetable oil in a large heavy-based saucepan and fry the crabs over a high heat for about 5 minutes, breaking them up with the end of a rolling pin as they are cooking, until they change colour. Add the onion, leek, garlic, fennel seeds, thyme and bay leaf, and continue cooking for another 5 minutes or so, until the vegetables begin to colour. Add the butter and stir well, then add the tomato purée and flour, stir well and cook for a minute or so over a low heat. Add the white wine, then slowly add the fish stock, stirring to avoid any lumps. Bring to the boil, season with salt and pepper, and simmer very gently for 1 hour.
Blend the shells a few at a time with a little liquid in a liquidiser or strong food processor, adding more liquid as they are blending, until smooth, then strain through a fine-meshed sieve.
Return to a clean pan, season if necessary, and bring to the boil. To serve, add the cream and some white crab meat if you wish. Adjust the seasoning again, if necessary, and stir well.
Crab beignets
Serves 4-6
This is my take on Gordon Gleave's prize-winning recipe.
125ml milk
125ml water
100g butter, diced
½tsp salt
150g plain flour
4 eggs, beaten
150g freshly picked white crab meat
50g brown crab meat
For the sauce
50-60g brown crab meat
1tbsp chilli sauce
1tbsp good-quality mayonnaise
Put the milk, water, butter, salt and sugar into a saucepan and bring to the boil.
Remove from the heat, mix in the flour and stir with a wooden spoon or spatula until smooth.
Return the pan to a low heat and stir for about a minute until the mixture leaves the sides of the pan, then transfer to a bowl.
Gradually whisk the beaten eggs into the mix a little at a time, until it is smooth and shiny, then fold in the brown and white crab and season.
To make the sauce, whisk all of the ingredients together and season to taste.
Preheat about 8cm of oil to 160-180C in a large thick-bottomed saucepan or electric deep-fat fryer.
Using a dessert spoon, drop spoonfuls of the mixture into the fat (about 6-8 at a time) and move them around with a slotted spoon for a couple of minutes until they are golden, then remove them from the oil and drain on some kitchen paper.
Serve immediately with the sauce.
Register for free to continue reading
Registration is a free and easy way to support our truly independent journalism
By registering, you will also enjoy limited access to Premium articles, exclusive newsletters, commenting, and virtual events with our leading journalists
Already have an account? sign in
Register for free to continue reading
Registration is a free and easy way to support our truly independent journalism
By registering, you will also enjoy limited access to Premium articles, exclusive newsletters, commenting, and virtual events with our leading journalists
Already have an account? sign in
Join our new commenting forum
Join thought-provoking conversations, follow other Independent readers and see their replies