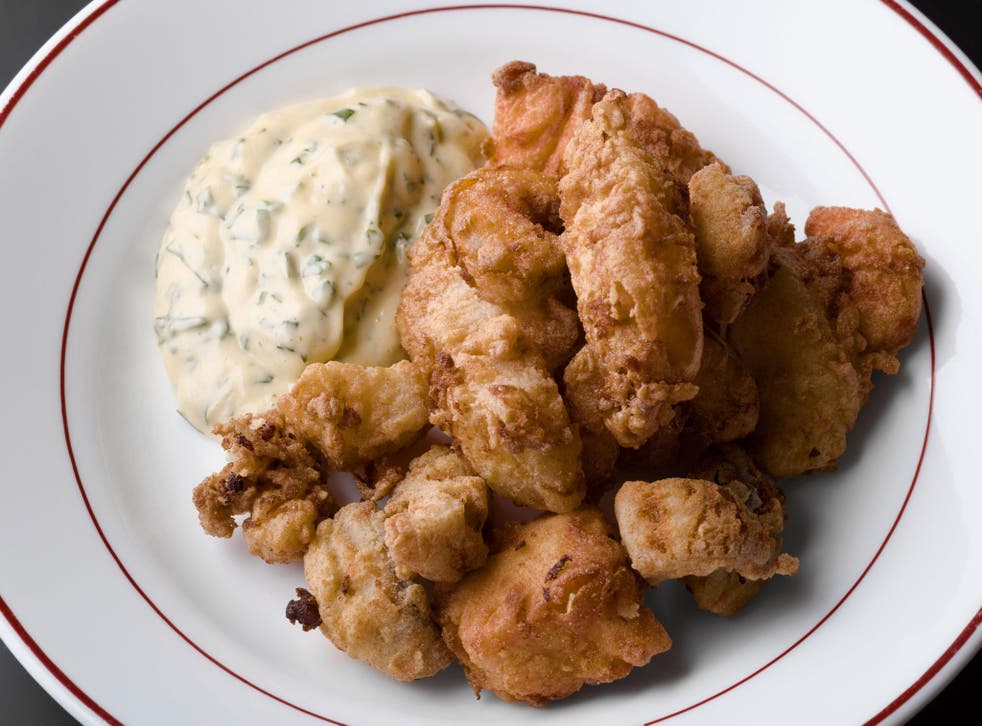 Mark Hix recipes: Our chef whips up his favourite fast food dishes
Good-quality, tasty dishes don't always take an age to cook, says our man in the kitchen. Sometimes, fast is best...
Tuesday 06 September 2016 12:33
comments
This week's recipes will be for those with a need for speed in the kitchen. They will either be very quick to cook in their totality, or are the type of dishes you can half-cook in advance and finish off quickly when you need to. You can cook most on just one hob of the cooker, student-style, too.
Fritto misto with wild garlic mayonnaise
Serves 2
You can use whatever fish you want here; it can be as cheap as you like – the likes of whiting – or go for something expensive. Traditionally, however, in Italy and Spain, they would use undersized fish or fishermen's bycatch for this. A few prawns never go amiss in this, too.
200-250g mixed fish (prawns, squid, white fish, etc), boned and cut into rough 2cm pieces
100g self-raising flour
Salt and freshly ground black pepper
200-250ml milk
Vegetable or corn oil for deep frying
For the mayonnaise
4tbsp good-quality or homemade mayonnaise
A handful of wild garlic leaves, finely chopped or blended in a food processor
First, make the mayonnaise by just mixing the ingredients together and seasoning.
Preheat about 8cm of oil to 160-180C in a large, thick-bottomed saucepan or electric deep-fat fryer.
Have two bowls ready, one with the flour (well-seasoned) and the other with the milk. Pass the fish through the flour, shaking off any excess, then through the milk, and back through the flour.
Deep-fry in a couple of batches, depending on the size of your fryer, moving the fish around in the oil with a slotted spoon as it is cooking, until golden. Remove from the oil on to a plate and dab excess oil with kitchen paper.
Scatter over a little salt and serve immediately along with the mayonnaise.
Chicken escalope with rocket and parmesan salad
Serves 2
This is a quick, budget version of the classic veal escalope.
2 small skinless chicken breasts
Flour for coating
1 small egg, beaten
30-40g fresh white breadcrumbs
The finely-grated zest of a lemon (reserve lemon for dressing)
2 cloves of garlic, peeled and finely grated
2tsp finely-chopped fresh oregano or thyme
Salt and freshly ground black pepper
Vegetable or corn oil for frying
A good knob of butter
A handful of rocket leaves, washed and dried
15-20g parmesan shavings
A little olive oil for dressing
Put one breast on a sheet of clingfilm that is at least double its size. Carefully, with a meat or cutlet bat (a rolling pin or side of a cleaver will do), bat each breast out into a neat ½cm-thick escalope.
Mix the lemon zest, garlic and oregano with the breadcrumbs.
Season the escalopes with salt and pepper, then lightly coat with flour, patting any excess off with your hands, before passing them through the beaten egg and finally the breadcrumb mixture.
Heat about 1cm of oil in a frying pan and cook the escalopes for 2-3 minutes on each side, until golden, then add a knob of butter and turn them once more.
Meanwhile, mix about half a tablespoon of olive oil with a squeeze of lemon and toss the rocket leaves in.
Place the escalopes on warm serving plates with a pile of rocket on the side. Scatter the parmesan over.
Stir-fried duck with mushrooms
Serves 2
You can buy the tiny duck breast under-fillets from good supermarkets these days and they are reasonably priced. If you can't find them, just use a skinless duck breast.
1tbsp light sesame oil
1tbsp vegetable or groundnut oil
6 fresh shiitake mushrooms, stalks removed and quartered, or thickly sliced
4 spring onions, trimmed and sliced on the angle
2 cloves of garlic, peeled and crushed, or a handful of wild garlic leaves
A piece of root ginger weighing about 30g, scraped, thinly sliced and shredded
1 red or green chilli, thinly sliced
6 or so duck under-fillets, halved
50g bean sprouts
A small handful of coriander,  roughly chopped
2tbsp light soy sauce
Heat the sesame and vegetable oil in a wok or deep frying pan. Cook the mushrooms on a low-ish heat for a minute or so, then turn the heat up to high and add all of the other ingredients. Season and toss the ingredients on a high heat for a couple of minutes, keeping the vegetables crisp. Stir in the soy, remove from the heat and serve immediately.
Scrambled eggs on toast with asparagus
Serves 2
Try and buy top-notch eggs here – Burford Browns, for me, are the best all-rounders. Also, if you don't want to use toast here, you could fry the bread in a little oil in a frying pan, or on a griddle.
4 asparagus spears with the woody ends removed
2 slices or sourdough, or country-style bread
4 free-range eggs, beaten
A couple of good knobs of butter
Salt and freshly ground black pepper
Cook the asparagus in boiling, salted water for 2-3 minutes, depending on the thickness, then drain and cool under the cold tap. Once cool, slice as thinly as possible on the angle and put aside. Pre-toast your bread and keep warm.
Put the eggs in a saucepan with the butter and season. Cook over a low heat for a minute or two, stirring constantly until very lightly scrambled, then stir in the asparagus and remove from the heat.
To serve, just spoon the scrambled eggs on to the toast.
Join our new commenting forum
Join thought-provoking conversations, follow other Independent readers and see their replies