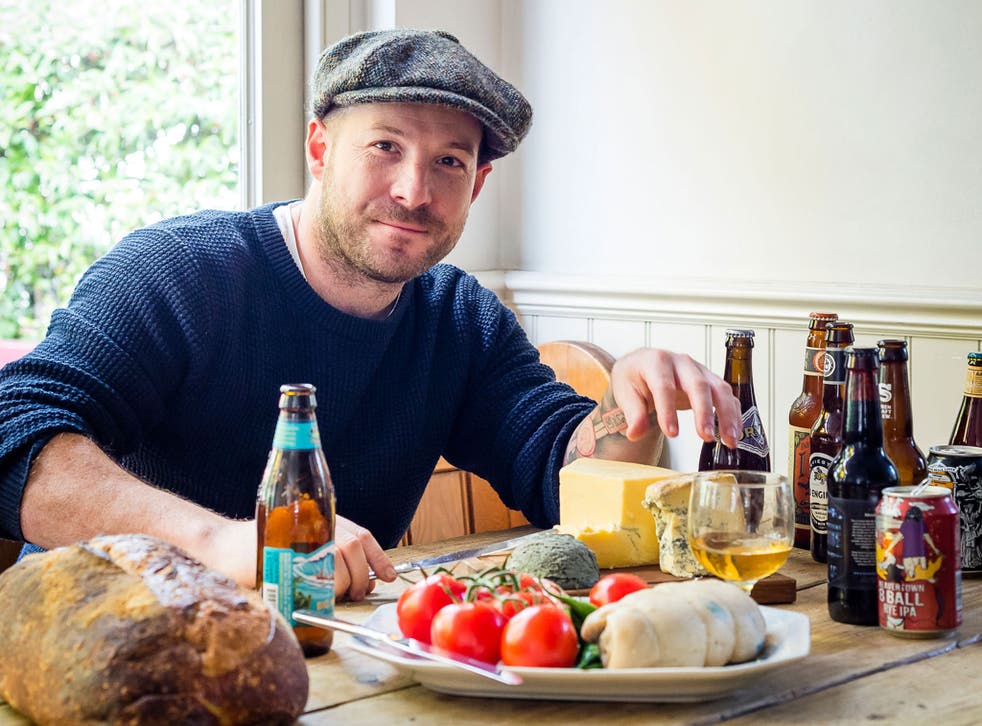 Neil Rankin recipes: Add beer to chilli con carne and grilled sandwiches
We might not be drinking as much beer as once we did,  but even those who no longer indulge will appreciate these ale-infused recipes
You can't walk five minutes these days without knocking into a craft brewery or brew pub. There are so many out there that I've forgotten what beer used to taste like.
But while craft beer is hot right now, our love for ale in general seems to be waning, as our once-proud nation of beer guzzlers is slowly driven out by Picpoul de Pinet quaffers. Even our Premiership rugby teams (surely beer's last line of defence) are now being sponsored by a wine brand from South America. The US drinks way more beer per head these days than we do, Germany roughly double and in the Czech Republic they drink almost three times as much.
Germany celebrates its love of beer each year with the 200-year-old Oktoberfest. The festival was originally a boring royal horse race at which a few wine and beer producers would bring down some bottles of their wares to help, I assume, with the mundanity. But by 1910, more than 120,000 litres of beer were being consumed at the festival, and I imagine it became almost impossible to see any horses. In 1960, they dispensed with the horses altogether and the festival became pretty much just about drinking beer.
But even if you're not from Germany, the Czech Republic or, like me, are one of the few remaining Brits who still enjoys drinking the stuff, you'll still find plenty to enjoy in these recipes, where you cook with it instead.
Neil Rankin is co-owner of Smokehouse and Bad Egg, and food boss at London Union
Porter and scotch bonnet chilli con carne
Preparation time: 15 mins
Cooking time: 2½ hours
This recipe, which includes a dark beer, is similar to a Texan-style chilli. There are no kidney beans – which I have always found to be pointless – but several types of chilli. Texans would use loads more types of chilli, which you can do yourself if you can source them, but the ones I've used here were all available in my local supermarket.
If you can't find an ancho chilli, it's not quite the end of the world, but scotch bonnets are pretty powerful and integral to this recipe, as they carry so much more flavour than a standard chilli. If you're not a hot-food person, simply reduce the amount you use. You can use any porter or stout, but the one here is my favourite to cook with.
Serves 3-4
500g cubed chuck steak
500ml chicken stock
1 onion, sliced
2 tbsp chilli paste (see below)
200g chopped tomatoes
1 bottle Pressure Drop Stokey Brown porter
Handful coriander, roughly chopped
For the chilli paste
1 tbsp coriander seeds
½ tbsp cumin seeds
1 tbsp dried oregano
1 tbsp cracked black pepper
1 tbsp chopped dried ancho chilli
1 jalapeño chilli
½ tbsp cayenne pepper
2 scotch bonnet chillies
1 tbsp minced garlic
1 tbsp soft light brown sugar
Start with the chilli paste. Either pound all the ingredients together with a pestle and mortar or pulse hard in a blender. You can store any you don't use for a few weeks in the fridge to use as a base for any stew, soup or stir-fry.
Now for the dish: get a saucepan hot on the stove and brown the beef chunks. A great way of doing this is to put them in a few at a time. Don't worry too much about getting every side dark. Leave for a while on one side to get maximum colour then remove and start a new batch.
Once browned, add the stock and top with a little water until the meat is fully covered. Place a lid on top, leaving a small air hole, and simmer for 2 hours or until soft and giving. Don't pull the meat apart, or you'll lose texture.
Once cooked, drain the meat and leave to one side, and pour the remaining stock into a container.
Fry the onion in the saucepan with a little oil until it begins to colour then add the chilli paste and cook for another minute. Add the tomatoes, the reserved stock and the beer, and reduce by at least half. Add the meat back into the pan and cook until you have a good consistency. Season to taste with salt and add the coriander.
You can serve this with rice if you really want but I find it a little boring. I prefer some warm flour tortillas with a little sour cream – or, better still, top with sour cream and some puffy crisps such as Pom-Bears, Space Raiders or Monster Munch. Sounds odd but tastes great.
Grilled beer cheese sandwich with bread-and-butter pickles
Preparation time: 3 hours (30 mins if pickles are made in advance)
Cooking time: 10 mins
If the beer is strong enough, it adds a great flavour profile to complement the cheese. It's basically a fondue recipe that you can chill to make a home-made processed cheese, which you can use in any sandwich or burger or, if kept warm (and you still have your kit from the 1970s), can be used as a fondue. Experiment with whatever cheese or beer you like. You can use shop-bought pickles or even a nice piccalilli, but this recipe is delicious.
Serves 1-2
For the sandwich
150g cheddar cheese
30g Parmesan
20g strong blue cheese
50g cornflour
150ml strong ale (I used Kernel pale ale)
2 slices thick-cut white bread or sourdough
For the pickles
1 large cucumber, sliced into ½cm rounds
Salt
½ white onion, sliced
75ml white-wine vinegar
40g soft brown sugar
Pinch turmeric
5 fennel seeds
5 coriander seeds
Crushed clove of garlic
Start with the pickles. Cover the cucumber with salt, place in a colander over a bowl and put a plate on top to push out the moisture. Leave for 2 to 3 hours then rinse to remove the salt.
Place all the other ingredients except the onion in a saucepan and bring to the boil. Add the cucumber and onion and boil until the cucumber turns dark.
Leave to cool and store in the fridge for up to 3 weeks.
Grate the cheddar and Parmesan and crumble the blue cheese and place in a bowl. Coat evenly with cornflour and toss through with your hands. You may not need all of it.
Bring the beer to the boil in a saucepan and add the cheese, stirring with a whisk. Bring to the boil and make sure it thickens. Pour on to a lined baking tray and leave to cool.
To make the sandwich, butter the outside of the bread. Add a layer of pickles then put as much cheese on top as you want; as it's chilled, it should be semi-solid, so you should be able to cut out a sandwich shape to fit perfectly.
Preheat the oven to 180C/ 350F/Gas4. Get an ovenproof frying pan medium-hot, add a touch of oil and throw in your sandwich. Turn once one side is golden-brown. Place a heavy object such as a saucepan on the cooked side and press down. Finish with a knob of butter. If the cheese isn't melted enough, place in the oven and cook till gooey.
Enjoy with a glass of beer and a polite apology text to your personal trainer.
Beer ice-cream floats
This is less a recipe, more a bit of fun. Floats are a childhood dream but fizzy drinks don't really need sweetening. This adult version suits my palate much better and also benefits from being alcoholic. You can try any beer and any ice cream; we tested four of our popular bottled beers at Smokehouse with the same vanilla ice cream to see which works best. For each float, use 1 scoop of ice cream to 1 bottle. I would suggest using 2 scoops for a full pint. Add the ice cream to a glass, then pour the beer on top.
Beavertown 8 Ball Rye IPA (6.2%)
A big-tasting pale ale with a chunk of rye added for a spicy earthiness. This is a great beer and one I enjoy drinking in decent amounts.
As a float The beer works really well. The ice cream adds a nice volume to it without taking away from the character. 7/10
Harviestoun Old Engine Oil (6% abv)
This is a black ale with lots of coffee and toffee notes, which lend themselves well to a float.
As a float Surprisingly excellent. I'm not porter's number-one fan but I could drink a lot of this. After trying this, I took it round the pub, getting everyone to try it. This may even become a thing. 10/10
Kona Big Wave (4.4% abv)
A much lighter beer than the other two, and one of my favourite session beers. Kona does some great drinkable beers with lots of zesty tropical notes.
As a float Not as good as the previous two but still pretty nice. Not sure vanilla is the right complement for this; maybe it would be better with a nice sorbet. Still would, though. 6/10
Siren Calypso (4% abv)
Sour beers aren't my thing but Siren is a really good brewer. Its Liquid Mistress is one of my favourite beers, but I needed to find out if the concept of sweet and sour might work.
As a float This does not work on any level. I have no flavour notes as I was gagging too hard! 0/10
Join our new commenting forum
Join thought-provoking conversations, follow other Independent readers and see their replies