One Love Kitchen, food review: Caribbean flavours so good they bring your sense of taste back
After Ed Cumming's wife became ill with coronavirus, he turned to food deliveries instead of venturing out. And this one was just the ticket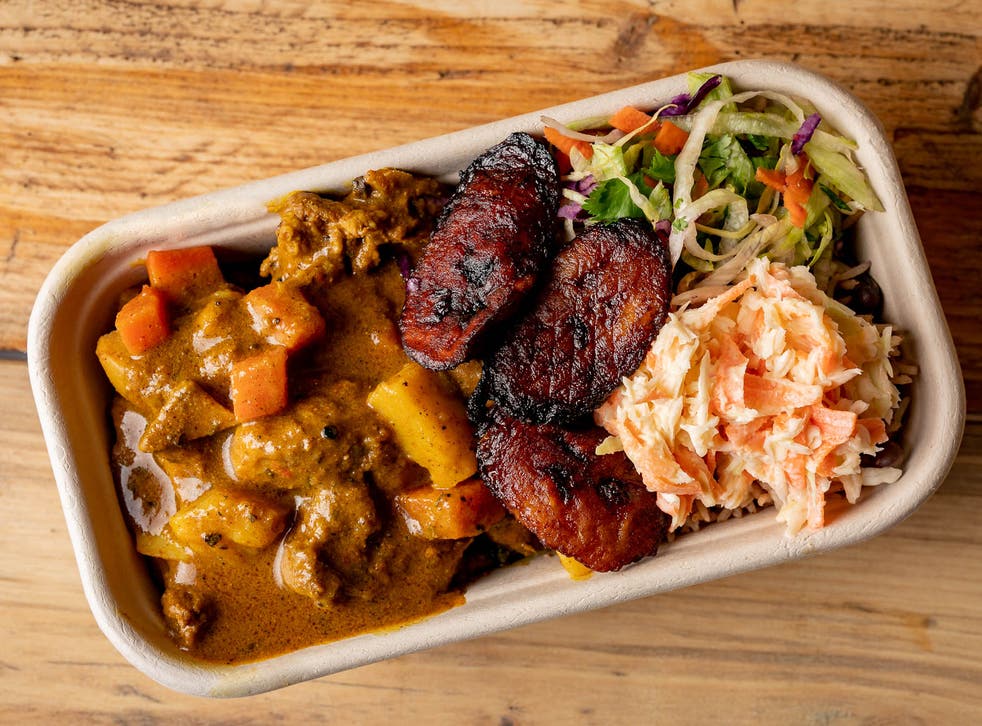 T
his week, I had wanted to try somewhere new and exciting and more than a mile from my house. Then last Monday, my wife started feeling tired and achey.
On Tuesday her sense of taste and smell deserted her. By Wednesday morning we had the confirmed diagnosis, and by lunchtime we had broken the bad news to the handful of people we'd seen recently.
The prime minister has suggested that Covid-19 cases are jumping because we're too attached to our freedom, as though every new public health rule stirred the spirit of Magna Carta in our breasts. I think it's because we're too polite. Nobody wants to tell their friends and family that because they're feeling a bit dicky, they can't leave their house for a fortnight either.
Now my wife and I are stuck at home, accepting grocery deliveries like old people and listlessly thumbing delivery apps. 2020 is meant to have been a boom time for new deliveries, but I've found it a reminder that only a handful of things travel well, and they are basically pizza and curry. Sushi, maybe.
I've not seen much to convince me that the Deliveroo/Uber Eats experiment has been anything but a disaster, and I've had many sad experiences with restaurants I love.
Coqfighter's fried chicken burger, excellent in person, was limp and soggy by the time it crossed the threshold. The springy noodles and bright chili sauces from Xi'an Impression die in the kitchen. A steaming bowl of pho is less appetising when you assemble it yourself, like a £15 Pot Noodle. I feel a sense of professional obligation not simply to order a pizza (Yard Sale), but I'm almost always annoyed I didn't. The fortnight at home loomed.
Then I remembered One Love Kitchen, a Caribbean restaurant in Crouch Hill that opened in June, the first permanent site of a street food stall that has been going since 2015, mainly operating at Fenchurch Street station and Maltby Street market. (Doesn't that concept, going from market stall to full restaurant, sound wonderfully nostalgic in the current doom?)
Steven Payne, the owner, moved from Jamaica more than 20 years ago, and has long dreamt of having a proper Caribbean in his neighbourhood. The menu is a mix of standards, curry goat and jerk chicken and barbecue pork, many based on recipes he learnt from his mother, and a few more experimental dishes. For those wanting to avoid the rice overload at lunch, there are wraps, and he's working on some pasta dishes.
"I go back to Jamaica every January," Payne tells me, "and Jamaican food is constantly evolving. I want to give an up to date representation."
For our first order (via UberEats) we go route one, jerk chicken and curry goat with wings and macaroni. It arrives in minutes, hot and fresh and generously portioned. The chicken is a dark, smoky wonder, cooked with pimento-infused charcoal, as good a jerk as I've had in London, the heat of the scotch bonnet rising slowly through the other flavours.
The goat is rich and tender, the meat robustly seasoned, warming with ginger and garlic. This is food to beat off a virus, everything made with obvious care and attention to detail. "It sounds simple, but you have to allow the marinade to marinate," Payne says when I ask what the secret is.
"Doing Caribbean food traditionally is all about low heat, letting the flavours do what they do best, rather than trying to force it with hot temperatures."
Fifteen years ago I lived in Antigua for five months. As far as I can remember I didn't once have jerk chicken. I subsisted mainly on fried egg sandwiches, barbecue chicken and rum. But the flavours still bring back memories of a happy time.
We hammered through the meal, licked the bones clean, wiped the sauce out of the cartons with our fingers. At the end my wife announced, triumphantly, the most ecstatic review of the year. "I think I can taste that," she said.
Would I go again? Yes
Should you go? Yes
​Can you take your parents? Yes
9 Crouch Hill, London  N4 4AP, Weds-Sun; 8 Fenchurch Place, Tues-Fri, London  EC3M 4PB, Sat: onelove-kitchen.co.uk/
Join our new commenting forum
Join thought-provoking conversations, follow other Independent readers and see their replies