Paris bites back

Show all 5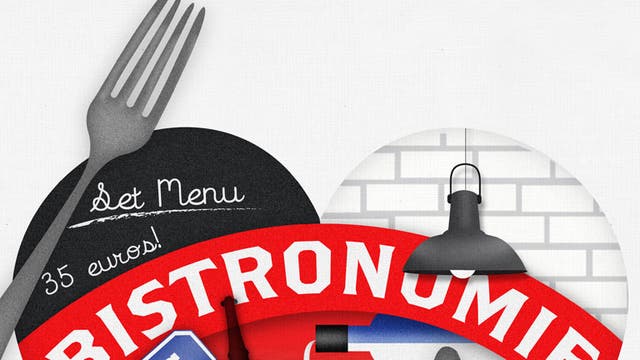 Paris bites back
In recent years, the French capital has been written off as a culinary backwater, stuck in its haute-y ways. But now it is being revitalised by a new spirit of invention
It was the kitchen roll that did it. We'd queued for an hour on a chilly evening in London for a table in a faux-American dive bar where we were served burgers, onion rings and sprawling cheese chilli fries – all unceremoniously massed on a tin tray and accompanied by a big fat cylinder of the stuff. Not since my student days have I considered kitchen roll an item of serving ware, and the displeasure of finding it so employed at one of London's favourite new eateries registered on my face. "It's supposed to be, y'know, fun!" explained one of my dining companions, as if translating a joke for a non-English speaker. "It's super-casual dining! It's… oh god, it's the jam jars again," she trailed off, as three of the vessels, enjoying a new lease of hipster life as glasses and now ubiquitous in the city's artfully dishevelled drinking dens, duly arrived.
The burgers were good, as burgers go, and a couple of decent cocktails dealt with the inner curmudgeon. But as I turned in my £30 share of the bill, I experienced that same feeling of vague resignation that closes many of my meals out in the British capital. It took another six months before I hit on exactly what was disappointing me about London's dining scene, and it was in the last place you might have expected: Paris.
Long considered to have fallen behind London as a culinary trendsetter, the French capital is viewed condescendingly by all but the most informed of foodies and Francophiles on this side of the Channel as a teacher we've outgrown. They will point to crummy tourist-trap brasseries, overblown haute cuisine and McDonald's at the Louvre as evidence of its dramatic fall from grace. And where it does succeed, it is still playing catch-up, poor thing, they will simper. The truth is, here in London, we have nothing to learn from Paris any more.
On an early autumn night a few weeks ago, however, I found myself in east Paris, in the rough and ready 20th arrondissement, receiving what felt like a re-education in dining out. A French friend had recommended Roseval, a new restaurant run by talented young chefs Michael Greenwold, a 28-year-old Brit, and Simone Tondo, a 24-year-old Sardinian, that has become an instant hit since its July opening.
An unassuming little corner plot, Roseval seats around 20 in its pocket-square-sized dining-room. Roughly plastered white walls and simple wooden furniture allow the space to breathe but retain a homely feel. Unlike London, where the fashion for "no-bookings" means a meal now routinely begins with a two-hour wait, there's no queuing or names on clipboards, just plain old reservations. And no choosing what to eat, either – like many Paris restaurants now, Roseval offers a set menu only, although you can ring ahead for special requirements. I was more than happy to cede control – a welcome pause in the endless flow of decision-making, there's also something companionable about eating the same thing as everyone else at the table.
That we were in playful but skilled hands was made clear by the starter: a salted ricotta soup with mackerel and heirloom tomatoes, prettily sprinkled with chive flowers and lemon breadcrumbs, took the bright flavours of a salad into unexpected forms. A dish of cod, tempered bone marrow, tangy wild sorrel, and pil-pil emulsion sitting atop soft, buttery potato was a featherweight delight, while 12-hour-cooked pork belly, finished on the grill, deglazed with Muscat grape juice and served with endive and gambas fair cured me of my indifference to that meat.
After a perfect panna cotta topped with sweet, earthy fig, the final course of almond ice-cream, cloaked in crumbs of olive-oil cake and 28-month-aged pecorino and spiked with wild blackberries was a fitting summation of the chefs' facility with vivid combinations and lightness of touch. With each course, Greenwold and Tondo zipped back and forth from their basement kitchen to present the dish to diners.
It was a great meal by any measure, but at a prix fixe of €35 (just shy of £28), it was jaw-dropping. With a rather indulgent wine choice, we knocked the price up to nearer £40 a head, but it still felt like a steal for something genuinely special. Shuffling into the night, buoyed by a glass of dessert wine on the house as we waited at the bar for a cloudburst to ease, I reflected on what the same sum might have bought me in London. My burger and kitchen roll with a few more cocktails on the side? A couple of decent courses, provided you opt for the house wine, in Soho?
Before the Olympics, in a last-minute sales pitch for the city, Boris Johnson boasted that London had more Michelin-starred restaurants than Paris – though it's odd that, when those stars were more plentiful on the Continent, they connoted fussy soft furnishings and overwrought food, whereas now they are used as hard evidence that Brits do it better. No matter – for the vast majority of people, comparisons at that high-falutin level are about as relevant as whether you should buy Chanel or Burberry.
You can, of course, eat fantastically well for rather a lot of money in London – and for very little, if you go frill-free. It's finding something in the middle that's not mediocre which is the problem. If you're neither a restaurant critic nor exceptionally wealthy, just someone in gainful employment who'd like to go out for a properly good, interesting meal without breaking the £50 ceiling, London is a tricky prospect. If you're not crazy about inane gimmicks or gentrified fast food, it can be quite depressing.
Paris, meanwhile, is full of possibilities. Happily for its denizens, Roseval is not a bargainous aberration, but typical of a local, independent restaurant scene founded on the talents of a fresh generation of young chefs, many of whom are not French, but have cut their teeth in some of the city's most creative kitchens and are now boldly striking out alone with their first ventures. Yes, there is also a clutch of trendy burger and steak joints, but they aren't setting the tone. Meg Zimbeck, editor of the Paris by Mouth restaurant blog, cites the recently opened Abri and the reopened Vivant Table, both of which have Japanese chefs, alongside Roseval as her top picks of the new season.
Common features include addresses in scruffier parts of town (but we're talking mainly the 10th and 20th arrondissements here, not the back end of the banlieues), low-key décor and a deliberately relaxed environment – all of which mean they can offer inventive dishes and pristine produce at a ridiculously fair price.
"I still think that one can eat better in Paris than almost anywhere else in the world, but the action is no longer happening at the haute-cuisine level," explains Zimbeck. "Chefs who have interned at Michelin-starred restaurants are now performing on smaller, more personal stages where they can innovate and use ingredients that go beyond foie gras, truffle and turbot. The calibre of lunch that you can have in Paris for €25 is unmatched anywhere in the world."
Youthful, dynamic and international in outlook, the scene is miles away from the aforementioned caricature of Parisian cooking over here. When I call Greenwold, to ask if he and Tondo will share their insider perspective on the contemporary Paris scene with a Londoner, he seems surprised: "I just didn't think anyone knew much about what's going on over here," says the Oxfordshire-raised chef. "I see articles about Paris in the food and travel sections of British papers, but I don't feel there's been that acknowledgement of what's been happening here."
I mention that the most recent face of Parisian dining is expat Brit Rachel Khoo, who had TV audiences drooling over her mismatched crockery, vintage dresses and her own, not especially exciting, "takes" on French cooking. "Is she a chef?" asks Tondo. "Well, she describes herself as a food 'creative'… I think she opened a pop-up restaurant in her flat," I offer. Tondo rolls his eyes.
So though we clearly love a bit of Amélie-esque Paris, when it comes to bistronomie – the move away from classic haute cuisine towards a more experimental style of cooking, offered in casual "neo-bistro" surroundings and at more affordable prices – we have been pretty slow on the uptake.
The seeds were sown by chefs such as Pascal Barbot as far back as 2000, but it found its full definition in the mid-noughties. In 2006, French-born Basque chef Inaki Aizpitarte brought daring reinventions of bistro fare and a slug of rock'n'roll glamour with his highly acclaimed Chateaubriand (Greenwold's training ground and currently 15th in the World's 50 Best Restaurants list). Gregory Marchand, returning from stints in New York and London, where he worked closely with Jamie Oliver – whose influence may be detected as much in his fashion sense as his approach to food – opened the insanely popular Frenchie in 2009.
Beyond a commitment to quality, simplicity and accessibility, the rules of bistronomie are pretty much that there ain't no rules – creativity and individuality are its watchwords. It's this ethos that has encouraged the Roseval generation to forge ahead with their personal visions, diversifying the scene and maintaining its dynamism.
All this flies in the face of accounts of the demise of Parisian gastronomy – as recently as 2009, US journalist Michael Steinberger's award-winning Au Revoir to All That presented a seemingly persuasive argument that the decline of the country's food, yoked to the offering in Paris, mirrored France's dwindling political and economic status. Although purporting to be as much eulogy as elegy, Steinberger's tome drove another nail into the metaphorical coffin in which international media seemed happy to inter Paris's culinary prowess.
Yet Steinberger's argument has not dated especially well in these recessionary times. Mocking the French distrust of free-market economics and globalisation, he also drew a direct link between the "vast amounts of wealth created in London", Spain's "flourishing" economy and their rise as gastronomic powerhouses, fuelled by diners with deep pockets. But if (temporarily) booming economies spurred a certain kind of innovation, the new genre of dining that was being created in Paris was better placed to weather a downturn. Increasingly, it looks as though the French were wise to have scaled things down in the dining-room while others were ramping them up.
Paris's latest clutch of restaurant openings also shows up the fallacy of another broader claim often made about France, that the country's labour laws and bureaucracy strangle entrepreneurial spirit. I ask Greenwold whether it would have been any easier to open a restaurant in London. Though he admits the bureaucracy was maddening, it seems to galvanise the city's cheffing community (friends in the business obligingly lent Greenwold and Tondo their business plan to copy). And the bottom line is money: "We could do what we wanted here for a lot less. Even in east London I can't imagine we could have opened this for less than half a million; here we did it for 150k. Our rent is expensive by Parisian standards, but cheap for London. We'd love to do something in London, but we'd need serious investment." The figures go a long way to explaining differences in the capitals' dining options. In Paris, you can go small-scale and do OK. In London, mere survival requires something very commercial. Something like a burger on a piece of kitchen roll, perhaps.
Not long after my Paris trip, I speak to Luc Dubanchet, the food critic and former Gault-Millau guide editor who 10 years ago, bored with the capital's staid restaurant scene, founded Omnivore, a food publication set up in explicit opposition to the Michelin Guide and the stuffy approach to eating he felt it encouraged. Since then, the magazine has fought passionately to define and promote the new wave of jeune cuisine simmering away in Paris.
I ask Dubanchet if he is pleased with how far the city has come. "Well, I was right that we could do better – so that's good," he laughs. "Paris is great now; you can feel something there which is about excitement rather than history and Michelin stars. But it's fragile. Everywhere, not only in France, you have to fight for something new all the time."
It is in a spirit of enquiry and exchange that Dubanchet launched the Omnivore "World Tour", a series of events across the globe connecting local chefs with their counterparts from Paris and around Europe for a programme of dinners and masterclasses. The Roseval boys are among those now involved: Tondo showed me a large Babushka tattoo on his arm that commemorated their stint at a recent Moscow event, confirming the youthful, irreverent nature of the gatherings.
I ask whether either of them might be acquiring some London-themed body art any time soon. "I think so," says Greenwold. "I don't know how the kind of thing we're doing over here will go down to be honest. The [east London-based chefs] Young Turks are part of Omnivore and I know that they've got quite a lot of attention in London with some of their combinations. James [Lowe] does a dish that's aged steak cut into a tartare with an oyster emulsion. It's really good, I'm not knocking it as a dish, but if you look at what's been going on there, it's not that out there. If people think that's crazy in London, they're going to think that the kind of stuff Inaki does, and maybe we do sometimes… well, they're going to think it's fucking weird." Perhaps we're not quite the cutting-edge sophisticates we think we are.
Dubanchet is a big fan of a good hamburger, so he has no sympathy for my kitchen-roll-related woes in London. But he is unimpressed when I tell him of a recent meal in Piccadilly's new Brasserie Zedel, the vast, Disney-esque repro French bistro that has been serving up competent oeuf mayonnaises and choucroute at chain-restaurant prices to the general approval of the city's critics. "There are so many French copies. Even here in France there are French copies. Why another one?" he sighs. "You have to be careful you don't get too complacent. Otherwise, you will wake up and find that you're, well, French."
Ooh la la! The brightest young stars of Parisian cuisine
Abri
Already a foodie favourite since opening last month. Japanese chef Katsuaki Okiyama turns out exquisite plates, such as potato soup with coffee and cardamom foam, in a low-fi setting. A prix fixe four-course lunch is €22; six-course dinner €38.50. Abri's excellent sandwiches, served all day, are fast becoming legendary too. 92 Rue du Faubourg-Poissonnière, 75010, tel: (00 33) 1 83 97 00 00
Chatomat
The international pedigree of the young couple behind this diminutive restaurant (Victor is French, Alice Italo-Brasilo-French) makes for bright, thoroughly modern cooking in an unpretentious atmosphere befitting its Ménilmontant location. Described as adorable by Le Figaro's redoubtable critic François Simon, dinner à la carte averages €40. Closed lunch. 6 Rue Victor Letalle, 75020, tel: (00 33) 1 47 97 25 77
Chez Aline
Although strictly speaking not a restaurant, this is unlike any snack bar you'll have known. Housed in a former horsemeat butchers, Delphine Zampetti (aka Mrs Inaki Aizpitarte) turns out superlative sandwiches (from €4.50) and a couple of plats du jour (€10). Try the rabbit baguette with sundried tomatoes or go old-school Parisian with a simple jambon-beurre. 85 Rue de la Roquette 75011, tel: (00 33) 1 43 71 90 75
Restaurant Pierre Sang Boyer
A finalist in the French equivalent of Masterchef, Korean-born Boyer opened a spot in trendy Oberkampf this summer, where imaginative but polished cooking rules: veal tartare with figs; gambas with aubergine caviar and frozen banana slices. Trust us, it's good. The four-course prix fixe is €35. Sadly, no reservations are taken. 55 Rue Oberkampf, 75011, no phone
Vivant Table
The bistro formerly known as Vivant has reopened with an upgrade on the menu as well as the name, thanks to two skilled Japanese chefs, Atsumi Sota and Masaki Yamamoto. Early whispers describe the food as "mind-blowing", but there have been quibbles over the prices – €45 for the fixe – which shows the value Parisians expect. A bar à vins opens next door soon. 43 Rue des Petites Ecuries, 75011, tel: (00 33) 1 42 46 43 55
Join our new commenting forum
Join thought-provoking conversations, follow other Independent readers and see their replies