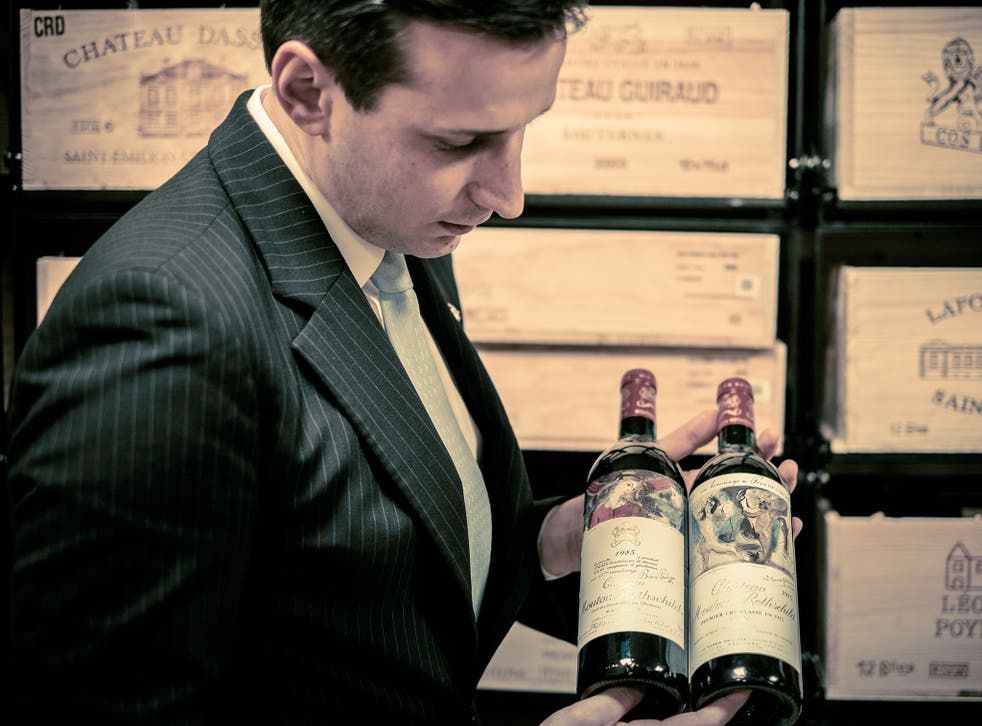 Peninsula Hotel Paris's chief sommelier Xavier Thuizat shares his tips for wine buyers
Choose with the season and dishes in mind, and keep an eye on temperature
Turn off the Avenue Kléber, just down from the Arc de Triomphe, and pass through the revolving doors of the 11-month-old Peninsula Hotel Paris. Ignore the diaphanous glass sculpture of falling leaves, travel two floors down in the service lift and you will find one of the most interesting parts of this vast and beautiful edifice: the wine cellar.
It is the most unprepossessing space in a very prepossessing building. It is big, though, and it has to be, because there are two restaurants, L'oiseau Blanc and LiLi, and 200 guest rooms here – plus 12,000 bottles. When Xavier Thuizat, the chief sommelier, unlocks the door with the key he keeps on a chain, the white walls of the corridor outside are supplanted by greens and reds and row after row of black.
Lots of Parisian restaurants and hotels have cellars with more wine than the Peninsula, but those tend to be old stagers whose cellars go back decades, sometimes even centuries. The Peninsula's list was created in 18 months. It was, Thuizat says, a bit of a challenge, to "create a cellar from nothing. Another challenge is that I have to create a personalised wine list for each restaurant, for instance, to make the pairing with Cantonese cuisine for LiLi."
He has done it skilfully. The mainstay of hotels such as this is burgundy. Expensive burgundy, too, often stratospherically so. And there is indeed lots of it here. But Thuziat is unusual in that, of the 650 types of wine he sells, 350 are priced at less than £70 a bottle (and 55 per cent is white wine). Now, to you and me that might sound a lot. But in an upscale hotel, in the wine capital of the world, it is unusual. (Just take a look at the online wine lists of the other grand hotels in Paris.)
In a busy week, the hotel will sell 800 bottles. Aside from burgundy, Thuizat says it's a good time to drink chardonnay and pinot noir. "Where the white wines of Chardonnay are intense, full and deep, the red wines of pinot noir are delicate and elegant – but both make perfect choices for a great marriage with the food."
What makes the list less terrifying when you are presented with it is that the wines are not arranged by region but by profile, so the list has a delicate wine category, one for intense wine, one for young up-and-coming winemakers and one for vintages.
Thuizat does offer some advice on buying wine. First, choose with the season in mind: in summer, dry and fresh whites such as sauvignon, and in winter, deep reds such as sangiovese or cabernet sauvignon. And second, "keep the dishes you are cooking in mind", which, quite frankly, I often don't. He also has some advice on temperature. White wine should be kept at 10 degrees – no less or you lose the flavour and odour.
There is a vogue for decanting wine at the moment and when I ask him about that, he has iron rules: "Never decant pinot noir, as you can lose the texture of the wine. But for young shiraz and cabernet, decant 45 minutes before drinking. For wines older than 15 years, don't decant, they are too delicate at this age..."
I don't have too many bottles of 15-year-old wine on my rack, but if I ever do...
Register for free to continue reading
Registration is a free and easy way to support our truly independent journalism
By registering, you will also enjoy limited access to Premium articles, exclusive newsletters, commenting, and virtual events with our leading journalists
Already have an account? sign in
Register for free to continue reading
Registration is a free and easy way to support our truly independent journalism
By registering, you will also enjoy limited access to Premium articles, exclusive newsletters, commenting, and virtual events with our leading journalists
Already have an account? sign in
Join our new commenting forum
Join thought-provoking conversations, follow other Independent readers and see their replies