The Independent's journalism is supported by our readers. When you purchase through links on our site, we may earn commission.
Wines of the week
7 exceptional wines from Oregon
The state's wines are dominated by the pinot noir grape, and rival France's burgundies, says Terry Kirby, while bringing characteristics of their own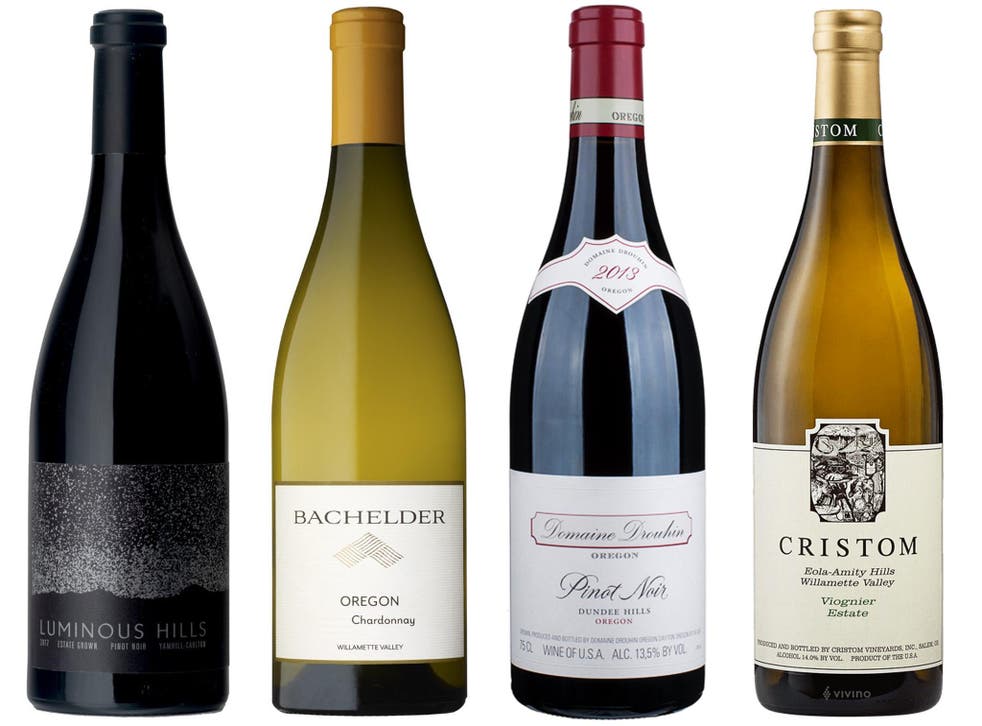 It is a very long way from Burgundy, but Oregon, in the Pacific northwest of the United States, can claim to produce some of the best pinot noir in the world.
Although the overall number of bottles is small, it is the fourth biggest producer of wine in the United States, after Washington to the north, California to the south and New York state on the eastern seaboard.
Wine production in Oregon – like Washington which I looked at last week – only began seriously in the Sixties and Seventies, although the growth has been exponential since the late Eighties.
But while there is a wide variety of grapes and styles in Washington state, Oregon is dominated by one grape, pinot noir, although it has a similar focus on small producers making high quality, critically acclaimed wines, but ones which often come at a premium price.
And, like Washington, you have to hunt around for them in the UK because a lot of their wine is consumed locally; you probably will not find any of these in your corner shop, unlike some of the products of California.
Inevitably, there are comparisons with Burgundy and many believe that Oregon can rival France for producing great pinots of elegance and power, but with their own defining characteristics.
It was therefore wholly unsurprising that one of the great names of Burgundy, Maison Joseph Drouhin, would decide to invest in vineyards in the main wine-growing region of the Willamette Valley which share a similar climate, latitude and aspect with Burgundy. It describes its wines as "French soul, Oregon soil", which is clearly apparent from the Domaine Drouhin Oregon Dundee Hills Pinot Noir 2015 (£32.50 hic-winemerchants.com; £36.49 waitrose.com). This is an iteration of pure pinot noir – complex and expressive, yet elegant, with flavours which include fresh but dark black fruits, some red-cherry notes, sandlewood and a little earthy spice. But equally stunning is the Lenne Estate Pinot Noir 2014 (£34.99 cheerswinemerchants.co.uk), which has, once again, complex, serious spice and intense flavours, but is light on the palate on which it dances with both charm and power. And the third in my trio of gorgeous pinots is the Luminous Hills Estate Astra Pinot Noir 2015 (£39.95 henningswine.co.uk), which is again packed with intense dark-fruit flavours; structured, supple and beguiling, with elegance and grace.
All three of these wines reward further cellaring, if you can wait, but are otherwise perfectly drinkable now for special meals with lighter roast meats and games, prime rare tuna and hard cheeses. If you find these kind of prices a bit intimidating, but are interested to try Oregon pinot, opt for the Christopher Michael Oregon Pinot Noir 2017 (£17.99 or £15.99 if bought as part of a mixed six-bottle purchase, majestic.co.uk), which is slightly lighter in style, with bright, cherry and raspberry fruit flavours, underpinned with touches of spice and tobacco. If you love great burgundy, but want to try something subtly different, all these wines will not let you down.
Although production is very much smaller, white wines in Oregon are mainly chardonnay and often equally exceptional in quality but very different from the classic dry whites of Burgundy, adopting the more vigorously oaky style of other parts of the New World.
If you like big, meaty, oaky chardonnays, then try the brilliant wild-fermented Bachelder Willamette Valley Chardonnay 2015 (£36.95 etonvintners.com) which is plump, rich and honeyed, but has a dry citrus edge and a long finish. Brilliant with smoked fish, roasted chicken and lighter pork dishes.
Bachelder also makes pretty good, if also pricey, pinot noir. A little lighter on the palate and the wallet is the Seven of Hearts Chardonnay 2015 (£26.99 tauruswines.co.uk), which has a lovely balance between rich pineapple and melon flavours and a dry minerality, with only a little carefully judged oak ageing.
This also pairable with all the above, but will suit shellfish and baked fish, like a turbot or hake steaks. It is not all chardonnay: there is some terrific riesling produced – although sadly not always found in the UK – and this viognier: Cristom Vineyards Willamette Valley Eola-Amity Hills Viognier 2016 (£37.10 hedonism.co.uk), from grapes grown on volcanic soils and which is rich and savoury, with characteristic viognier flavours of dried apricots and honey and a full texture.
A great wine for pork with creamy sauces, chicken and full-flavoured fish dishes. Again, not cheap, but the quality is evident and, if more of us in the UK show an interest in these fabulous wines, perhaps the prices will drop.
Register for free to continue reading
Registration is a free and easy way to support our truly independent journalism
By registering, you will also enjoy limited access to Premium articles, exclusive newsletters, commenting, and virtual events with our leading journalists
Already have an account? sign in
Register for free to continue reading
Registration is a free and easy way to support our truly independent journalism
By registering, you will also enjoy limited access to Premium articles, exclusive newsletters, commenting, and virtual events with our leading journalists
Already have an account? sign in
Join our new commenting forum
Join thought-provoking conversations, follow other Independent readers and see their replies