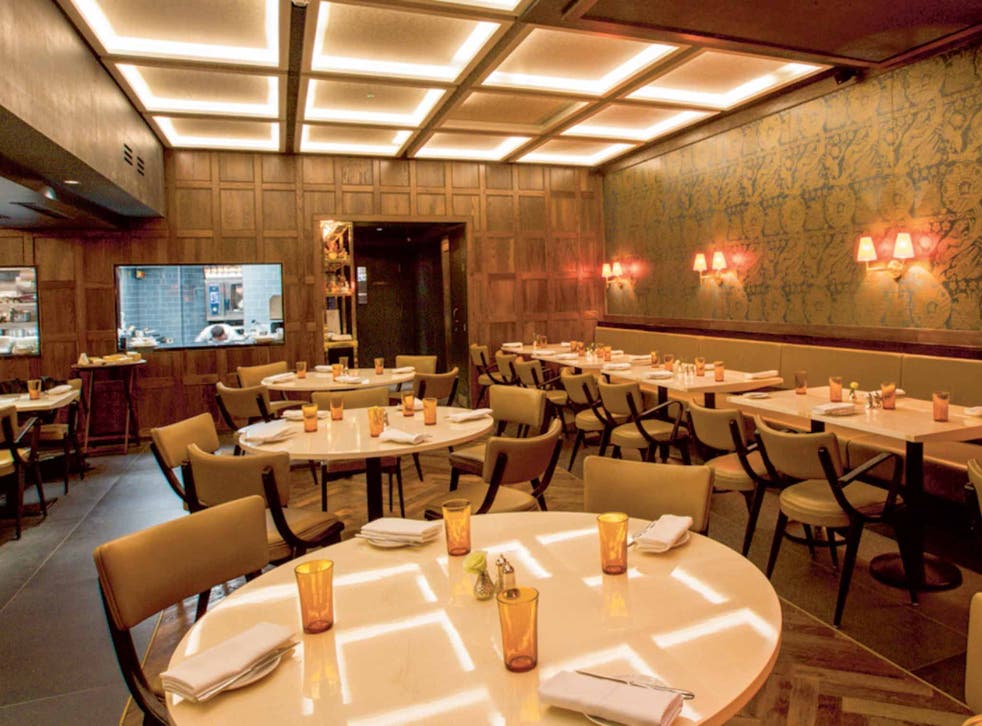 Piquet, London - restaurant review: When great food isn't enough to produce a winner
There's more to a great restaurant than great cooking
What makes a hot restaurant? It's a question I've been pondering since lunching in the decidedly tepid basement dining room of Piquet, where every squeak of feet on the stairs had us craning hopefully to see if more customers were arriving (they weren't). It isn't really fair to judge the temperature of a new opening too early, so I returned the following week to see if the place would feel more convivial when word had spread. Only one other table was occupied, and staff outnumbered customers by two to one.
It's mystifying. On paper, Piquet has everything going for it. It's in Fitzrovia, just north of Soho, an area once known for Greek restaurants that had been going longer than the Messenian wars, but now a dining hot-spot thanks to the likes of Dabbous, Newman Street Tavern and Berners Tavern. Piquet's chef-patron, Allan Pickett, has a starry CV, which includes Galvin Bistrot de Luxe and Orrery. And the concept of his first solo venture – French food cooked with Kentish ingredients – gives jaded food writers their angle. The Cornwall Project, which occupies the dingy upstairs room of nearby Fitzrovian boozer the Newman Arms, is doing something not dissimilar, and the critics and bloggers are flocking.
So why isn't Piquet packing them in? There's certainly no problem with the food. Much of what we ate was memorably good. Littlebourne snails braised with girolles, with toast to soak up all the garlicky juices. Cassoulet of white beans, cod cheeks and chorizo crowned with a filigree of tiny fried squid, its richness cut by grassy parsley oil. A showstopping pear tarte tatin, carved tableside for sharing, all glossy, buttery pastry and garnet fruit in a syrup swoony with star anise. Pickett's menu abounds with beautiful ingredients delicately handled to hit the sweet spot between generosity and indulgence.
There's more to a great restaurant than great cooking, though. And Piquet is just a bit off. The location is almost, but not quite, good, in a strip of office buildings just north of Oxford Street, overshadowed by building works for the giant Crossrail development. The moody ground-floor dining room pays homage to Fitzrovia's lost-afternoon taverns – dark wood, shiny pewter tables, a stool-lined bar counter. But on both visits we're automatically shown downstairs to a large, wood-panelled room which is lit like a shopping mall and staffed with the kind of febrile eagerness-to-please you associate with a failing first date.
Ordering sparkling water, we're encouraged to consider an aperitif: champagne, kir royale, maybe a cool, refreshing beer? We're grown-ups. If we want a drink, we'll order one. Staff may be dressed in jeans and waistcoats, but service feels formal, with every dish laboriously introduced. It's all a bit clenched and stressy.
The food is a lot surer of itself. Given the chophouse feel of the room, with its leather banquettes and patinated brass, there's a surprising delicacy to some of the dishes. Cauliflower velouté poured over almonds and nutty browned florets of cauliflower has a fine, clear flavour, not swamped by butter or cream. Marinated scallops are adorned with jewel-like balls of apple, cucumber, and lapped with parsley oil. Pickett's roots are classical French, but there's an openness to new techniques, as with the yeasted cauliflower purée which adds complication to a dish of crisp-skinned sea bass with girolles.
Foraged ingredients (some of them apparently supplied by Pickett's mother) pop up here and there, and cobnuts add a Kentish bite to pot-roasted partridge with pickled cherries.
The rump steak which forms part of the generous set-lunch menu is a throwback to the days when all we wanted from our beef was tenderness, rather than a whack of blood and smoke, but that's the only complaint. In fact, there's so much to like about Piquet, I feel guilty I'm not enjoying it more.
Perhaps the problem is that it's not quite clear who it's aimed at: is it a formal, fine-dining restaurant, a casual brasserie, or an odd conflation of the two? "I can't work out if it's high church or low church," as my confused guest observes. Also unsettling is the huge and vaguely pornographic painting of an Edwardian gent and semi-dressed soubrette which hangs over the staircase, bringing Jack the Ripper disturbingly to mind. "It's going!" calls out a chap I take to be the owner as we gawp at it. (Pickett is backed by the owner of Bodean's, the granddaddy of London's US-style barbecue restaurants.)
This area will be a hub when the Crossrail station finally opens, and if it can fine-tune its offer, Piquet will be in a prime location. Turn down the lighting, nix the noodly dinner-jazz soundtrack and relax the old silver service a bit, and maybe the place will start to attract the heat that Pickett's food undoubtedly deserves.µ
Piquet,92-94 Newman St, London W1(020 3826 4500)
Set lunch/pre-theatre: £16.50/£19.50 – 2/3 courses before wine and service.
A la carte: Around £35 a head before wine and service
Food µµµµ
Ambience µµ
Service µµµ
Join our new commenting forum
Join thought-provoking conversations, follow other Independent readers and see their replies