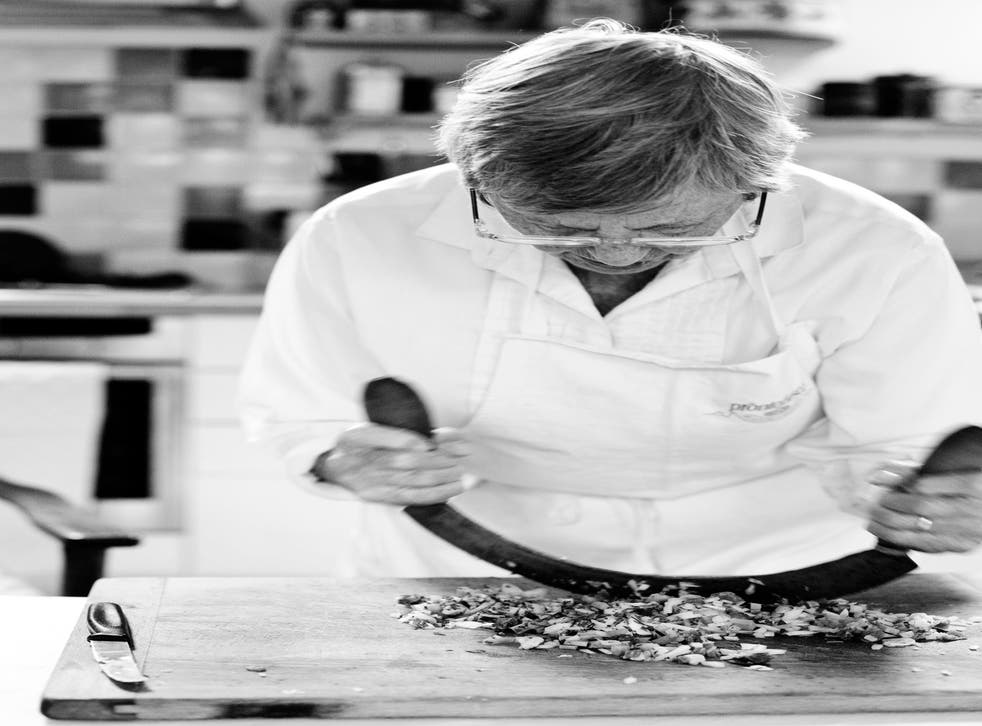 Queen cucina: Anna Del Conte - Britain's indisputable authority on Italian cooking - shares a few of her top tips
Spaghetti should never go with bolognese, and salad should be tossed 33 times in its dressing...
The woman regarded by Nigella Lawson as "beyond doubt, the best writer on Italian food" shook her head when describing the British approach to the cheap, tasty dishes of her homeland.
Yards of shelf-space in every supermarket are devoted to pasta and there may be a pizza parlour on every high street but we just don't get it. "The main lesson you've got to learn is simplicity," said Anna Del Conte. "It's important what you put in, but equally important what you leave out. Somehow, the British use more sauce with pasta than it needs and you tend to add too much parmesan. It should always be used with discretion."
Her interviewer, who applies parmesan with a notably heavy hand, felt a pang of recognition. I also discovered that I often use the wrong pasta shape for puttanesca sauce, the spicy quintessence of comfort food. "It may be all in the mind but I can't enjoy penne alla puttanesca. For me it's just the wrong shape." Spaghetti is fine for puttanesca but not for ragu alla bolognese. Like other foreign dishes the British have taken to their hearts, spag bol is a culinary solecism.
"A lot of Italian food actually came from America," Del Conte explained. "Spaghetti bolognese originated in New York. The clever immigrants put them together to suit American taste but ragu is never served with spaghetti in Italy. Spaghetti keeps the sauce on the outside, so it's better for oily sauces like pesto. Tagliatelle is more absorbing because of the eggs it contains, so it's ideal for meat ragu – but don't use too much.
For every 400g of dried pasta, there should be no more than 350g of meat ragu. In Britain, we have ragu with pasta. In Italy, it's pasta with ragu." Italians relish pasta for its own sake. Del Conte writes that "one of the best possible ways to serve linguine" is with the "simplest of all dressings": garlic, olive oil and chilli flakes.
I was speaking to this astute, youthful, restrained 88-year-old – Lawson describes her as "a cool Milanese" – before the launch of the third edition of her masterpiece, The Gastronomy of Italy (Pavilion, £30), which, as she says in the introduction, "has been thoroughly – I can truly say exhaustively – revised". Her two-year rewrite, combined with a reshuffle of the contents, has resulted in an addictively readable encyclopaedia/cookbook running to 500 pages.
Her knowledge and assurance are reminiscent of Elizabeth David, while her scope and flashes of humour bring to mind Alan Davidson's Oxford Companion to Food. The Gastronomy of Italy certainly deserves a place alongside their magisterial works. Del Conte explained why she felt the urge to write this in-depth guide, which first appeared in 1987. "Unlike France, very little was written down about Italian food. It's all word-of-mouth. Ask an Italian about food and they know everything, though it's not always right."
Every page glitters with information, tips and background for the gastronomic Italophile. I learnt why my rendition of the Venetian classic risi e bisi (rice and peas) never matches the one I had near the Rialto bridge ("should be made with very young peas"), why the gorgeous Tuscan bean soup ribollita tastes even better with keeping ("it should be prepared a day in advance to allow the flavours to develop before it is reheated, hence its name 'reboiled'") and why the strands of my cooked spaghetti lack life after draining. (It does not have the requisite goccia or a drop of moisture: "Experts never drain through a colander but lift it out of the water with tongs... spaghetti should be quite moist when the sauce is added".)
In How to Eat, her great advocate Nigella Lawson writes that Del Conte taught her how to overcome the "invasively metallic" taste of tomato purée. Here's the advice in The Gastronomy of Italy: "[It] should be used sparingly and allowed to cook in the sauce for some time. A small amount of sugar helps the process."
If the British screw up the restrained harmony of simple Italian dishes through excess, there are areas where we underdo it. "In salads, there's a lack of oil and too much vinegar. It should be four parts of olive oil to one or two of wine vinegar or lemon juice," said Del Conte. "In Italy, we say you need four people to dress a bowl of salad. A generous person to pour the oil, a wise person to sprinkle the salt, a miser to add the vinegar and a patient person to toss it – 33 times is said to be the minimum. Where pasta dishes call for butter, I don't think you use enough. One chef was amazed at the amount I used."
Pasta al fuso, where the sauce is merely melted butter, "which may contain two or three sage leaves and a bruised garlic clove", is a favourite dish from her native Milan. Born in 1925, Del Conte grew up in a middle-class household, though her mother was a fine cook who instilled in her children an appreciation of the value of food. Del Conte still detests waste. "As children, we were not allowed to throw away the smallest piece of bread," she writes. "If we did, our fate in the next life would be to go around with a bottomless basket picking up all those crumbs thrown away by us and other wicked children."
Still a teenager, Del Conte had an eventful war, including two brief spells of imprisonment. As was pointed out when she appeared on Desert Island Discs, not many of today's food writers have been strafed by machine-gun bullets. In her autobiography, she recalls diving into a patch of nettles to avoid the fire from allied aircraft. "I often remember that burning sting when I go out, here in Dorset, to collect nettles to make one of my favourite spring dishes – risotto with nettles."
Del Conte came to England as an au pair in 1949, married and started writing about food in the Seventies. Her late husband, Oliver, was "the ideal taster and tester. He did not have a very discerning palate... If he described a dish as 'rather bland' I knew it would not be appreciated by the average English eater." According to Del Conte, the Italian condiment company Sacla increases the quantity of garlic in its pesto destined for Britain. Contrary to popular belief, she says, "the Italian use of garlic is very moderate".
Though this diminutive figure was given the magnificent title Ufficiale dell'Ordine al Merito della Repubblica Italiana in 2010 for informing the British about the true taste of Italy, she admits that her television trials were "a disaster... so I had to delete a few noughts from the books I was likely to sell and many pounds from my bank account". When I asked Del Conte how she felt about the chains like Carluccio's and Jamie's Italian spreading across Britain, she answered with her customary finesse. "They're not perfect, but they are popularising simple dishes and that's the main thing. They are quite good for what they are – perfectly decent."
What's the best pizza she's ever had in this country? "To tell the truth, I eat food in particular places. I'm very subject to atmosphere. Of course, I eat pizza in Naples, but here, very seldom. When I go to Pizza Express with my grandchildren, I like the simplest pizza, a margherita. I'm very old-fashioned in my food tastes."
Italian restaurants may be more commonplace here, but the very idea would be baffling to Italians. "Italian food only exists abroad," said Del Conte. "In Italy, we always think of the food of a certain region. The cooking of Milan and Naples are utterly different, but items have spread across the country, such as Genovese focaccia and Sicilian arancini. It's still nice to go where dishes came from and eat the original version. The best recipe comes from where the ingredients are best.
The red mullet of Livorno is better than anywhere else – that's why triglie alla livornese [red mullet in tomato sauce] is so good. The same applies to the clams of Naples in spaghetti alle vongole and Venetian scampi in risotto di scampi. You find the best risotto near the rice fields of the Po valley. The best basil is grown in Liguria, which explains why pesto came from that region."
Until 30 years ago, she says, pesto was virtually unknown in nearby Lombardy. "We always had pesto made with the mild olive oil of Liguria when we > were on holiday." Her entry for this now-ubiquitous sauce suggests a yearning for the days when it was a rare treat. Ligurian basil is "sweeter yet more aromatic than anywhere else thanks to the perfect balance between humidity and hot sun. It is indeed odd that the only speciality from Liguria that genuinely needs a local ingredient should be the one that has travelled all over the world".
Understandably, Del Conte has a soft spot for the dishes of her Lombard homeland. Her favourite risotto is alla milanese, simply flavoured with saffron. "Not too much," she stresses. "In Italy, we use saffron powder that dissolves very easily. I always bring back some little envelopes of the powder."
Other homegrown favourites include minestrone (traditionally made with rice rather than pasta), snails simmered in white wine and served with fried bread ("utterly delicious") and a pork and cabbage casserole called cassoeula. The ingredients include two pig's trotters, one pig's tail (optional), one pig's ear (optional) and 250g pork rind. "In Italy, we say, 'The pig is like the music of Verdi – there is nothing to throw away'." (A somewhat more lyrical view than our 'everything but the squeak'.) Del Conte recalled her mother's rendition of this autumnal treat. "She normally cooked well but she did cassoeula extremely well. Every year, she didn't change it at all. It was practice and knowing what works."
The Gastronomy of Italy also finds room for the unconventional dishes that originated in Milan as part of the Futurist campaign in the Twenties to shock Italy. Devised by the movement's arch-polemicist Filippo Marinetti, fragolamammella consists of two mounds of Campari-tinged ricotta shaped like breasts. Half-hidden strawberries act as nipples. Del Conte writes, "The recipes worked and were not too bad, but I wonder if I enjoyed adapting them far more than my guests did in eating the dishes". The same thing happened to me when I made the startling strawberry breasts for an article on Futurist cuisine a few years ago. After nibbling a rosé bosom, my wife said, "Quite nice, though I prefer my Campari with soda".
The book draws tantalising, often unexpected recipes from every region of Italy. From Rome, Del Conte recommends spinaci alla romana (sautéed with sultanas and pine nuts) and the wonderfully named suppli al telefono, rice croquettes containing prosciutto and mozzarella (the cheesy strings are like telephone wires). Morseddu is a peppery dish of pork scraps eaten by Calabrian labourers for breakfast. Del Conte's recipe for panzanella, the deeply satisfying Tuscan salad of bread and tomatoes, came from a neighbour of her holiday home near Sienna. Another Tuscan speciality is salviata, a sage-imbued egg custard. "But the sage has to be young and fresh," she said. "You have to wait for the spring."
"What about using imported herbs?" I asked.
"No, they taste totally different."
On page after page of The Gastronomy of Italy, there are dishes that urge the reader beyond the country's familiar fast food. Peperonata, a southern stew of pepper, onion and tomato, "is now popular everywhere... Excellent with a plain frittata. If any is left over, it makes a delicious sauce for spaghetti". Lamb in horseradish sauce may sound like a variant on our Sunday roast but it actually results from the Austrian influence on Friuli in north-east Italy. "It's very, very good. I'd forgotten how excellent it is."
Del Conte may seem a purist, but she is not implacable. Discussing the great Milanese veal dish ossobuco, she admitted, "It's a bit hard to find veal here. I'm afraid I do ossobuco with leg of pork. It's not proper but more tasty". Taste is everything. At one stage in our afternoon meeting, she offered coffee. Unthinkingly, I suggested cappuccino, strictly a morning drink for most Italians. "You mean espresso!" said Del Conte, and so I did. It was just perfect. Another case of less is more.
Join our new commenting forum
Join thought-provoking conversations, follow other Independent readers and see their replies