Raw power: Mark Hix switches off the cooker

Show all 4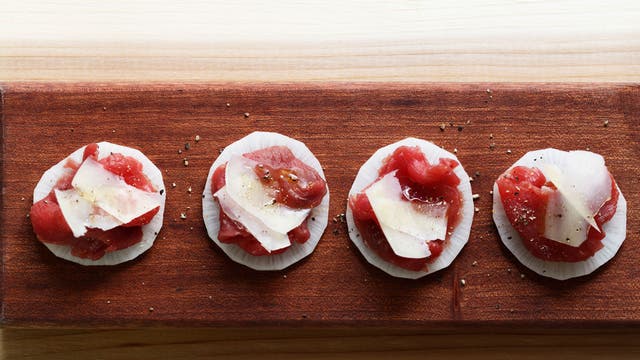 Raw power: Mark Hix switches off the cooker
Not everything requires hours of slaving over a hot stove, says our resident man in the kitchen – some dishes are best served cold.
No cooking today. It's not often I get to say that, but with these spring recipes for raw food there is, indeed, no cooking required. All you need are some tip-top fresh ingredients.
Often the idea of raw food conjures in your mind some hippie salads with grated carrot and orange juice, but with a bit of thought and good shopping you can come up with inventive dishes – and you don't even need to turn your cooker on. Not only that, but they're quick to knock up too: each one can be swiftly prepared in advance and simply finished off at the last minute.
Carpaccio with white radish and Berkswell cheese
Makes about 20 or more canapés/snacks
This is a great pre-dinner snack or canapé for a drinks party. Use white radish (also known as daikon or mooli) as they have an even shape and size, or failing that, you could try small turnips.
It is always difficult to dream up different variations on canapés and snacks but these are great because the crispness and slightly peppery flavour of the white radish go perfectly with the raw beef fillet.
1 small white radish or 4 small turnips, peeled
150-160g tail end of beef fillet
100g Berkswell or Parmesan cheese
Salt and freshly ground black pepper
1-2tbsp extra-virgin olive oil
Cut the white radish (or turnips) into quarter-inch slices – or finer – and put them in a bowl of iced water for 30 minutes or so.
Cut the beef as thinly as you can with a sharp knife, then cover each slice with clingfilm and bash it even thinner with the palm of your hand.
Drain off the white radish and dry well with some kitchen paper. Arrange the beef on the white radish and season, cutting down the carpaccio to fit if necessary.
Shave the cheese as thinly as possible f with a sharp knife or a peeler and arrange on the beef. Spoon a little olive oil on top and, if you wish, add a little more pepper and serve.
Queenies with radishes and ponzu
Serves 4
I grew up in Dorset eating little queen scallops brought to the harbour in West Bay, so when it comes to shellfish they have always been close to my heart.
Ponzu is a Japanese citrus-based sauce which comes in many guises, from a citrus yellow to the darker versions which have soy mixed in. It's a great stand-by dressing for Japanese dishes and a great quick marinade.
24-28 queen scallops, shucked, with the deeper half shell reserved
4-5tbsp ponzu
8-10 large radishes, sliced thinly, then shredded
2-3 spring onions, very finely shredded
Sea salt
Ten minutes before serving put the queen-scallop meat in a bowl with the ponzu and spring onion and season well with sea salt.
Leave scallops in the marinade for 2-3 minutes only, then return to their shells and arrange on serving plates with a little of the marinade.
If you can't find ultra-fresh queen scallops then use small, freshly shucked scallops. Cut them in half and leave for another couple of minutes to marinate.
Divide the shredded radishes between the shells and serve immediately.
Whiting with orange and dill
Serves 4
Not only is fresh whiting a great fish to serve raw like this – or in ceviche – but it's currently very cheap. As more people use it as an alternative white fish, it may only be a matter of time before the price of whiting gradually increases, but that's no bad thing because it eases the pressure on other, more popular species.
Try to buy large fish as you will get better slices for this dish. If you are not too handy with a filleting knife, then get your fishmonger to fillet, skin and bone it so you just have to thinly slice it.
You can also use lime or grapefruit for this recipe instead of orange.
300-350g whiting fillet, skinned and boned
The juice and segments of 1 orange, with the outer skin of the segments peeled off and the flesh roughly chopped
Salt and freshly ground black pepper
A few sprigs of dill, washed and picked into small pieces
Slice the whiting fillets as thinly as you can on the angle with a sharp knife, and arrange flat on cold serving plates. Afterwards cover with clingfilm and leave in the fridge until required.
Season the fish and spoon the orange juice over it evenly, then leave to stand for 5 minutes.
Scatter the orange segments over the dish followed by the dill and serve.
Raw vegetables with goat's curd
Serves 4-6 or more as snacks
This dish is basically just crudités, so you can serve any seasonal vegetable that you fancy. It could be offered as a snack with drinks, or as part of a mixed sharing starter on the table.
Get goat's curd from good cheesemongers like Neal's Yard in central London. Or you can also use a very soft, fresh goat's cheese mixed with a little milk to a creamy consistency.
A selection of small vegetables such as baby carrots, fennel, asparagus, spring onions, radishes or Treviso chicory, washed and cut down to similar sizes
120-150g goat's curd or soft goat's cheese
Prepare your vegetables as necessary. Young carrots can be peeled or just well washed with the green left on; radishes in good condition can be left whole, keeping their nice green leaves – and baby fennel bulbs should be left whole or simply cut in half.
Wash the vegetables well or leave them in iced water for 20-30 minutes.
Arrange the vegetables on a serving plate or platter and place the goat's curd in the centre in a dish.
Join our new commenting forum
Join thought-provoking conversations, follow other Independent readers and see their replies