ReviewerCard: Your ticket to a cheap and tasty meal out - or a recipe for gob in your soup?
Everyone is a critic these days. But can the threat of a bad review get the consuming public fawning service and a decent discount? John Walsh investigates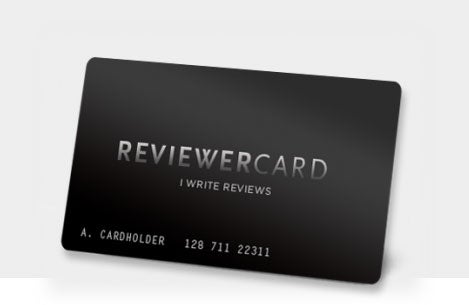 Restaurant critics are, by and large, an anonymous crew. They don't broadcast their intention to review an eating-house, they seldom book a table in their real names, they refrain from scribbling ostentatious notes about the dishes while eating them. And they never tell the waiters that they've come to evaluate the meal, décor and service.
Their photo-bylines can give them away, of course; some chefs keep a rogue's gallery of byline photos in the kitchen so they can identify Fay Maschler or AA Gill and alert the waiting troops to make a special fuss. It's happened to me. I've been offered the odd bribe: "Mr Walsh, look here – a customer ordered this £45 bottle of Cote Rotie, hardly touched it and has now left. It seems a shame to waste it, so I'll just leave it here for you to pour yourself a glass…"
But the profile of food critics has grown, along with that of masterchefs, in the last decade, and now every foodie with an itch for self-expression wants his own column. Hence the rise of bloggers, and people who write reviews for the TripAdvisor and Yelp websites. Some are very good; others are afflicted by an ungentlemanly exulting in the power they supposedly wield over a restaurant's fortunes, the poor benighted saps.
Now they have an ally. Brad Newman, an LA dental marketing executive (nope, me neither) has invented ReviewerCard, which reviewers can flash when visiting restaurants, in the hope of getting fawning service. Brad boasts that he routinely asks hotels for 50 per cent discounts in return for a five-star review. He charges online reviewers $100 for a card, and has had 100 takers so far -- though he's dished out 400 to friends whom he thinks warrant special treatment, just because they're, you know, wonderful folks.
The LA Times pointed out that Brad's cards carry the implied threat of a nasty review if the reviewer isn't indulged, pampered and made a fuss of. "It's not a threat," he countered. "It's a way to get the service you deserve."
I suspect Brad and his pals will indeed get the service they deserve. Having an arrogant little twerp flash a card and demand to be treated especially well tends, I am told, to give kitchen staff a terrible urge to gob in his soup, insert earwax in his terrine and give his raw sirloin steak a thorough wipe around the sous-chef's genitals before it's served up with a lovely smile.
Join our commenting forum
Join thought-provoking conversations, follow other Independent readers and see their replies