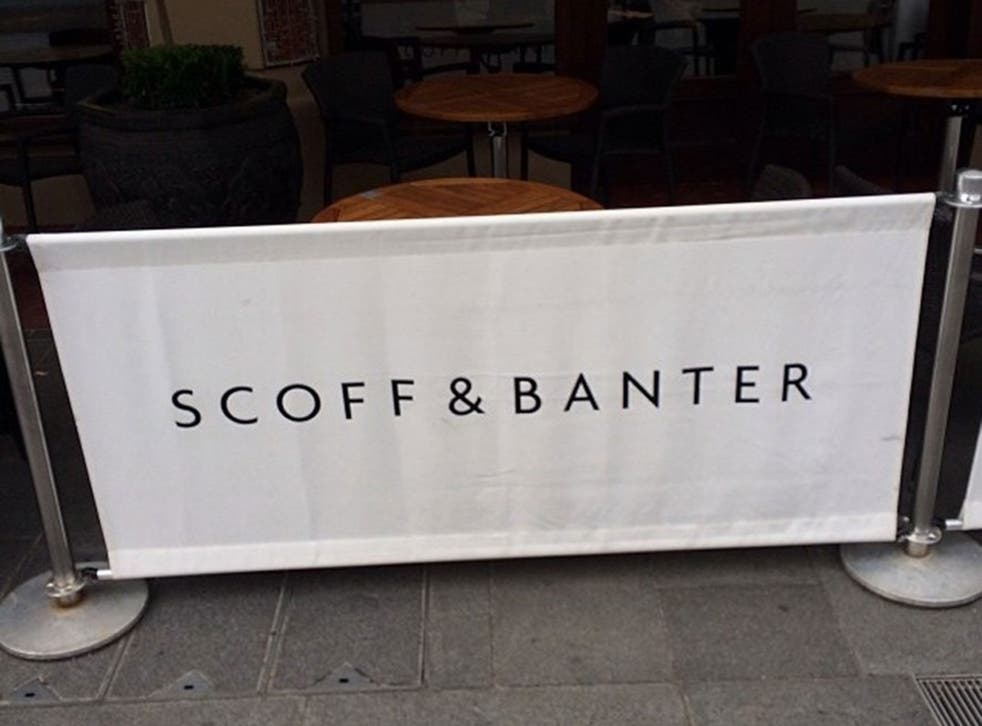 Samuel Muston: What's in a name? If you're christening a restaurant, then quite a lot
Naming a restaurant is like naming a child. Because as with the boy called Jago sent to the toughest comp in mid-Wales, a name can affect the direction of one's formative years. So I have only the deepest sympathy for the staff of Eggslut, a foodtruck-turned-restaurant that opened a few months ago in LA. If that was the best name that they could wrench from their imagination, I wouldn't like to be stuck next to them at a dinner party, even if I was eating their doubtlessly delicious "coddled egg on smooth potato purée in a glass jar" signature dish.
There is, of course, no road map to success when it comes to names, but I would suggest that the collision of the word "egg" and "slut" doesn't exactly encourage the appetite which, along with being memorable and snappy, is the only real goal of restaurant naming.
Eggslut falls into that dubious category known as "quirky", a group in which the egregious Scoff & Banter belongs. This UK-wide chain, which offers "food with heart that feeds the soul", has presumably been so named to suggest a rolled sleeve, let's-get-down-to-business informality. In fact, it makes the place sound like a Leeds University student society.
Less clear cut in the name game is the eponym. If you are Marcus Wareing it is just about permissible to call your redesigned restaurant MARCUS, even if it does sound a little Ceasarish, because some people will be visiting his establishment with the sole purpose of eating food touched by the hand of the great man himself. However, despite its name, I don't think anyone visiting the newly opened Ask for Janice will be doing as its name suggests. Similarly, Lyle's in London's Shoreditch may be very fine indeed, but as I have no idea who Lyle is (he isn't the chef, who is called James) and what he is about, I am not terribly moved to visit: in fact, it puts me off, raising in me as it does the suspicion that someone is trying to sell me a pup.
Another phenomenon of nomenclature has been sparked almost in its entirety by Rene Redzepi's world-beating restaurant Noma. The trend for using words which have absolutely no resonance in English, are possibly gibberish, but absolutely must end in an "-a" is so entrenched that several have opened in England in the past 12 months alone, including Fera (which translates as wild), Canela (cinnamon in Portuguese) and Linnea (which is a popular girls' name in Sweden). Perhaps they think that having a mysterious name will help with bookings, and perhaps they will be proved right, but it seems unlikely to help much when people are trying to search for its address on Google.
What are the alternatives? Well, as a declaration of intent, you can't get much better than L'Escargot.Immediately you know that it is going to be French, probably quite posh and with snails somewhere on the menu. It does the job adroitly. And equally so with Burger and Lobster, a place which, quite literally, lets its food do the talking.
These recent outbreaks of lexical fatuity serve only to obscure. If I was to pass over the threshold of Eggslut, I may find a place peopled by broadly-smiling staff and egg-based dishes of almost unknowable beauty. But, the problem is, with a name like that, I am just never going to pick up the phone.
Join our new commenting forum
Join thought-provoking conversations, follow other Independent readers and see their replies