Wines of the week
7 spring white wines to remind us of European holidays
Summer trips abroad aren't an option right now, so why not travel via the wines you sip, asks Terry Kirby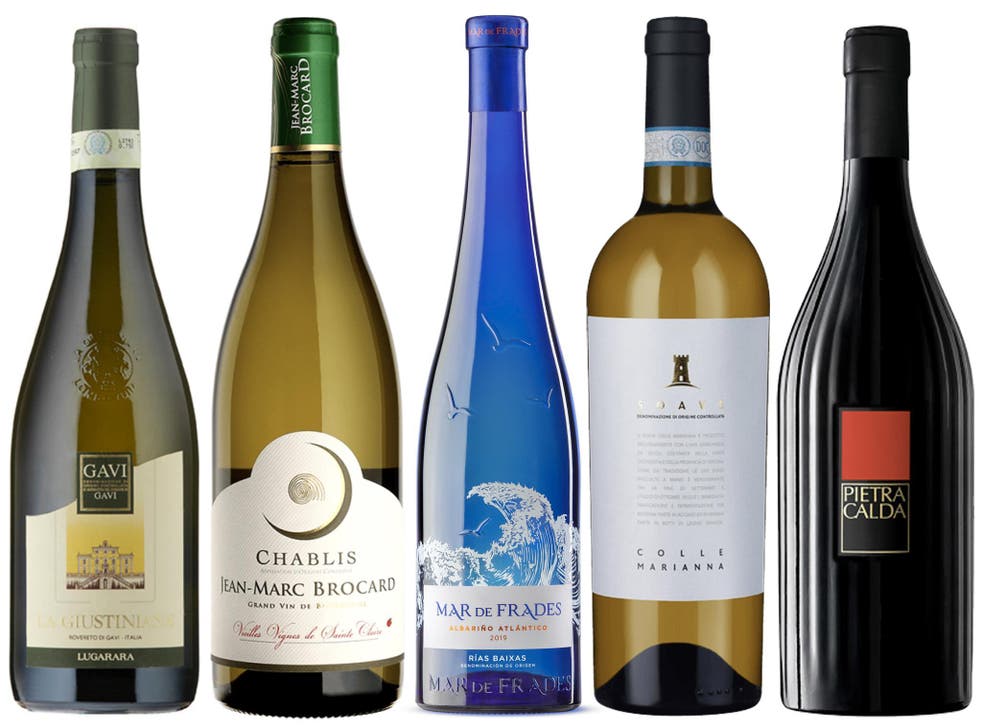 Despite the seriousness of the pandemic and the trials and tribulations of the lockdown, many of us have been able to find consolation this spring through having the time to cook and eat and the pleasure of a glass or two of wine with which to unwind of an evening. And for many of us, now the days are longer and warmer, our wine of choice is likely to be a chilled white wine.
My column a few weeks ago covered the delights of sauvignon blanc from around the world and next week I'll be recommending some everyday budget whites, so this week I'm looking at some fine European white wines to enjoy as your special lockdown glass, all characterised by clean minerality that refreshes and enlivens. If we can't actually go on holiday to some of our favourite European destinations, we can at least use our imagination as we sip our wines.
Italy is of course known for its gluggable but sometimes bland pinot grigios, but there are so many more and different whites to enjoy, which we have savoured in the cafes and restaurants in the piazzas of its glorious ancient towns and cities. Firstly, from Piedmont in the north, with towns such as truffle centre Alba, the La Giustiniana Gavi di Gavi, Lugarara, 2018/19 (£13.50 fourwallswine.com; £16.95 etonvintners.com) made from the Cortese grape has complex flavours of almonds, white fruits and a hint of lime, with a creamy, medium to full bodied texture; sip and imagine the passeggiatta taking place in front of you, footsteps, laughter and chatter on stone streets.
From the other side of northern Italy and made from the garganega grape grown on volcanic soils in the Soave region east of sublime Venice, the Colle Marianna Soave 2019 (£10.99 laithwaites.co.uk) has a similar apricot and other stone fruits and a fullish creamy minerality to it, with some subtle underlying green vegetal notes. Both are great wines for a baked white fish, or cod wrapped in parma ham, but also try the Italian mixed fried fish dish, fritto misto, for a real reminder of the country.
In the Campania region in southern Italy, surrounding Naples, Pompei and the gorgeous Amalfi coast, volcanic soils also impart a smoky, slightly spicy but crisp lemony minerality to the Feudi San Gregorio Pietracalda Campania, Fiano Di Avellino 2018 (£20.87 greatwinesdirect.co.uk) which is a real special occasion wine to uncork for a birthday or other celebration and accompany crab or lobster.
Over on hilly Italian island of Sardinia and north of the ancient capital of Cagliari, lie the organic vineyards run by Antonella Corda, who makes the intense, aromatic, vegan friendly Vermentino di Sardegna 2019 (£17.95 cellarselected.com) which simply bursts with lemony, herbal characters from a grape which can be a little on the insipid side; one for grilled red mullet or any kind of simply cooked shellfish and an imagined view of the glistening Mediterranean sea.
Another island which delivers fantastic white wines is the volcanic Greek island of Santorini, where the Assyrtiko grape reigns supreme and the Gaia Thalassitis Assyrtiko 2018 (£27.95 winedirect.co.uk) is a brilliant example of the style – very dry, very, very mineral, with lemony and white stone fruit flavours and just the merest hint of salinity. Another special occasion wine, with an imagined view of the sparkling Aegean Sea required, little boats dotting the blue/green vista, stirring our memories of Greek island holidays past.
There is no doubt that the proximity to the sea delivers something special to many whites and the Albarino grape of the wet, green, seaward facing, granite soil valleys of the Rias Baixas in northwest Spain have a bracing, zesty, saline minerality about them, making them ideal with shellfish.
Winemaker Paula Fandino uses innovative techniques to get the best out of the grapes for the Mar Des Frades Albarino 2018 (£13.39 winebuyers.co.uk; £18.75 greatwesternwine.co.uk). Sip slowly, savour the flavours of lychees and pears and think of the Atlantic waves crashing against the rocks and the prospect of a plate of oysters, a seafood paella or the local percebes shellfish.
Almost as many British visit France as Spain and here, of course, the choice of white wines is extensive. But for many, chablis, with its dry, lemony minerality is a go to wine for spring and summer and a reminder of those holidays travelling around France, so then look no further than the wines of the highly regarded Jean-Marc Brocard and whose Jean-Marc Brocard Vignobles Sainte Claire Chablis 2018 (£18 thewinesociety.com; £19.49 allaboutwine.co.uk ) is a supreme example, which some added oomph from old vines which give a fuller more complex palate with plenty of citrus and apricot flavours. Oysters, again, obviously, but just add some simple grilled fish, a hunk of goats cheese and a crisp baguette...
Join our new commenting forum
Join thought-provoking conversations, follow other Independent readers and see their replies