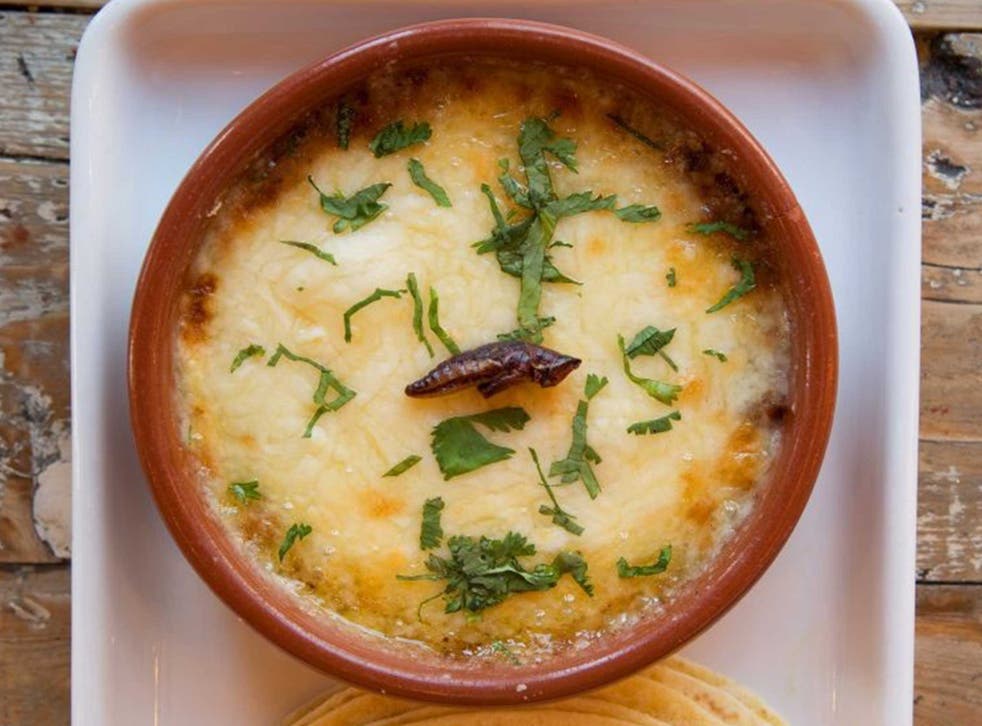 Tastiest food trends for 2015
Seaweed in the supermarket, crickets with our quaesadillas, and digital dining that will soon see us ordering by iPad. Clare Thorp gets the lowdown
Clare Thorp
Thursday 01 January 2015 18:29 Comments
Back in the Eighties, every household had a bottle of Cinzano Bianco stashed in the drinks cabinet. But vermouth fell out of fashion, demoted to little more than a cocktail ingredient. Now, it's making a comeback.
Vermouth
Hugo Thurston, general manager of the newly opened Jago in East London, has put it at the top of the restaurant's drinks list.
"We're fully championing it," he says. "I've been expecting this to happen for a while." Why? "The fact that drinks like Campari have suddenly become fashionable again, coupled with the amount of artisanal vermouth products being made. Plus, it's delicious."
The Ethicurean in Bristol has gone a step further and created its own, The Collector, made from ingredients found in the restaurant's walled garden. Meanwhile, Marks & Spencer has just upped its range, adding the bartender's favourite red vermouth, Antica Formula, to its shelves. So, how should we be drinking it? "Straight up with no mixer, on the rocks," says Thurston. "Or with the tiniest splash of soda to mitigate the sweetness."
Digital Dining
Forget putting your phone away at dinner – in 2015 you might need it to pay your bill, as more restaurants bring technology to the table.
New app Velocity aims to do for restaurants what Uber did for cabs, letting you book tables and view and settle your bill from your smartphone. It's being rolled out to more than 200 restaurants next year.
In the recently opened Rex and Mariano in London's Soho, customers order their food from a tablet at their table, with service charge cut to 5 per cent to reflect the lack of waiters.
"It makes everything simpler," says operations manager David Strauss. "You don't feel under any pressure, and can order when and what you want."
Perhaps most bizarrely, Pizza Hut is trialling a "subconscious menu" in 300 UK branches, which uses retina scanning technology to track how long your eyes linger on each item and suggest the perfect topping combination.
Sustainability
"Restaurants that can emphasis their eco-credentials will be very attractive to consumers in 2015," says Mandy Saven from trend forecasters Stylus. And they're thinking of increasingly innovative ways to do this. The Belfry in Yarcombe, Devon is cutting down on food waste by asking diners to order 24 hours in advance.
Cafe chain Boston Tea Party sends the leftover coffee grinds from its Bristol branches to Dartmouth Prison, where inmates use them as fertiliser to grow Oyster mushrooms – which are then used in the restaurants.
The big issue next year, though, looks set to be our reliance on meat, with the first UK Meat Free Week taking place in March.
"Our meat consumption is the proverbial elephant in the room," says Mark Linehan from the Sustainable Restaurant Association. "But I think there's going to be a real drive toward eating less."
To try to lure people away, Mexican chain Wahaca is trialling an alternative form of protein from this month – crickets. Could we really swap steak for insects? "If we can persuade people to eat raw fish we can persuade them to eat anything," says Lineham.
Baobab
This African fruit has been on the radar of health-food devotees for a while, but is now going mainstream, with both Waitrose and Marks & Spencer launching a juice containing it. In 2015, it looks set to oust chia seeds as the superfood you won't be able to avoid.
The nutritional benefits of Baobab, which is sold in powdered form, are impressive. Besides powerful antioxidant qualities, it has six times the vitamin C of oranges and six times the potassium of bananas. But the rise of Baobab, which grows in 32 African countries, will have benefits beyond our health.
"It could be a billion-dollar industry for Africa," says Andrew Hunt, co-founder of Aduna, a social business supporting small-scale Baobab producers.
"It's a product that already exists, but currently goes mainly to waste. If we can create demand, then the supply is already there."
His Make Baobab Famous campaign is finally paying off, as the baobab gains popularity.
"We got the raw foodies, the yoga mums, anyone with their own Nutribullet first. Now, we're seeing the next phase."
Birch Water
The rise of coconut water from a niche product to a $1 billion global industry has been one of the biggest health food stories of recent years.
Other plant-based waters have tried to get in on the success, including maple, aloe and cactus, but it's Birch water that trend forecasters are tipping to be our next obsession.
The clear liquid, harvested from birch trees during a two-to-three-week window in Spring, is already sold as a health food drink in parts of Asia, Scandinavia and Eastern Europe. The first UK version will launch in health-food stores this month.
Like coconut water, it claims to be high in electrolytes and potassium, which help rehydrate, but devotees make other bold claims, saying that it can help treat conditions including liver disease, constipation, flu, headaches, dandruff, eczema and cellulite. These benefits are as yet scientifically unfounded. But then, so were many of those of coconut water – and we still went crazy for that.
Seaweed
Kale, your time is up. There's a new, somewhat slimier green ingredient making its way on to the nation's menus. No longer just a greasy Chinese takeaway side order, chefs are embracing it as a star ingredient. Ollie Dabbous, of the much lauded Dabbous in London, uses sea lettuce, wakame and kelp "for its velvety texture". At the Michelin-starred Three Chimneys in Skye, seaweed is harvested locally and used in the kitchen. And where chefs lead, customers follow.
Mara Seaweed, which supplies Harrods, Harvey Nichols and Whole Foods, has seen its sales rocket by 73 per cent in the last quarter, and is about to move into high-street retailers.
There are 650 edible varieties of seaweed growing along the UK's coastline. Tim van Berkel from The Cornish Seaweed Company, says people are finally cottoning on to its appeal. "The concept of seaweed as something smelly that you find on the beach is changing into an awareness that it holds an incredible amount of health and nutritional benefits – and actually tastes quite all right."
Bitter
It might not sound the most enticing of flavour descriptions, but bitter is set to dominate palettes in 2015. "Bitter is really being dialled up as a flavour," says Jonathan Moore, executive chef at Waitrose. "A lot of it has come from mixologists using more bitter ingredients in cocktails, and that's crossed into the food world."
Jonathan cites pomegranate molasses as a key ingredient. "It's being used in salads, in dressings, you can drizzle it over your Sunday roast, to give you that bitter hit." He's also tipping liquorice as a dessert flavour, moving on from our salted caramel obsession.
Former Ottolenghi chef Josh Katz, whose restaurant Berber & Q opens in London in May, champions bitter ingredients such as lime butter, grapefruit, burdock and chicory, but says it's all about the balance. "On its own, it can be quite offensive, but when combined with other flavours, it can really lift a dish, and create something unusual."
Freekeh
So, you've finally started pronouncing Quinoa correctly. Bad news – it's set to be ousted from the spotlight by another grain, freekeh. This Middle Eastern grain isn't new. In fact, it's been around for thousands of years, and chefs such as Yotam Ottolenghi and Skye Gyngell – who has it on the menu at her new restaurant, Spring – have been aware of its charm for a while. Now, the masses are catching up. "Ancient grains are coming to the fore as people become more experimental with their cooking and look for ingredients with health-boosting credentials," says Mandy Saven from the trend forecaster Stylus. Packed with protein, freekeh has a nutty, smoky taste. Waitrose introduced a quinoa and freekeh mix last month and Merchant Gourmet has just added it to its range to satisfy demand. Marks and Spencer is predicting big things for grains next year, launching packs of pre-cooked grain mixes – one of which includes freekeh. Time to get your freekeh on.
Register for free to continue reading
Registration is a free and easy way to support our truly independent journalism
By registering, you will also enjoy limited access to Premium articles, exclusive newsletters, commenting, and virtual events with our leading journalists
Already have an account? sign in
Join our new commenting forum
Join thought-provoking conversations, follow other Independent readers and see their replies