The chef you've never heard of: Darina Allen is Ireland's answer to Delia Smith
John Walsh charts her 30 years of influence on some of the world's greatest cooks from her farm in County Cork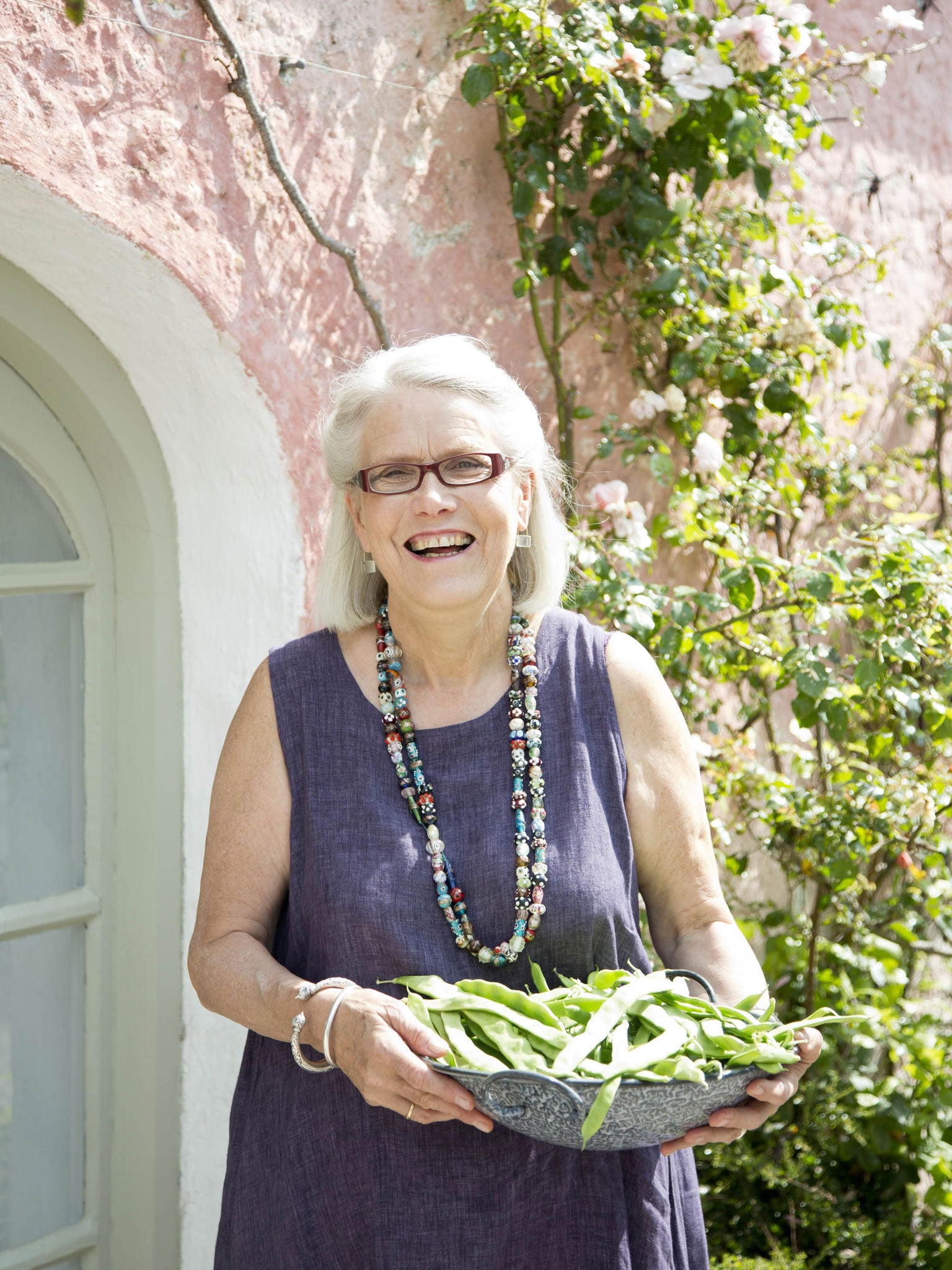 Trademark spectacles perched on her nose, wild streel of snow-white hair tucked behind her ears, Darina Allen gazes triumphantly from page nine of her new book. It's not just the triumph of a woman snapped in the garden of the restaurant-cum-hotel-cum-cooking-school that she's single-handedly turned into a global brand; it's the specific triumph of an Irish housewife who, flying in the face of logic, horticulture and the Irish weather, has persuaded the local soil to yield up a rare globe artichoke.
Ms Allen has been growing unusual food at Ballymaloe, Co Cork, for 40-odd years. Her 100-acre farm, with its acre of greenhouses, probably delivers a more diverse range of crops than any farm in Ireland. But the farm has produced something more spectacular than food: the world-famous Ballymaloe Cooking School which invites the world's top chefs to its doors and its classrooms, and sends out successive waves of alumni to run restaurants from Bantry to Brisbane.
Darina is the most famous cook in Ireland, who, like Delia and Nigella, needs no surname. She has starred in her own RTE TV cooking shows, published 10 books starting with the Simply Delicious series, and received a dozen awards and prizes for catering, hospitality, business and all-round good-eggness. Her most recent prize was the 2013 Cookbook of the Year award at the Irish Book Awards last week, for her 30 Years at Ballymaloe: A Celebration of the World-Renowned Cookery School (Kyle Books, £30.)
"It was a real surprise," she told me on the phone next day. "One of the few prizes in which they don't drop hints beforehand, to make sure you come. It was decided by public vote and I find it difficult to go rounding up the troops to vote. But I was thrilled to win it."
The prize came as no surprise to anyone else in Ireland. For its author is a kind of national gastro-saint – a woman who, 30 years ago, defined modern Irish cooking, saw its future potential, then set about improving it. Over 30 years, she's built up the school into a gold standard of adventurous cookery skills, and has invited her heroes from around the world to come a-calling, from Madhur Jaffrey to René Redzepi and the Scandanavian avant-garde.
How she started out is a charming story. In 1968, she left the school of Hospitality Management and Tourism in Dublin, hoping for a job in a big hotel. "I wanted to learn how to make ice-cream, soufflés and terrines, or get a job cooking in a top restaurant. Out of the question. Men were chefs, women ran teashops or got involved in little country hotels." But then she heard, at a dinner party, "people talking in incredulous tones about a women down in Cork – a farmer's wife who seemed to have opened a restaurant in her own house, right out in the country, miles from the road, she had their own Jersey herd, and she writes the menu every day, instead of using the same one all year."
Entranced, Darina went to see her, She was called Myrtle Allen and "she just cooked like a housewife. It was what she knew – you cooked from what was around you and what the boats brought in at Ballycotton." Darina moved in, married Myrtle's son Tim in 1970 and became part of the Ballymaloe family.
In the early 1980s, Irish restaurant cuisine was not a sophisticated affair. "At every meal you could have potatoes three ways on your plate, and the meat and gravy and that was it," says Darina coldly. At Ballymaloe, they dealt in "Irish country house cooking, with quite a strong French influence", and her first classes taught sauce-making and bread-making and carragheen moss "which is beyond cool now, because of all the interest in foraging". Darina's own passion was for Italian cooking, which she indulged through the gastroporn pages of the American Gourmet magazine. She made pasta using durum semolina, rolling it by hand and hanging it in front of the Aga to dry. But where should she go to find out more?
Coincidentally, Gourmet's editrix Jane Montant came to stay, and recommended taking cookery classes with Marcella Hazan in Bologna. The trip cost £650 and paid off handsomely. Darina had a eureka moment. "I suddenly realised that the faraway hills were green, and that what we had under our noses, at home in the garden and the farm and the boats at Ballycotton, was just as good. I said, 'My God, we have all this wonderful produce, we can use it all'."
Things began to speed up. Darina started to travel further afield. "I'd go to Greece or Spain, explore restaurants, then come back and do a Taste of Greece or Spain class. And I suddenly realised I could pick up the phone to my food heroes, and say, 'Hello I run a little cooking school in Ireland and a farm, I love what you do – would there be a chance you'd come and do a guest appearance?'."
She laughs at the memory of how nervous she was, screwing up her courage to ring America, to invite Madhur Jaffrey over. She said yes (she'd read about Ballymaloe in Gourmet in 1986). Lots of guest chefs came and did cookery demonstrations and practical sessions: Claudia Roden (Darina's favourite), Marcella Hazan, Jane Grigson, Antony Worrall-Thompson (who proposed to several of the teachers), Sam Clark from Moro, Skye Gyngell from the Petersham Nurseries.
"People would look forward to seeing the brochure,' said Darina. "It didn't matter if they'd never heard of the guest chef. They just knew because I had them in, that this person would be interesting. The guest courses were completely booked out."
As many students have discovered, Ms Allen is big on horticulture and the basics of food production. On their first day of class she scoops up handfuls of soil and worms, and lets rip "about enzymes and bacteria, and how we're dependent on the five or six inches of soil around the world. This is very powerful for me personally – shaking them out of thinking that food is something that comes wrapped in plastic on a supermarket shelf. If I had my way, bossy headmistress that I am, I wouldn't let any cook or chef into a kitchen until they'd spent some time on a farm and learned how food is produced to knock the arrogance out of them." She's immensely proud of her acre of greenhouse. "We can grow everything from epazote [Mexican pigweed] to lemongrass, to figs to apricots. The other day we grew our first little pomegranate."
She's the most crazily enthusiastic foodie. She will go anywhere to inspect new ripples and streams of gastro-activity. Her happiest surprise was discovering the cuisine of Mexico. Did you read about the Mad Food Symposium in Denmark last summer? She was there. ("About 600 people packed into a circus tent.") Did you see that piece about Faviken, the 12-seater restaurant 600 miles north of Stockholm, where the food comes from the immediate living area, so no lemons, no spices, no onions…? Darina's off there before Christmas.
I was slightly miffed to find that this inhabitant of Cork knew more than I did about Hackney eating houses ("Do you know the Raw Duck? It's a sister of Duck Soup in Soho, across the road from Quo Vadis. They do this wonderful thing, tinned mackerel with heirloom tomatoes chopped and seasoned on grilled bread with olive oil and rocket, and it was just sooooo…") and could advise me about London markets, as though she devoured the Time Out food pages every night: "Borough Market's now a victim of its own success, full of tourists taking pictures and not buying anything," she said sadly. "The best market's in Maltby Street now, in Bermondsey. In the beginning, 'twas like a secret society. All the little foodies would be out there on a Saturday, almost not wanting to tell anybody about it. But now the word is out, so some of the best people have moved on to Spa Terminus…"
It's hard to begrudge her excitement, since she brought the modern market concept to Ireland. In the late 1980s, Irish supermarkets went over to a centralised distribution system. They used to buy produce from local shops, but now were penalised if they bought more than one or two per cent locally. "This was devastating," said Darina. "Local people, growing a few carrots or potatoes or making apple tarts, were told by the supermarket, 'Sorry, we can't buy your stuff any more.' And suddenly, local people, desperate to get local food, couldn't get it because the local farmers couldn't sell it to the supermarkets. When I went to the market in San Francisco, it was like a light bulb going off. I said, this is it – if we can restart the farmers' market movement in Ireland, the two lots can meet. And now there are 160 farmers' markets in Ireland. It makes me so happy, to have had the opportunity to do that."
Hats off, gentlemen, to Ireland's one and only gastro-saint.
Roasted spiced chicken by Darina allen
By Darina Allen
Ingredients to serve 6 or more
1 times 1.8 – 2.25kg organic chicken
1 teaspoon of Maldon sea salt
For the marinade:
1 tablespoon freshly chopped rosemary
4 garlic cloves, peeled and crushed
1 teaspoon freshly ground black pepper
Half a teaspoon chilli flakes
Half a tablespoon freshly squeezed lemon juice
4 tablespoons extra virgin olive oil
To serve:
2-3 avocados, cut into wedges
Fresh green salad
First spatchcock the chicken. Remove the wishbone from the neck end (keep it for the stockpot). Insert a heavy chopping knife into the cavity of the chicken from the back end to the neck. Press down sharply to cut through the backbone. Alternatively, put the chicken breast side down on a chopping board and use poultry shears to cut along the entire length of the backbone as close to the centre as possible. Open out the bird.
Preheat the oven to 180C/ gas 4. To make the marinade, combine the rosemary, garlic, pepper, chilli flakes, lemon juice and extra virgin olive oil in a bowl. Just before cooking, brush the chicken – both inside and out – with the marinade. Sprinkle with the Maldon sea salt.
Lay the chicken skin side up on a rack inside a roasting tin and roast in the hot oven for 40 minutes. Make sure the chicken is fully cooked through before serving.
Join our commenting forum
Join thought-provoking conversations, follow other Independent readers and see their replies