The Independent's journalism is supported by our readers. When you purchase through links on our site, we may earn commission.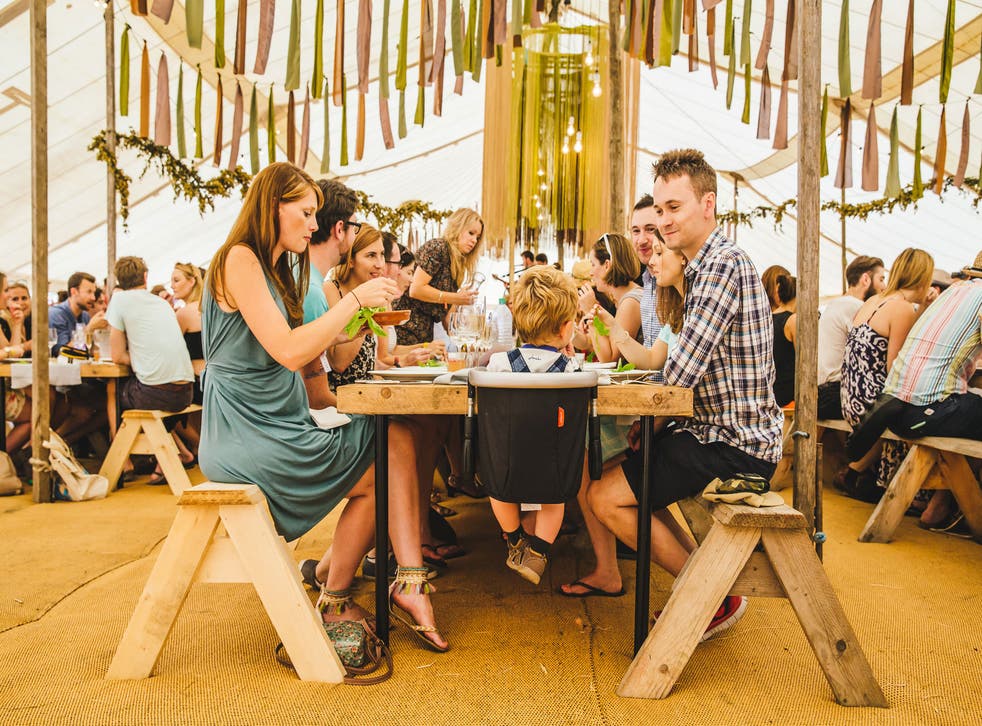 The festivals catering to foodies: Who needs dodgy lentils when you can have a sit-down Michelin-starred meal?
The Oxfordshire festival Wilderness was founded on an ethos that dining and dancing in the wild are of equal importance. This year food lovers visited top street-food vendors, Michelin-starred banquets and saturnalian feasts laid out on private chefs' tables...
A decade ago, if you felt peckish at a festival, you'd unblinkingly purchase a slop of lentils or an anaemic burger. Washed down with an insipid beer, it was sustenance rather than pleasure. But festival food is improving.
Founded on an ethos that dining and dancing in the wild are of equal importance, one place responsible for this is the Oxfordshire festival Wilderness, in the rolling hills of Cornbury Park. This year, while musos listened to artists from Burt Bacharach to London Grammar, food lovers visited top street-food vendors, Michelin-starred banquets and saturnalian feasts laid out on private chefs' tables. Here were some of the trends that emerged…
DIY vermouth-making
What is it? Move over, negroni: vermouth, the aperitif that's all the rage among hipsters in Catalonia, is on the up here. Dedicated pioneer Jack Bevan, owner of The Ethicurean restaurant near Bristol, brought DIY vermouth masterclasses to Wilderness's cookery school, giving festie-goers pipettes and ingredients so they could swap and choose bitters such as cardamom, camomile, cinnamon, citrus peel, cloves, coriander, ginger and juniper, to make their own aromatised fortified wine.
The highlight A keen hunter-gatherer, Bevan's wild ingredients of Scots pine (for camphorous notes) and blackberries (adding flowery sweetness) won foodies over.
Want more? Mele e Pere's vermouth bar in London's Soho makes its own (meleepere.co.uk). James Fowler, who recently won Diageo's World Class UK bartender finals, serves a fine Black Velvet with home-made dry vermouth at Bournemouth's Larder House (thelarderhouse.co.uk). Bevan's masterclass will be at Shambala festival in Northamptonshire today (shambalafestival.org) and at The Ethicurean on 2 and 23 October (theethicurean.com); and he's hosting a vermouth dinner at Soho's Quo Vadis (quovadissoho.co.uk) on 15 October.
Dining in the wild
What is it? In an unprecedented move at a festival, glitter-faced ravers booked to eat at a "chef's table", an intimate environment where, over three nights, Scott Hallsworth (Kurobata, ex-Nobu), James Lowe (Young Turks) and James Knappett (Kitchen Table, ex-Noma) served just 12 people at a table overlooking a bucolic scene worthy of Constable.
Knappett's 12-course feast in a mobile kitchen under an awning had Scottish hand-dived scallops with puréed smoked roe of scallop and ginger mayo. Then delicate brill arrived with trompette mushroom cooked in miso butter, to sighs of delight.
The highlight A barbecued peach, with mascarpone, lemon thyme and honey; and a tart gooseberry sauce on a sweet yoghurt, sprinkled with delicate unripe almonds, the subtle pine of Christmas spruce and a salty-crunchy caramel with a buttery vanilla centre.
Want more? Long-table banquets curated by chefs Bryn Williams and Aiden Byrne will be at Festival No 6 from 5 to 7 September, (festivalnumber6.com) along the Dwyryd estuary in North Wales. Knappett created the original chef's table with his Kitchen Table in London (kitchentablelondon.co.uk).
Posh doughnuts
What is it? Justin Piers-Gellatly, of Bread Ahead at Borough Market, south London, is the founding father of the current posh doughnut trend; one descendant is James Lowe of Lyle's in Shoreditch, east London, who learnt from the master himself when they were at St John together. Punters rhapsodised over Lowe's never-before-tasted plum jam-and-kernel custard doughnut at the festival.
The highlight The infusion of the kernels in the custard added a subtle almond and fruity tone. The toasted kernels were blitzed and mixed with sugar for the outside of the doughnuts. "I came up with it to keep in the festival spirit, and you can't beat a still-warm, fresh doughnut," says Lowe.
Want more? Two more blossoming doughnut fiends are chef Brad McDonald and his wife Molly, who specialise in beignet-style doughnuts, sold under the name 1235 Doughnuts from their restaurant The Lockhart (lockhartlondon.com) in central London; flavours include lemon curd and salted caramel. Try Bread Ahead (breadahead.com), too, if you're on a doughnut pilgrimage.
Fennel pollen
What is it? Food obsessives queued at Claire Kelsey's mobile Ginger's Comfort Emporium for delights from yuzu-fruit sorbet to fennel-pollen ice cream. Fennel pollen, one of the most expensive ingredients in the world, is not to be confused with the fennel bulb.
The fennel flower is carefully picked in bloom, sun-dried, then gently shaken until a very small amount is finally extracted. Kelsey may be the first to serve it at a music festival, but you'll also find it at Bruno Loubet's Grain Store and Eliza Flanagan's Lardo, both in London.
The highlight The creamy, delicate taste of aromatic honey and anise. In Italy it's called "the spice of angels", and no wonder.
Want more? Visit the celebrated Grain Store (grainstore.com) for its signature Fellini cocktail, made from fennel, fennel pollen, apple juice and prosecco. Fennel-pollen charcuterie is the must-try at Lardo (lardo.co.uk). Kelsey works from her van in Manchester (gingerscomfortemporium.com) and is at the Great British Food Festival (greatbritishfoodfestival.com) today and tomorrow, and at the Manchester Picnic from Friday to Sunday (facebook.com/TheManchesterPicnic).
Sensory cocktails
What is it? Wilderness had an "aromaetum" created by House of Gastrophonic's experimental food duo Dave Crompton and Stuart Bale. A psychedelic synthesis of music, colour, aroma and flavour, its sensory cocktails included the zesty and floral Forest – silver-birch vermouth, apple juice, elderflower cordial, lemon juice, home-made blackcurrant bud essence, topped with soda and a sprig of lavender, matching music and colours.
The highlight The autumnal Campfire cocktail of smoky whisky and red vermouth topped with maple foam and served with toasted whisky marshmallow, drunk with burning-wood aromas, soothing electronic dub music and rasping marimba sounds.
Want more? Cocktail savant Tony Conigliaro of London's 69 Colebrooke Row (69colebrookerow.com) has been tinkering with multi-sensory tasting. His potation Lipstick Rose is inspired by perfumer Ralf Schwieger's creation for upmarket fragrance company Frederic Malle. The world's first multisensory festival, the Thames Senseation, is at Victoria Embankment Gardens, London WC2, from 6 to 7 September (gastrophonic.com).
Register for free to continue reading
Registration is a free and easy way to support our truly independent journalism
By registering, you will also enjoy limited access to Premium articles, exclusive newsletters, commenting, and virtual events with our leading journalists
Already have an account? sign in
Register for free to continue reading
Registration is a free and easy way to support our truly independent journalism
By registering, you will also enjoy limited access to Premium articles, exclusive newsletters, commenting, and virtual events with our leading journalists
Already have an account? sign in
Join our new commenting forum
Join thought-provoking conversations, follow other Independent readers and see their replies