The hard labour behind soft drinks
Coca-Cola is being urged to help end exploitation in Italian orange groves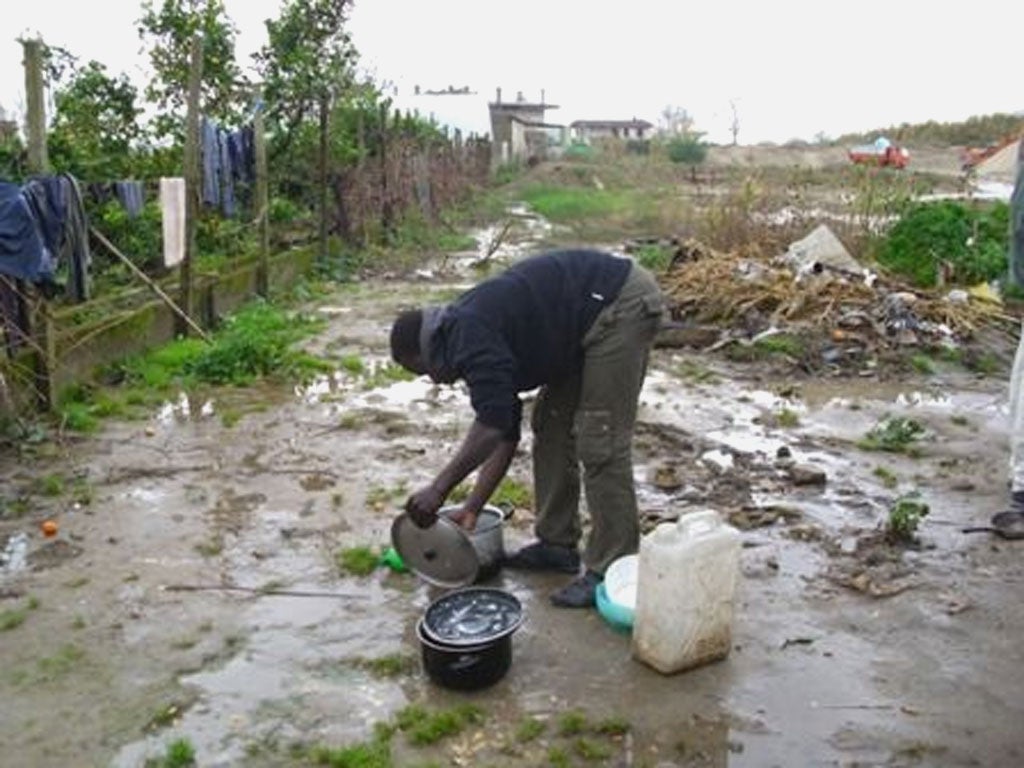 Coca-Cola is facing questions about its links to orange harvesting in southern Italy, which campaigners say relies on the cheap labour of African migrants living in squalid conditions.
An investigation into citrus fruit growing in Calabria has revealed how thousands of African workers, many of whom have made the treacherous voyage across the Mediterranean in search of a new life, are earning as little as €25 (£21) for a day's picking in orange groves in a region that supplies juice concentrates to several multinational companies.
Evidence gathered by The Ecologist shows that many migrants, some of whom are in Italy illegally, live in slum conditions in makeshift camps without power or sanitation and fall prey to gangmasters who in some cases charge a "fee" from their workers' wages for organising their picking shifts.
Coca-Cola, whose global profits in 2010 stood at $11.8bn (£7.5bn), is one of a number of major buyers of concentrated orange juice in Calabria which it uses for its Fanta brand in Italy. The company said its Calabrian supplier had been given a clean bill of health by an independent auditor as recently as last May but admitted that the length of its supply chain meant it was unable to verify the practices on every farm or consortium whose juice is used in Fanta.
Campaigners yesterday called on the US corporation and other drinks conglomerates to increase the price they pay for Calabrian "industrial-grade" oranges and tighten their auditing procedures to minimise the risk that they are buying juice from producers making use of exploited labour.
Pietro Molinaro, head of Coldiretti Calabria, the regional branch of Italy's national farming union, claimed that previous attempts to raise the issue of low prices and its link to poor working conditions with large companies including Coca-Cola had not received a response. Coca-Cola said a letter shown to them by The Ecologist was incorrectly addressed and was about a competitor's product.
Mr Molinaro said: "This area is facing a big problem: the price big companies pay for this juice is not fair. All in all they force the small processing plants in the area – those that squeeze oranges and produce concentrate – to underpay for raw materials."
Producers, who claim that drinks conglomerates make huge margins on products containing orange juice from Calabria, want processing plants to increase the price per kilo of oranges, currently stuck at seven cents (5p) – a price which has led some farmers to leave their crop to rot on the trees rather pick them at a loss. Mr Molinaro said a "fair price" of 15 cents (12p) would transform the prospects of farmers and their employees. Much of the harvesting of Calabria's 870,000-ton annual orange crop is focused around the small town of Rosarno, where every winter about 2,000 migrants who tour southern Italy as crop pickers arrive for the citrus season. Many of the migrants are from sub-Saharan Africa and live in tented slums or abandoned buildings with little or no sanitation.
Rioting broke out in 2010 following the murders of two migrants, forcing the Italian authorities to begin to address the problems by building camps to house some of the workers.
There is no suggestion of wrong-doing or bad practice on the part of Coca- Cola or its direct suppliers. The company said its suppliers had obtained declarations from a "wide number" of the farmer consortiums stating that they complied with Italian labour law. Coca-Cola said it was "aware of concerns regarding employment rights in southern Italy".
In a statement, the company said: "The Coca-Cola Company has thousands of direct suppliers throughout the world that we audit, through independent, third-party auditors, on a regular basis. The number of indirect suppliers would be many multiples of that number, and while we certainly encourage respect for human rights and good workplace practices throughout the entire supply chain, we are limited to auditing only our direct suppliers.
"Our Supplier Guiding Principles require compliance with all local labour laws, including those pertaining to wages. Verifying our direct suppliers' compliance with wage laws is part of our existing audits."
Join our commenting forum
Join thought-provoking conversations, follow other Independent readers and see their replies