The Smoking Goat: Restaurant review
It might be noisy, dark and tightly packed, but this new Thai barbecue place is on fire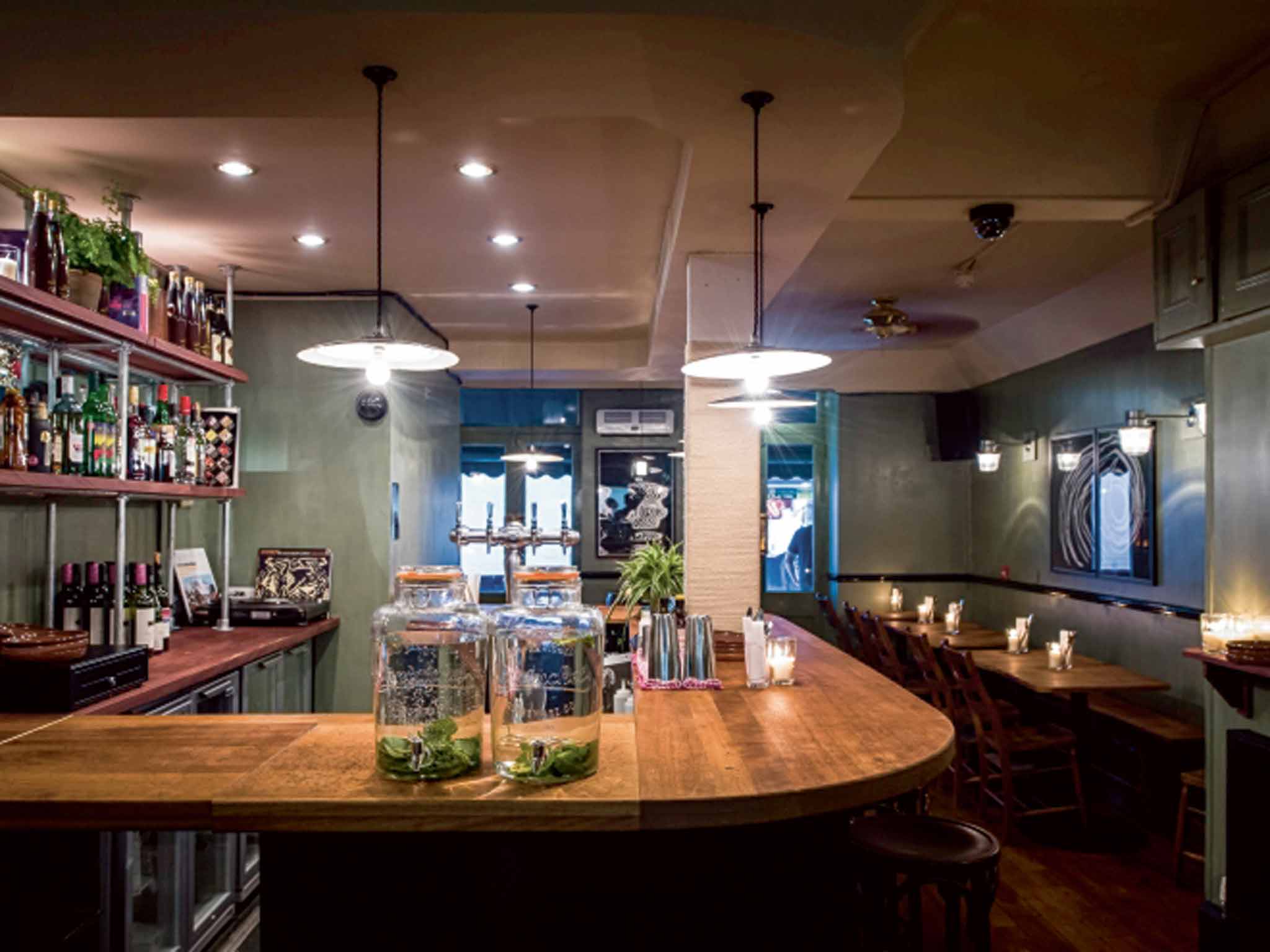 "What are the most common mistakes and failings you come across in restaurants?" This is the incendiary question I faced last week while addressing the hospitality trade at a conference organised by The Caterer magazine. You might already know the answers: too-loud music, too-dim lighting and tables too close together – oh, and a bit of no-reservations anxiety.
Why, then, do I leave the venue for this week's review starry-eyed after 90 minutes in a place that could be defined by all the above? Because everything about it is just so much fun. And fun trumps low-wattage bulbs and your neighbour making a landgrab for bag space.
The Smoking Goat, newly arrived on Soho's Denmark Street, describes its offering as wood-ember barbecue with Thai flavours, featuring Cornish meat and fish. That's intriguing enough, without the lovebomb the place gets in its first three days of opening from London's young food scenesters.
Thai as a theme has been overshadowed recently by Korean and a new wave of Chinese. But I'm delighted that it's fighting back – one of my favourite meals this year was at south London's The Begging Bowl, and I can't wait to try the other new Thai in town, Som Saa.
Smoking Goat's chef, Seb Holmes, used to be at The Begging Bowl; here he's married those classic scents and spices with a hefty thwack of smoke. Given the tiny space this restaurant occupies and the potential for disaster that a too-big menu presents, he keeps the dishes brief, to the point of brusque: Mr M and I have five plates; only six are on offer.
We arrive at 6.30pm, hoping to beat the rush that accompanies TOT (trending on Twitter) openings, but it turns out the kitchen isn't fully "on" till 7pm, so we make do with a carafe of a good Barbera (£17), an oyster apiece and some chicken wings. We should have had beer – it's a better match for mouth-puckering flavours, and consultant Zeren Wilson says the (on tap) Goat Milk from One Mile End brewery across London is terrific. Next time.
The oysters (£1 each) come with nam jim sauce – a poky Thai marriage of hot, sour and tangy – but are still blissfully of-the-sea. And the wings (£6) are out of this world. Mr M was a bit sniffy about the idea – too much hassle for too little reward – but the three that arrive are plump and laden with meat beneath their crisp batter jackets. Strewn with sesame seeds and crisp shards of onion, they're addictive – that'll be the fish-sauce marinade.
Caspar, our genuinely witty waiter, has been choreographing the arriving hordes as 7pm lift-off approaches – the skinny, crowded, dark room doesn't have much space and requires skill to prevent overcrowding. He colludes with us in ordering mains at 6.45pm; we use the "wouldn't want to slam the kitchen" excuse.
There are just three mains and we don't fancy duck legs on the back of chicken wings (so to speak), so it's smoked lamb ribs (£15) and Cornish chilli crab (£20). A coal-roast aubergine salad (£6) offers a rare break from the protein, but even that has a soft-boiled egg on top.
The latter is sublime – I'm not overly keen on aubergine, but its natural smokiness is elevated by the grill and the perfect cooking means it holds its texture, while flecks of chilli and red onion and strands of mint and coriander add explosions of flavour.
The ribs are rightly fatty, their strident dried-shrimp and palm-sugar gloss cut through by the accompanying green papaya salad (there's also sticky rice).
The crab is the showstopper, though. Caspar tells me gleefully, as I plunge both hands into the bowl of crustacean body parts, that there's a shower downstairs, should I need it. I suspect I already have a Joker's smile of coconuty red paste (and, later, a few tears from accidental inhalation of dried smoked red chilli). It's a six-napkin, two-finger-bowl endeavour, and you'll have to work hard to get all the juicy crabmeat out (dim bulbs don't help) – but, oh, the fun. Sadly we leave before our neighbours – who've eaten their wings daintily with a knife and fork – get theirs.
Staying smart is not an option at The Smoking Goat, which is its charm. "It's not aimed at us," Mr M said of the noise and bustle as the evening began. In fact, it is perfect for us – greedy, gregarious (hard to avoid chatting to your up-close fellow diners) and we know each other well enough not to mind pungent breath and smoke-infused hands. Bliss. 1
The Smoking Goat, 7 Denmark Street, London WC2, no telephone reservations. £60 for two, with wine
Rating: 8/10
Four more: Foodie notes from the past week
Spring
Delicious new restaurant at Somerset House from Skye Gyngell. Congratulations to her on a surefire London classic.
Barrafina
Easy to spend a fortune on tapas at new Adelaide Street branch, but pan con tomate and rice with seafood is enough, at £13.
Sticks'n'sushi
If you're in Covent Garden, this imaginative Japanese food is a must. But the "keep it coming" option might just see you burst.
Spiritland
Pop-up music venture in lovely Merchants Tavern: cosy room, cool sounds, a great Sicilian red, venison sausage roll, oozy cheese.
Join our commenting forum
Join thought-provoking conversations, follow other Independent readers and see their replies