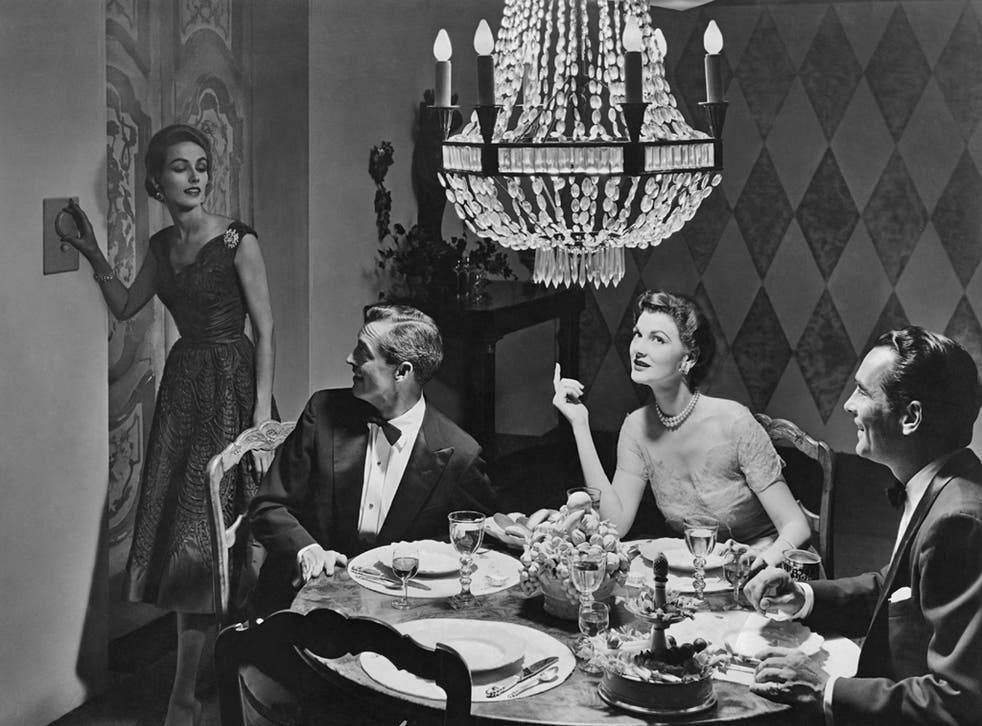 The supper on its uppers: Why we need to learn to entertain lavishly for less
Dinner parties are on the wane, buckling under the pressures of food snobbery and belt-tightening, says Simon Usborne.
The dinner party, that great social institution variously loved and dreaded by the middle-classes, is reportedly in decline. If there is to be a place for chat about house prices and schooling for little Oliver (whose appearance in pyjamas at the dining room door may or may not be encouraged) it will not be around a table awash with wine and irregular soup spoons.
A survey by YouGov revealed last week that almost 40 per cent of us think dinner parties are too expensive, time-consuming and stressful to bother with. Similar studies report a recessionary "cocooning" effect: we'd rather hunker down with a cheap oven pizza than clink glasses over canapés.
Should we care? If the dinner party can be exemplified by Hyacinth Bucket's "candlelight suppers" – invitations to which were sent and received like social grenades in the 1990s sitcom Keeping Up Appearances – then its wobbling popularity, like an anaemic salmon terrine, is surely to be celebrated.
But there are compelling reasons for a revival. Immanuel Kant, the 18th-century German philosopher and keen host, believed the dinner party was a vital forum for the stimulation of the self and society. Social dining was a "veritable medicine for the mind", while eating alone encouraged "intellectual self-gnawing".
The prognosis for today's minds would appear gloomy, but what if the dinner party were evolving rather than dying? Stephen Bayley, the writer and cultural critic, believes it "has not gone away but that its menu has been simplified". Bayley, 60, says the Bucket supper has "succumbed to the dominant contemporary taste for informality".
"In the 80s, when I was more interested in social competition, I used to give dinner for 10 twice a week," he explains. "Today we're more likely to have one other couple on Sunday evening rather than an elaborate social petting zoo with napkins folded into swans."
For the endangered contemporary host, however, competition remains crucial – and off-putting for many. The Come Dine With Me model, as seen on Channel 4, has turned the dining table into an arena for culinary point-scoring. At the same time, glossy cookbooks and TV chefs have sent aspirations soaring.
Sir Roy Strong, the curator and author of Feast: A History of Grand Eating, says the modern British dinner party can be traced to the emergence of the aspiring middle classes in the early 19th century, when they became an "index of social status". But back then, says Strong, 76, the guest list was more important than the menu. "Even when I was brought up it was very vulgar to remark on the food at all," he says. "Now it's all about showing off."
When food becomes social capital, it doesn't come cheap. Earlier surveys have put the average cost of a dinner party at around £60, a figure described as modest by anyone who caters, say, via Waitrose. If the dinner party is to survive, yet still impress, we'll need to be more imaginative.
Alice Hart, a food stylist and the writer of Friends at My Table: A Year of Eating, Drinking and Making Merry (see left), says "food should be about sharing, not competing". She adds: "I don't want a gussied-up five-course bonanza, I want people to relax and enjoy themselves." She suggests simple dishes that can be prepared partly in advance.
This new informality is perhaps more evident outside the house, where a revolution in restaurants is drawing some of us from our cocoons. Young people are increasingly blowing their shrinking salaries on good, simple food at scruffy, cool bars, bodegas or pop-ups. They queue to get in as if at a gig, and spread the word on social networks.
These gatherings have a key advantage: single people like them. Bayley's 1980s suppers were built around the nuclear family: they were for couples. Today, a third of households in the UK are occupied by one person. For this burgeoning demographic, there is a middle way that combines the conviviality of the dinner party with the convenience of the restaurant.
Kerstin Rodgers is a photographer-turned-food blogger, single mum and prolific hostess. In 2009, she launched one of Britain's first supper clubs. Inspired by a Cuban trend embraced first in the US, she charges about £40 a head for dinners at the Underground Restaurant (her North London home). Guests are often young professionals who are desperate to meet people.
"It's difficult to have dinner parties when you're not part of the smug marrieds set at the school gates," says Rodgers, 42, whose online persona is MrsMarmiteLover, and whose book, Supper Club: recipes and notes from The Underground Restaurant, offers tips for would-be hosts. She hasn't yet found a recipe for romance ("I'm the one in the kitchen wearing a smeared apron and perspiring the welcome cocktail - blokes just don't fancy that") but, like the hipster restaurant, supper clubs like hers are quietly emerging as alternatives to the dinner party.
What would Kant say? "He would probably think it's a sign of the regression of human society," says Dr Alix Cohen, a lecturer in philosophy at the University of York, and student of Kant. Yikes! If Kant were to inspire a revival of the traditional dinner party, there is advice in his writings. He dictated, among other things, that conversation should run in three stages: Narration (sharing news); ratiocination (debate); and jest. Music and dogmatism, meanwhile, were banned. One thing he encouraged, however - and he may be pleased at least to see this trend has endured despite the threat to the dinner party - was "mild intoxication".
The £60 menu
A sprint around Sainsbury's gets everything for a simple, elegant £60 menu – endive and roquefort salad; Moroccan lamb, Eton mess. Buy a couple of bottles of prosecco to get guests in the mood. Cost: £58.09.
You can cook the lamb harira up to the point of adding the spinach and herbs the night before. At the start of the evening, assemble the cream, broken-up meringue and strawberries and/or raspberries (so it's soft by pudding time). A starter of endive and rocquefort salad looks pretty arranged in circles on a big plate (lump of cheese on each leaf, dressed with a lemony, mustardy dressing).
Reheat the harira when guests arrive, add spinach, coriander and fresh lemon juice. Serve with bread and lemon wedges.
Register for free to continue reading
Registration is a free and easy way to support our truly independent journalism
By registering, you will also enjoy limited access to Premium articles, exclusive newsletters, commenting, and virtual events with our leading journalists
Already have an account? sign in
Register for free to continue reading
Registration is a free and easy way to support our truly independent journalism
By registering, you will also enjoy limited access to Premium articles, exclusive newsletters, commenting, and virtual events with our leading journalists
Already have an account? sign in
Join our new commenting forum
Join thought-provoking conversations, follow other Independent readers and see their replies