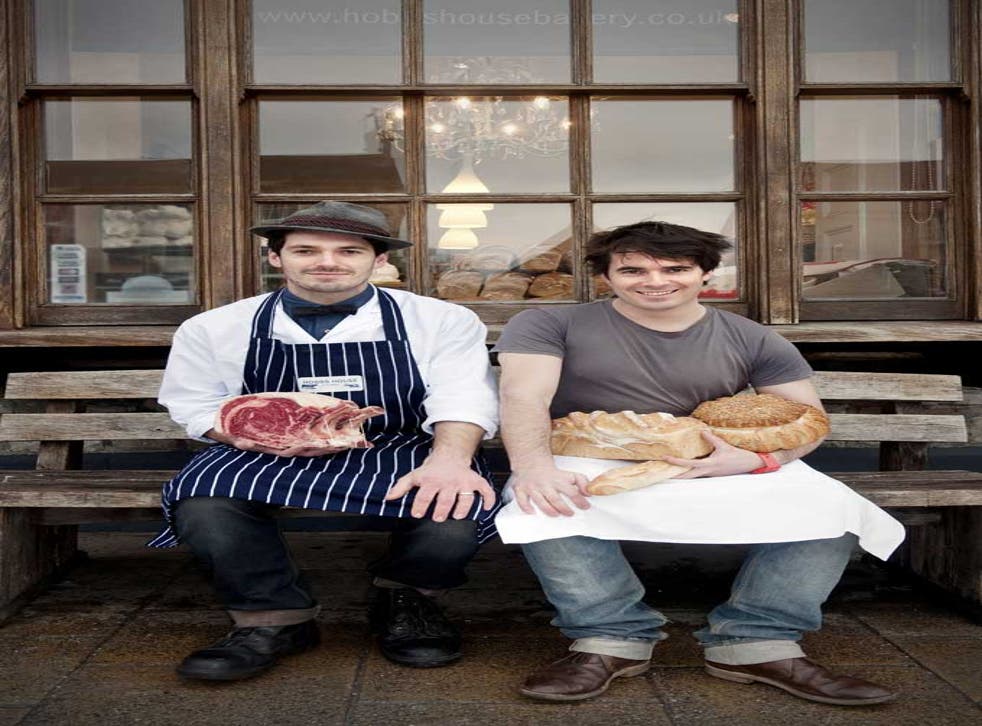 Tom & Henry Herbert: 'I thought you had to chop up mint with a knife and fork'
My earliest food memory...
Tom (right in picture): Helping my dad put jam in doughnuts in the family bakery. If I did a good job, I was allowed to jam the last one on my own. I'd always double-jam it, so jam oozed down my chin.
Henry: My grandfather's mint sauce, because he used to chop up the mint with a knife and fork. For ages, I thought that was how you had to do it!
My store-cupboard essentials...
T: A big sack of good stone-ground flour, a sack of oats for porridge, and Vitam – it's the German version of Marmite and it's slightly easier to take in the morning. I also at the moment really like Lahloo smoky tea: it's a bit like lapsang and it's warming like a smoky fire.
H: A good vinegar – because the acidity excites the mouth and can bring food alive, whether that's soups, gravies, or stews – Worcester sauce, a slab of pancetta and mustard: I get through at least half a kilo of Dijon a month.
My favourite cookbook...
T: Elizabeth David's French Provincial Cooking. I've lived off it for the past year: my dad gave my wife a copy two Christmases ago, and she set about a plan to cook her way through it and write a blog, as in the film Julie & Julia.
H: Nose to Tail Eating, the St John cookbook, which had a big impact on me when I was learning to cook. [Fergus Henderson] opened my eyes to the idea that food doesn't need to be fussed up – you just need top-notch ingredients and to make sure they're cooked well.
My culinary tip...
T: Make sure you knead your dough properly. Many home bakers don't knead it enough to develop elasticity, so it can't hold the gas given off by yeast. It won't rise then, and your loaf will end up like a hard brick.
H: If you're making scrambled eggs, don't add salt until the very last minute, because it breaks down protein in the egg white and will make them go sloppy.
My top table...
T: River Station, which is a great place for a special occasion; it's right in the heart of Bristol, with brilliant views over the river. Also, Koya, the udon-noodle place in London. It's really reasonable and amazingly good.
H: The Hobbs House Bistro [in Chipping Sodbury]: the meat comes from me, so it's a great opportunity to see how it tastes. One of the most memorable meals I've had was in a Normandy market town with my wife a couple of years ago. We saw an old man wandering around the market with a veg box before going into a little restaurant, so we went there for lunch. There were only six tables and I was so blown away by the food that I researched it and found out he was a former three-Michelin-starred chef from Paris who had retired and just opened this little restaurant for three lunches a week.
The strangest thing I've eaten...
T: I was quite weirded out by the story behind argan oil, which is this amazing oil I had in Morocco. Apparently, there are these goats there that climb trees and eat the argan nuts and the oil is made by crushing them once they have passed through the goat. That might be why it's so expensive: you have to pick them out of goat shit!
H: Jellied eels. It was one of those things I thought I had to try, but they were pretty horrific. And crocodile steak, which I had in a South African restaurant in London: it was very fishy and rubbery.
My pet hates...
T: " Gourmet" burgers in gastropubs where there's a big old bap – they may even call it sourdough or ciabatta – no sign of the burger and it's piled up with so much stuff that it's held together with a stick.
H: Tinned fish, particularly tuna. It's dry and smells horrible, and I just don't understand why people like it so much.
Tom and Henry are the respective owners of the Hobbs House Bakery and the Hobbs House Butchery, both in Chipping Sodbury, Gloucestershire. The brothers are currently starring in the Channel 4 series 'The Fabulous Baker Brothers'; a spin-off book is out now, published by Headline, priced £20
Join our new commenting forum
Join thought-provoking conversations, follow other Independent readers and see their replies