The Independent's journalism is supported by our readers. When you purchase through links on our site, we may earn commission.
Wines of the week
8 summer white wines to celebrate New Zealand with
Raise a glass to the Kiwis' most-loved grapes with these sauvignon blancs, pinot​ gris and chardonnays from Marlborough, Nelson and beyond, says Terry Kirby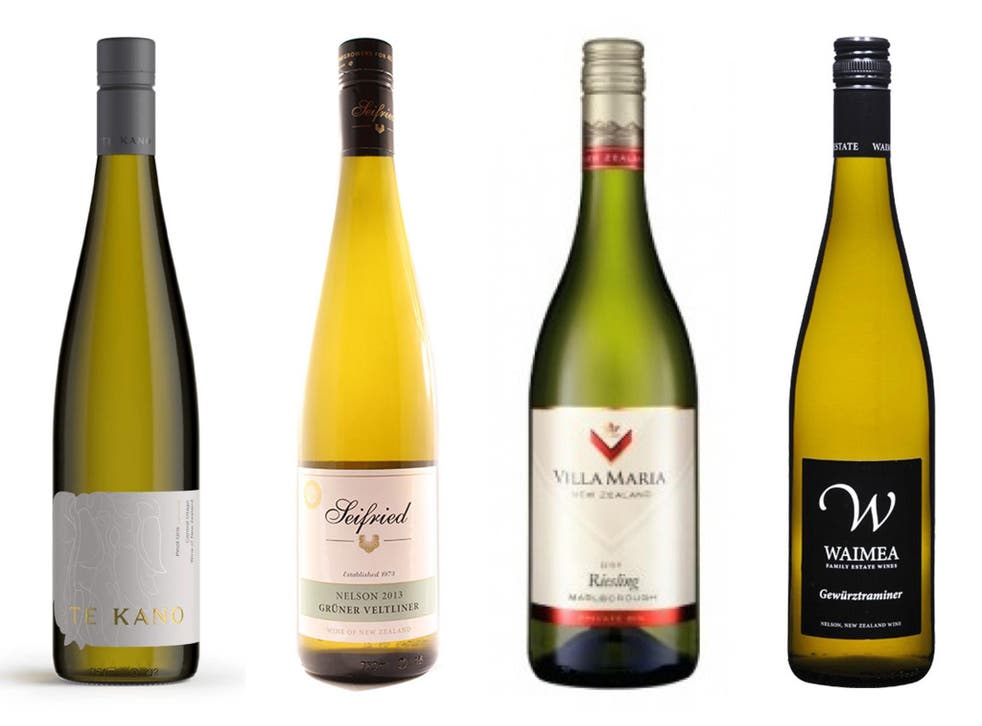 Samuel Marsden, a Yorkshire-born farmer's son, clergyman and missionary, must have been quite a guy. He arrived in New South Wales in 1794 as the young assistant chaplain in the only recently established penal colony, but went onto use his knowledge of sheep farming to help establish the Australian wool industry.
Some years later, he moved to New Zealand for more missionary work and, in September 1819, judging the soil and climate suitable, planted the country's first vines in the Bay of Islands in the North Island.
However, it would take more than 150 years before New Zealand's wines would begin to make a serious impact back in Marsden's home country – or anywhere else – and it was not until the late Eighties before Kiwi sauvignon blanc – a dramatic, tropical fruits and gooseberry dominated reinvention of the white grape behind some of France's most refined and elegant whites – really took off in the UK.
Stemming mainly from the Marlborough region at the top of the South Island, it became the staple of wine bars and pub chains and the wine of choice, alongside chardonnay, for what might best be described as the Bridget Jones generation. Now New Zealand accounts for almost 50 per cent of all sauvignon blanc sales in the UK – which is the second biggest market for all NZ wine after the US – and has a massive presence on the shelves of supermarkets and off licenses.
Some of it, perhaps too much, can be average and lacking individual identity, but some represent good value, many more are very good wines and some, such as market leaders Cloudy Bay and Greywacke, can be sublime.
But although is it by far the dominate grape in New Zealand, sauvignon blanc is most definitely not the only Kiwi white wine and other originally European varieties have emerged from under the vast shadow of SB, helped by a varied range of climates and soils, with a cooling and freshening maritime influence everywhere. So, since New Zealand, at time of writing, is reported to be nearly Covid-19 free with no cases still in hospital, let's mark the moment with some fine Kiwi wines of all grapes that are just right for early summer drinking.
Chardonnay from New Zealand tends to be just a bit more elegant than its counterparts in Australia, with more restrained use of oak. The Elephant Hill Chardonnay 2016 (£19.95 hic-winemerchants.com) from the Hawkes Bay region of the North Island is made using naturally occurring yeasts and is aged in oak for 11 months, but retains a clean freshness that allows the flavours of apples and hazelnuts to shine through. A wine for special meals – particularly roast chicken or prime fish.
English born Kevin Judd, the man behind firstly Cloudy Bay – which helped set the bar for fine sauvignon – and then the lustrous Greywacke Sauvignon, also makes very good, special occasion chardonnay, such as the Greywacke Chardonnay 2015 (£29.95 ndjohn.co.uk; £33 specialistcellars.co.uk) also from the Marlborough area, which has hugely complex flavours of stone fruits, some biscuity, almost smoky, savoury notes, and a clean finish. Pretty much in a class of its own.
Chardonnay is well established in New Zealand, but there are other wines, usually more often found in central European wine making that are also worthy of our attention and here are examples of four of them: Villa Maria is a familiar name on supermarket shelves for its dependably good sauvignon blanc, but to see what they can really do try the Villa Maria Private Bin Reisling 2018 (£10.49 waitrose.com; £10.99 or £9.49 if bought as part of mixed six-bottle purchase, majestic.co.uk) for a blast of those distinctive petrol aromas and lime and elderflower flavours. Brilliant with shellfish or Asian foods. Also great with Asian flavours is the love it or loathe it gewurztraminer grape and from the Nelson area, close to Marlborough, comes the award winning Waimea Estate Gewurztraminer 2016-17 (£15.99 or £9.99 if bought as part of mixed six-bottle purchase, majestic.co.uk) packed full of intense floral aromas and spiced orange, quince and lychee flavours on the fullish palate; one for summer evenings in the garden and Chinese Five-Spiced pork belly on the table.
Also from Nelson comes another wine from a wine-growing family with Austrian origins and who have therefore grown that country's favourite grape: with the smoky, white pepper and citrus-inflected Seifried Estate Gruner Veltliner 2016 (£14.99 flagshipwines.co.uk; £12.99, minimum order six bottles; simplywinesdirect.uk) I'd go the full Austrian route and drink it with a Wiener schnitzel or some smoked herring or ell with potato salad.
Our fourth central European grape is pinot gris – also known as the lighter pinot grigio in Italy, but in Austria and Alsace the "gris" style – richer, textured, full of tropical fruits dominates. And so too in Central Otago, the most southerly wine growing region in the world and more known for its' brilliant pinot noir – but that is for another column.
Here, if you are roasting a bream or sea bass or even a roast chicken, try the Te Kano Pinot Gris Central Otago 2017 (£19.95 davywine.co.uk). It's rich, just about the right side of dry and very complex and mouth filling, with notes of tangerine and ginger.
And so, finally – how can we avoid it? – to sauvignon blanc. I've recommended loads of Kiwi sauvignon blanc in the past, most recently in this column but here are benchmark examples of the two main styles: the Esk Valley Sauvignon Blanc Marlborough 2019 (£10.65 yorkwines.co.uk; £13.99 or £9.99 if bought as part of mixed six bottle purchase; nzhouseofwine.co.uk) is classic Marlborough – perfectly balanced between zippy, gooseberry, grassy acidity and bouncy tropical fruits.
But the organic Greystone Sauvignon Blanc Barrel Fermented 2018 (£16.15 frontierfinewines.co.uk £16.95 slurp.co.uk) from the Canterbury area of the South Island, is a different beast: made with natural yeasts and aged in oak, has restrained tropical zestiness and a richer, fuller, more, textural and complex mouthfeel but still dry and refreshing. Both of these last two wines are ideal with this season's asparagus, which lasts for another few weeks. And any one of them can be drunk in celebration of both the country's fight against Covid-19 and the pioneering spirit of the Reverend Marsden….
Register for free to continue reading
Registration is a free and easy way to support our truly independent journalism
By registering, you will also enjoy limited access to Premium articles, exclusive newsletters, commenting, and virtual events with our leading journalists
Already have an account? sign in
Register for free to continue reading
Registration is a free and easy way to support our truly independent journalism
By registering, you will also enjoy limited access to Premium articles, exclusive newsletters, commenting, and virtual events with our leading journalists
Already have an account? sign in
Join our new commenting forum
Join thought-provoking conversations, follow other Independent readers and see their replies