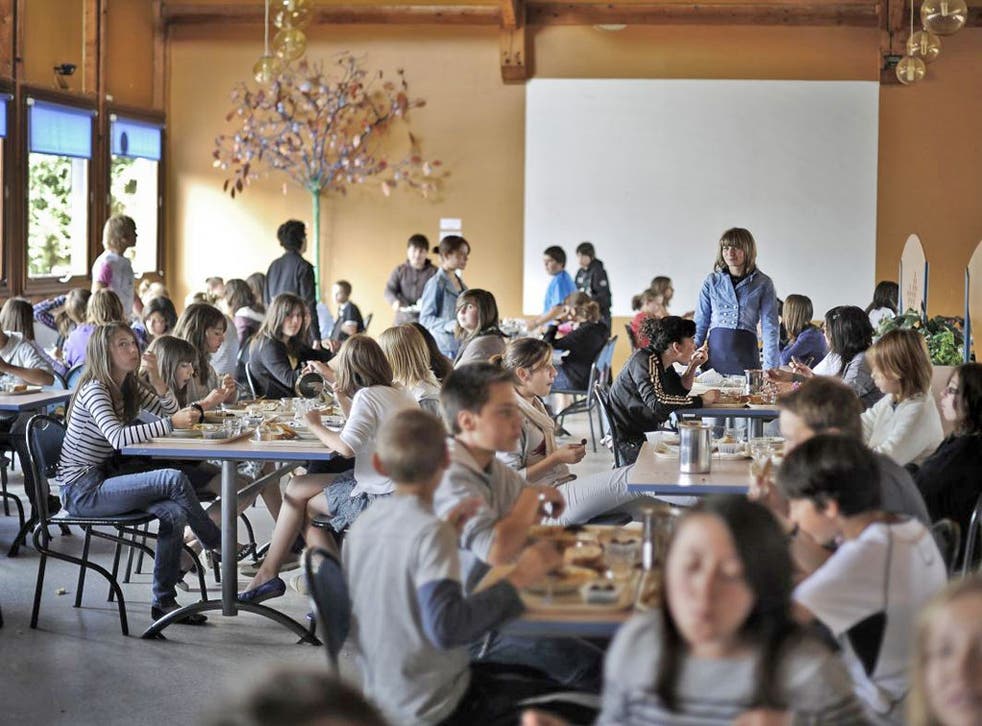 Why French children are happy eaters
When her family moved to France, Karen Le Billon was appalled that her daughters were expected to eat like adults. Now a convert, she explains how to turn picky kids into mini gourmets.
In 2008, my husband and I moved from Vancouver to France. Our younger daughter, Claire, was a toddler and my elder daughter, Sophie, was four, just about to turn five. Before we moved to France, they were what I thought of as typical North American children; they had a beige food diet, largely consisting of Cheerios, crackers, pasta, bread and butter.
While they were fond of apple sauce, we weren't doing very well on the vegetable front and they were not happy about trying new foods. Sophie was exceptionally fussy and her behaviour had been getting worse, to the point that it was not easy to feed her new foods, especially in an environment where other people might be around, because it was terribly embarrassing.
This did not set us up well for smooth integration into French life. It wasn't something that I had thought about a lot because I'm not someone who focuses on food. Even though I had married a Frenchman, I wasn't very interested in cooking and I didn't own a single French cookbook. It came as a surprise that when we arrived, my daughters' food education became a focus.
Sophie was going to what they call in France the maternelle, sort of the equivalent of kindergarten, while Claire was in pre-school. The arrangement in France is that children stay for a whole day, even at those ages, so my children got the full benefit of a French food education, as well as the elaborate three- or four-course meals on offer at lunchtime, which really surprised me at first. The menus at the school's canteen were astounding. Every meal begins with a vegetable starter (whether that's a green leafy salad, grated carrot or beet salad), which is then followed by the main, warm dish, which has a vegetable side. Then there is a cheese course and dessert, which is fresh fruit four times a week and a sweet treat on the fifth. Three- and four-year-olds eat things such as creamed chestnuts, spinach, turkey cordon bleu, mussels, roast guinea fowl, and radish salads.
One of the first things that struck me when we moved was how important food was to the parents. When they would pick their children up they wouldn't ask what they had learnt that day or whom they had played with, they would ask what they had to eat and whether they enjoyed their lunch. The French teach children to eat just as they would teach them to read. They also put more thought into expanding their children's palates and teaching them to love new foods (or at least love trying new foods).
But not only was it what they were given to eat but also how they ate. They got 30 minutes to eat and an hour to play afterwards, so lunch is very leisurely and relaxed. There are also staff there to oversee the children and make sure they are eating properly. The children soon learn to encourage one another to try new things; it's fascinating. By the time they're seven or eight, French children have become remarkably competent eaters.
I noticed these common food rules in France and tried to learn them but I was frustrated because they're not written down anywhere. There is no "how-to" book in France that I could just translate for an English audience because many of these rules are codified common sense that everyone practises and sometimes articulates (especially when you've broken one of their unwritten food rules).
At first, my children came home hungry because they had a small pick of what was on offer and a bit of baguette. The notion that they should try everything, that there was no choice and they were going to be given what everyone else was eating (and eat it) was a little shocking for them at first. Children in the UK and North America develop autonomy very early on around food and they get to choose. In France, the adults choose.
My children quickly adapted, much faster than I did. I was still wondering whether this was appropriate and they'd already moved on and were eating beans and endives. Now they eat everything: sushi, salmon, mussels, spinach.
In France, school menus follow guidlines set by the French Ministry of National Education. They all follow a set structure. The meals are similar across the country yet they are highly varied because one of the requirements is that you can't have the same dish more than once every two months. The menus at our local school were typical of these school menus all across France, which goes back to the question of taste: the French believe that children can like strong tastes and they introduce them early on. The French Academy of Paediatricians recommends that the first foods given to babies are not bland cereals but rather things such as leek soup, endive or chard.
They start them on vegetables that we would think of as being strong but they think children are naturally curious, particularly before the age of two and the picky-eating phase inevitably sets in, even for French kids. Although my daughters had all sorts of bad eating habits, they did eventually catch up and fit in.
For those who would like their children to eat more adventurously, I have devised simple rules to follow, and I hope people realise that these lessons and food rules can actually be applied in different countries, families and places, though they may need to be adapted. These are rules on how to eat, rather than what to eat. These are healthy eating routines and rituals, not strict, unpleasant rules.
So, kids should eat when and what adults eat. There should be no emotional eating: don't use food as a distraction, bribe or reward. Another important rule is that children don't need to eat a food they don't like, but they do at least have to try it. The French believe that it is only through tasting foods that the children educate their palates enough to like them, and scientific research has shown that children need to taste a new food an average of seven times before they will eat it.
If my daughters object to a food, I tell them that they'll like it when they're older, and encourage them to keep trying and practising. They then get the idea that eating is a skill and can get better. It reduces pressure on the parents and avoids a war between the child who won't eat and the parent who insists they eat. There should also be no snacking. That rule is followed by everybody and is culturally rooted and collective. Everyone eats three meals a day (children are allowed one small afternoon snack) and they eat higher-satiety foods, which fill them up so they don't feel hungry between meals.
Translating these rules into other countries is something of a struggle. After we conquered our food issues, we moved back to Vancouver for a while and we were plunged back into this environment of constant unregulated eating, of overwhelming and conflicting nutritional messages from food corporations subverted for their own marketing purposes, and it wasn't easy. It is a call to arms in some ways.
Ten years ago, France was going the same way as North America and the UK: it had the greatest number of McDonald's restaurants of any European country, and kids were eating more snacks and junk food – but it quickly acted. It banned vending machines and fast food and junk food in schools, it tightened the regulation of school lunchrooms, and it implemented a lot of reforms that have resulted in the meals pupils now enjoy.
France has already had a kids' food revolution and it has now decided that teaching children to eat well is an essential rule of schools, in the classroom and in the lunchroom. I'm hoping that this will happen in other countries. In the meantime, there are lots of things that parents can do to make mealtimes a more enjoyable experience for all. Although healthy eating starts at home, it's difficult for parents to do this on their own and there needs to be a broader social conversation. But this is a good way to get started and I'm confident that what has occurred in France can happen elsewhere, too.
Interview by Gillian Orr
Karen le Billon is the author of 'French Kids Eat Everything' (Piatkus, £12.99) For more information on French school menus go to karenlebillon.com
Join our new commenting forum
Join thought-provoking conversations, follow other Independent readers and see their replies