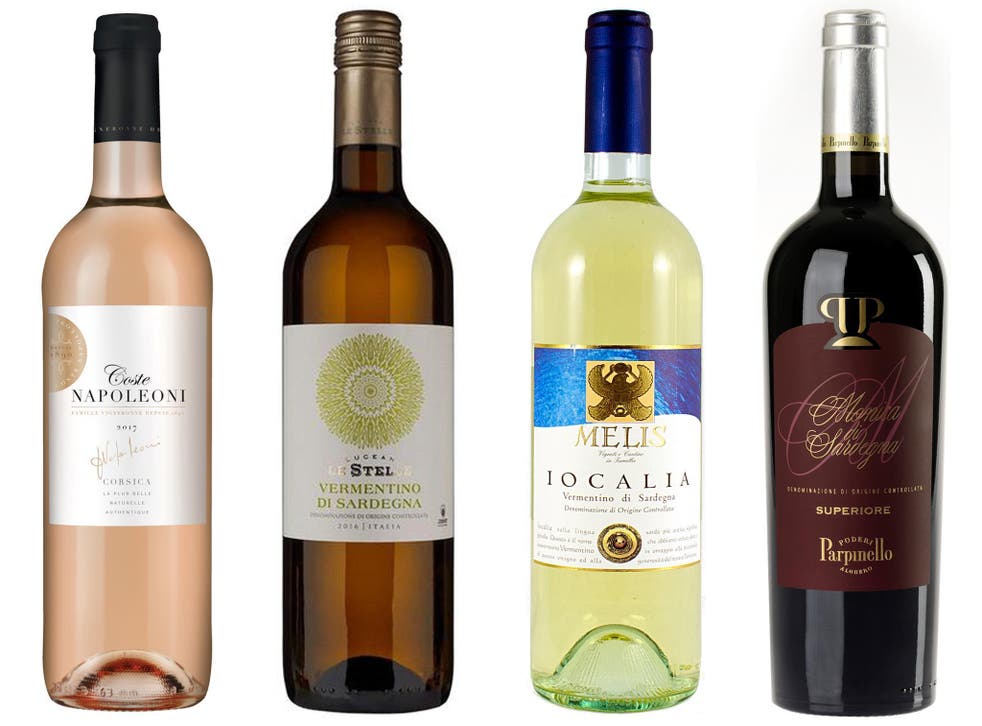 Wine of the week: 14 lesser known bottles from the Mediterranean islands
While many of us are familiar with Sicilian wine, we're less well versed in offerings from Majorca, Corsica and Sardinia – but there's many a bottle to explore
We spend a lot of time there on our holidays. Indeed, this month many of us have been there or will be there this bank holiday weekend, languishing on beaches, hiking in the hills, exploring ancient cities and busy ports, scoffing local foods and, most certainly, enjoying the wines. Yet, while us Brits have long loved and had very special relationships with the wines of France, Italy and Spain, the wines of their Mediterranean islands are much less celebrated. We enjoy them while on holiday there, but finding wines from Majorca, Corsica and Sardinia in the UK is a bit more of a challenge. Sicily, of course, is the exception: most of us should be familiar with the pleasures of the nero d'avola red, and last week's column highlighted the diverse and attractive nature of Sicilian winemaking.
But when it comes to the other islands, you will be lucky to find many in high street retailers, and only a few in independent wine shops or online outlets. The reasons are varied but include the fact most production in the islands is relatively low volume, and perhaps a bit unpredictable in quality, with sometimes obscure grapes not easily sold to UK consumers, or not enthusiastically marketed by the islands themselves. The lack of historic links between island producers and the UK wine trade – unlike say, our relationship with Bordeaux or Rioja – must also play a part.
It is worth persevering though, because there are interesting wines and new grapes to be discovered, such as the ballsy, robust reds of Majorca, an island with much to recommend it quite apart from its associations with intense tourism and a certain, inexplicably popular television programme.
The main wine growing region is Binissalem in the flat-ish centre of the island, a good distance from the principal tourist areas. Finding these wines in the UK is tricky – Marks & Spencer no longer stock the excellent Santa Maria Del Cami, so seek out the equally robust Macia Batle Tinto Anada 2016 (£10.99, rannochscott.co.uk; £14.00, highburyvintners.co.uk) made from a blend of the local manto negra grape, together with some cabernet sauvignon and merlot: violets, chocolate, black cherries. Also Tanners have the very similar Susana Sempre Roble 2016 (£10.60, tanners-wines.co.uk) made from a similar blend, with masses of rich black fruits and plenty of body. Slightly more elegant and spicy is the Bodega Biniagual, 'Memories Negre', Mallorca 2013 (£17.64, corkingwines.co.uk; £19.95, novelwines.co.uk) where merlot is replaced by syrah. All three are good for the first casseroles of autumn, when it arrives, or the Majorcan aubergine and potato dish, tumbet.
There are also companion whites for the latter two, the Susana Sempre Blanco, Vino De La Tierra 2016 (£10.95, tanners-wines.co.uk) with the local prensal blanc grape given lots of tropical oomph from some chardonnay. Again the bigger and more complex white is the Bodega Biniagual Memories Blanc, 2017 (£17.49, allaboutwine.co.uk; £18.06, corkingwines.co.uk) also made from prensal blanc and chardonnay, with the addition of muscatel: citrus and pear flavours and a long, delicious finish.
Moving east Corsica, the largest European French island, might be expected to have a vibrant wine tradition – but the mountainous terrain and small production mean the Corsicans keep most of their wines to themselves, much as they value their separation from the rest of France. There are, however, some lovely, Provencal style rosés, such as the pale pink Coste Napoleoni Rose (£12.99, laithwaites.co.uk), named after the island's most famous son and made from the Sciacarello grape, which is actually of Italian origin and mostly known in Tuscany as 'mammolo', a blending grape. Here, its red fruits and herbaceous flavours come to the fore with great effect; the Corsicans drink their rosés with local versions of ubiquitous seafood soup/stew bouillabaisse, as should you. The key white grape for Corsica and its neighbouring, Italian island, Sardinia, is vermentino, which some have hailed as the new sauvignon blanc, because of its appealing light, aromatic, grassy and zesty flavours. The Corsican Maison54 Vermentino 2017 (£10.00, boroughwines.co.uk) is gorgeously aromatic and vibrant; a wonderful aperitif or accompaniment to lighter seafood. ​
Sardinia is also capable of producing wines whose citrus flavours are creamier and more subtle. The Vermentino di Sardegna localia, Melis 2017 (£8.95, winesociety.com) has ripe pear and light citrus flavours, with a creamy mouthful that is quite enticing and works well with spicy foods, as the Society suggests. It is part of a Wine Society special case of small production wines from Sardinia and Sicily that is well worth checking out. Two other vermentinos worthy of attention are the Nord Ed Vermentino di Sardegna (£9.99, majestic.co.uk) from the northern part of the island, with almond and lemon notes, and the Lucean Le Stelle Vermentino Di Sardegna (£8.79, ocado.com; Waitrose) which is even zippier and fresher, with distinct sauvignon style grassiness. Both would be fine with bottarga, the island's speciality: compressed grey mullet roe, usually eaten grated with pasta, or on bread.
As with Majorca, Sardinian reds tend towards the rustic and powerful, ideal for the island's favoured wild boar. One exception, which I recommended in this column earlier in the year, is the slightly fragrant, blackberry scented, soft, succulent and chillable Bovale, Isola dei Nuraghi IGT, Melis 2016 (£11.80, tanners-wines.co.uk), made from the indigenous bovale grape.
Slightly more typical is the Carignano del Sulcis Carda Nera (£14.50, winesociety.com) from the south west of the island. Made from the local version of carignan grape, this is simply exceptional: vibrant, fresh red fruits flecked with notes of herbs and touches of spice; wonderfully mouth filling and satisfying. Also part of the offer is the even more full bodied Costera Cannonau Argiolas 2015 (£12.50, winesociety.com), this the local version of Grenache and the most popular grape on the island: more ripe red fruits and spice, given added complexity and power by oak ageing. Finally, the Poderi Parpinello Monica di Sardegna Superiore (£13.59, strictlywine.co.uk; £15.79, greatwinesdirect.co.uk) is made from the hitherto obscure monica grape in the northwest of the island, near the lovely ancient port of Alghero: robust, almost wild flavours of rich red fruits, black pepper; it is a really individual red that somehow emphasises the special character of the islands and their wines. And remember – as I pointed out last week, if you are interested in any of the Wine Society wines, these special purchases may not stay on their books for long, particularly once the offer ends on 9 September.
Join our new commenting forum
Join thought-provoking conversations, follow other Independent readers and see their replies