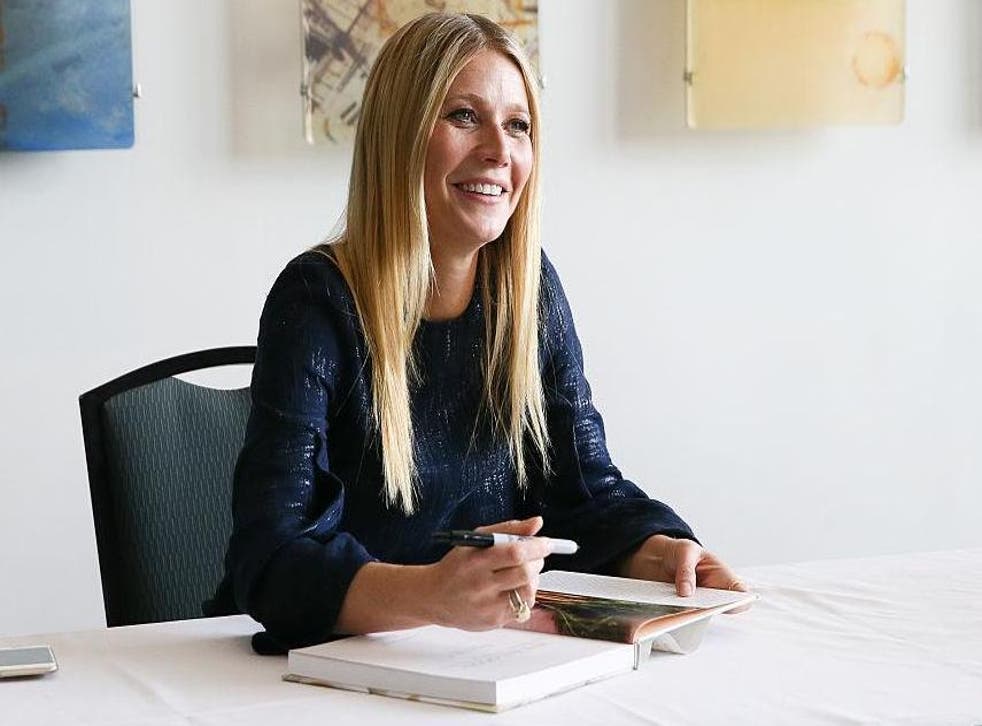 Gwyneth Paltrow's recipes could give you food poisoning, study finds
The recipes may put people at risk of salmonella and campylobacter
Gwyneth Paltrow has shared some questionable advice in her time – in the last few months alone, she's suggested we put stone eggs in our vaginas and burn our bras to get over our exes, as well as sharing health advice from a man who talks to ghosts.
But now academics are criticising Paltrow for the potentially dangerous cooking advice in her recipe book, My Father's Daughter.
According to experts, her chicken recipes could put people at risk of salmonella and campylobacter because she doesn't give a final temperature that the dishes should reach.
Paltrow is not the only one guilty of this though.
The researchers analysed 29 cookbooks and found that less than nine per cent of them included information on the temperatures dishes should reach before being consumed.
Many of the cookbooks were by celebrities, and two of Paltrow's were found to contain dangerous health advice.
As well as the lack of final cooking temperatures given, in It's All Good, Paltrow recommends washing raw chicken.
According to the UK Food Standards Agency, this should never be done as it raises the risk of campylobacter, a common cause of food poisoning.
"Thorough cooking kills it," the agency says. "Campylobacter can be spread easily and just a few bacteria could cause illness."
The study was conducted by North Carolina State University and concluded that only 89 of 1,497 recipes studied gave enough instruction to help people reduce their risk of poisoning – 34 of the recipes even shared tips that were considered unsafe.
Senior study author and food safety specialist Dr Ben Chapman said: "I wanted to see in the Gwyneth Paltrow recipe somewhere that we know a chicken is done when it reaches 74C (165F).
"It provides the temperature and how long it should be cooked for but, while that is good information, it doesn't mention what temperature it should be at the end."
The paper was published in the British Food Journal, and although My Father's Daughter wasn't included in the main study, Dr Chapman mentioned it separately.
According to The Sun, a spokesman for Paltrow admitted the recipes did not have an endpoint temperature but claimed the directions gave ample cooking time.
Register for free to continue reading
Registration is a free and easy way to support our truly independent journalism
By registering, you will also enjoy limited access to Premium articles, exclusive newsletters, commenting, and virtual events with our leading journalists
Already have an account? sign in
Register for free to continue reading
Registration is a free and easy way to support our truly independent journalism
By registering, you will also enjoy limited access to Premium articles, exclusive newsletters, commenting, and virtual events with our leading journalists
Already have an account? sign in
Join our new commenting forum
Join thought-provoking conversations, follow other Independent readers and see their replies