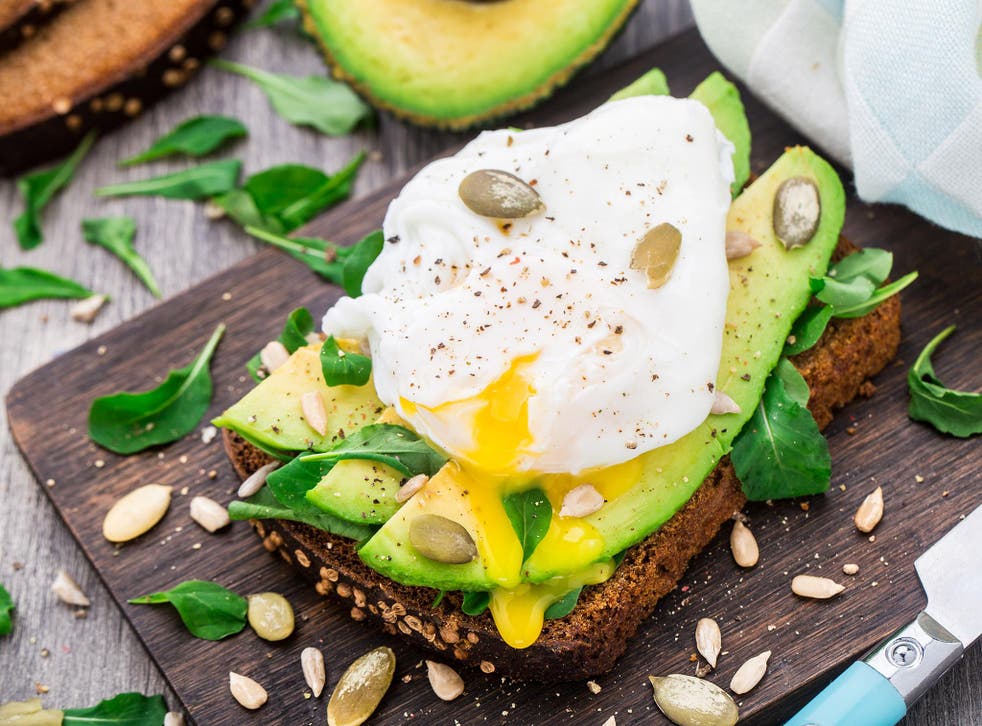 How to eat fats?: The definitive guide
The food group is no longer seen as the enemy to a healthy diet 
Kashmira Gander
Thursday 27 July 2017 09:55 Comments
Once upon a time, many of us believed that the words 'fat free' written across a product meant that it was healthy - regardless of how much sugar, salt or god-knows-what-else was packed inside.
But in recent years, research has shown that simply wiping out all fats from our diets isn't enough to maintain a healthy body weight and avoid heart disease, diabetes and other chronic conditions.
Instead, refined sugar is what we need to cut out if we want our bodies to be healthy (although our minds might have different ideas about how chocolate cake makes us feel). It turned out that many foods that were labelled low-fat - from yogurts to cookies - were just packed with sugar. This, it turns out, is what is making us sick.
In fact, the body needs certain fats to function. More specifically, so-called "good" monounsaturated fats like those in extra virgin olive oil, peanuts, avocados and pumpkins seeds; as well as polyunsaturated fats in foods including chia seeds, walnuts and which contain omega three and six and can help with brain function and prevent inflammation in the body.
Part of the confusion lies in our understanding of cholesterol and saturated fat, Duane Mellor, a British Dietetic Association spokesperson, tells The Independent.
"For many years in the UK, and more recently in the US, dietary cholesterol is no longer a nutrient of concern. This is because our body can make it from some saturated fats and especially industrially made transfats, which are not common in the UK."
Still, how many of us can truly say that we know exactly how much fat - or sugar or protein for that matter - we should be eating? For those who swear by high-fat, low carb regimes, like the ketogenic diet, it's "a lot". Avocados, eggs, cheese. It's all game, along with moderate levels of protein and minimal carbohydrates. First used to treat children with epilepsy and later adopted as a weight-loss tool, the idea is to put the body into a state of ketosis where it burns fat rather than carbohydrates.
Stunning photos of food by Anett Velsberg

Show all 13
However, Mellor stresses that simply shifting from avoiding fats to avoiding sugars is a mistake. What we should learn about changing attitudes towards fats and sugars is not to focus too much on one food group at all, but rather find a healthy eating pattern that is sustainable.
This mirrors the findings of Kings College London genetics professor Tim Spector, the author of The Diet Myth, who recently told The Independent​ that counting sugar, fat and calories is the wrong approach to eating. Instead, we should nurture our gut bacteria by consuming a diverse diet of unprocessed foods and enough fibre. Generally, this involves aiming to eat half a plate of vegetables, a quarter of wholesome, starchy carbohydrates, a quarter of protein and a thumb-size of healthy fats such as avocado or cheese for each meal.
"A key message is that we have moved on from single nutrient fat vs sugar approaches to look at whole diet patterns that can be enjoyed and eating behaviours that will last, not quick fixes fads and detoxes," he says. "We know dietary patterns are more important and we know dietary patterns like the Mediterranean Diet are very effective at reducing risk of heart disease, some cancers and type two diabetes."
One study into the Predimed - or Prevention with Mediterranean Diet - which involves 40 per cent of energy coming from non-saturated fats, like those found in high grade extra virgin olive oil and nuts, saw a reduction in heart disease. On the contrary, the Lyon Heart Study which analysed people who had experienced heart attacks, showed that those who cut 10 per cent of saturated fats from their diets saw their risk of a second heart attack reduce by three quarters.
"Most of the low carbohydrate diets are only relatively high in fat as a percentage of energy," explains Mellor. "Typically, similar amounts of fat in grams are consumed as the general population. This means they are very effective at reducing energy intake and helping weight loss. But this needs a lot of support to ensure they are nutritionally adequate and appropriate.
"There is no evidence that being in nutritional ketosis helps beyond the weight loss resulting from the calorie restriction. There is little evidence that they are better than other dietary approaches which improve metabolic markers or help manage weight. The key is finding a diet that can be stuck with and is sustainable for the individual."
Most of us don't need to go out of our way to add extra fat into our diets, unless we are competitive athletes or bodybuilders trying to sculpt a specific physique, he adds.
The best way to eat fats is by eating them as part of a balanced Mediterannean diet, consuming them at their source for instance in milk, yoghurts and cheeses which provide calcium and protein with some fat, as well as from nuts, seeds and olive oil. There is no need to add lots of fat into food, such as frying foods or adding butter or coconut oil to coffee.
Asked whether we should use olive oil, butter or coconut oil to cook, Mellor explains: "Quantity is more important than if it is liquid or solid at room temperature. It is fine to use butter, if you can use less and enjoy it, however for some if they use butter they use more."
"There is no one size fits all," he adds. "Food should be enjoyable. It is part of the glue that brings us together, this is something forgotten when trying to pin down what is the best diet and which is worse fat or sugar."
Register for free to continue reading
Registration is a free and easy way to support our truly independent journalism
By registering, you will also enjoy limited access to Premium articles, exclusive newsletters, commenting, and virtual events with our leading journalists
Already have an account? sign in
Join our new commenting forum
Join thought-provoking conversations, follow other Independent readers and see their replies