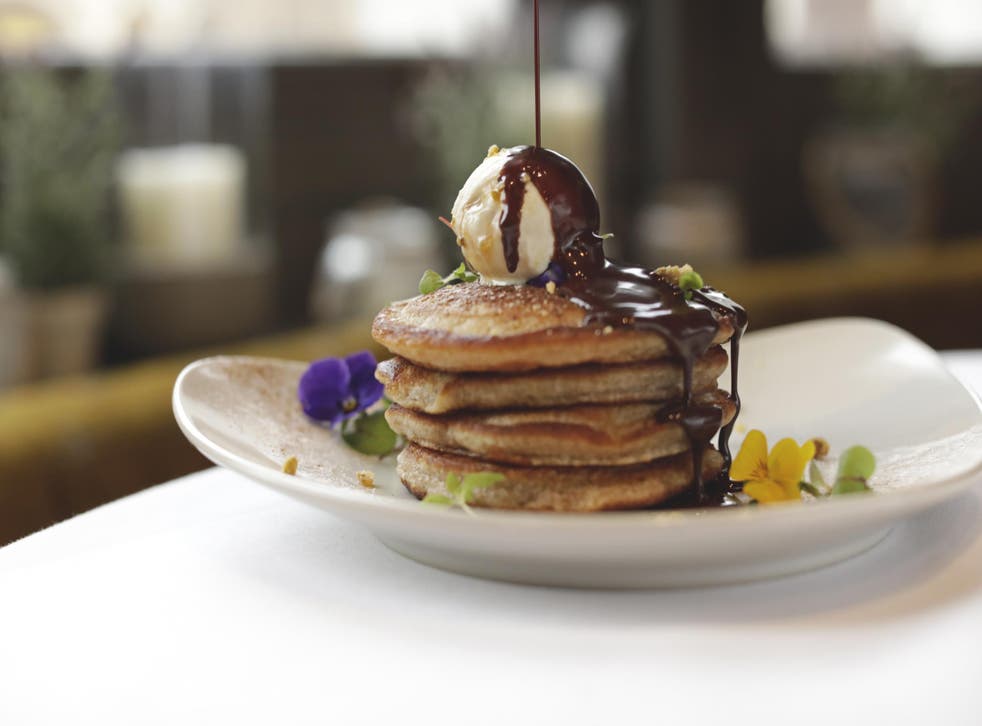 How to make French Toast Pancakes
When French toast met pancakes
This one is a recipe that goes beyond Pancake Day.
And it is part of Covent Garden restaurant and Martini bar Christopher's pancake specials.
For those who wish to have a go at the French Toast One at home, Head Chef Francis Agyepong shares its recipe featuring buttermilk French-toasted pancakes served with honeycomb pieces, honeycomb ice cream, maple syrup and a dusting of cinnamon.
How to make Christopher's French Toast Pancakes (18 pancakes)
Equipment:
Griddle pan

Non-stick frying pan

Spatula

Ladle

Whisk
Ingredients for Buttermilk Pancake Mix:
250g plain flour

2 tbsp baking powder

3 tbsp sugar

2 eggs, lightly beaten

750ml buttermilk

75g unsalted butter melted

1 tbsp cinnamon

1/2 tsp nutmeg

Clarified butter for cooking
Toppings:
120g of good quality milk or dark chocolate pistols' Valrhona

1 scoop of Vanilla tea ice cream (or one of your choosing)
Instructions:
Start by making the pancakes - Mix the flour, sugar and baking powder in a bowl, before adding the beaten eggs and buttermilk, whisking together until smooth. Add Nutmeg and Cinnamon, mixing continuously to keep smooth consistency.
Add melted butter slowly, and whisk.
Leave it to rest (if you have time) to become aerated.
Heat a large non-stick frying pan on moderate heat. Add a touch of clarified butter into the pan.
Add a small ladle of batter to the pan. Cook for about 3 minutes until bubbles appear on the surface. Then turn pancake over and cook for a further 3 minutes.
Transfer the pancake to a plate and keep warm, while making the rest of the pancakes.
Slightly melt 70g of chocolate in separate bowl.
Now heat the griddle with a small amount of butter. Cook each side lightly, until golden colour. Add chocolate to one side on the pancake and cook until chocolate seeps.
Take off heat and repeat. Sandwich chocolate pancake sides together, stacking on top of one another (as high as you want!), dust with cinnamon, then pour melted remaining chocolate over, and scoop of ice cream.
Christopher's is in 18 Wellington Street, WC2E 7DD.
Register for free to continue reading
Registration is a free and easy way to support our truly independent journalism
By registering, you will also enjoy limited access to Premium articles, exclusive newsletters, commenting, and virtual events with our leading journalists
Already have an account? sign in
Register for free to continue reading
Registration is a free and easy way to support our truly independent journalism
By registering, you will also enjoy limited access to Premium articles, exclusive newsletters, commenting, and virtual events with our leading journalists
Already have an account? sign in