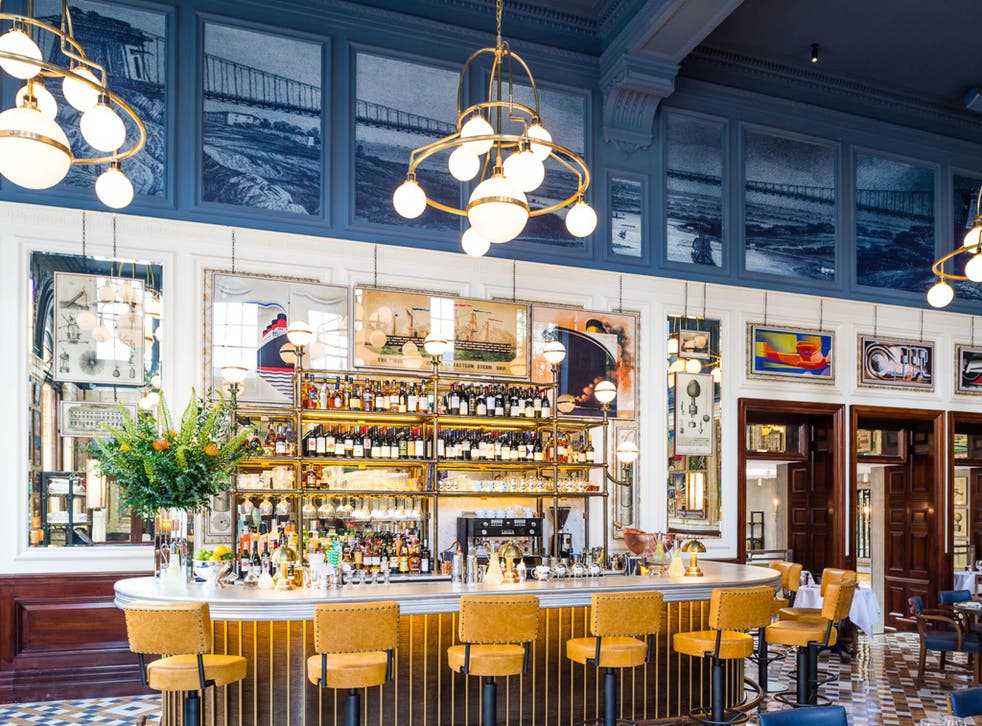 Brunch on Saturday: Ivy Clifton Brasserie review and Aussie-style potato scones recipe
This week in Brunch on Saturday, Rachel Hosie visits the Ivy Brasserie in Bristol and we take inspiration from Down Under with Aussie-style potato scones
Brunching out...
With its incredibly high ceiling, ornate walls hung with stylish art and beautiful (and huge) bouquet of flowers in the middle of the room, The Ivy Brasserie in Bristol's Clifton feels a bit special as soon as you walk in.
It's a grand, impressive room, decorated in prohibition style – there are booths for diners, huge windows, and the style is a bit "posh ship."
The restaurant was the first Ivy Brasserie to open outside London, but a takeover of the South-west is very much on the cards, with branches soon to open in Bath, Exeter and Cheltenham.
The brassieres have become popular for the classic Ivy glamour they offer, but at much more affordable prices.
At the bar, we watched the three bartenders working in sync – they're as much showmen as bartenders, performing tricks as they made drinks in the most smooth, slick fashion – and with so many different glasses, mugs and garnishes to play with, they're almost artists too.
When we visited, the bartenders had created a cocktail inspired by an artist showing at local exhibition space, The Arnolfini. Named The Butterfly and the Bee, it was refreshing and not too sweet, consisting of gin, elderflower, mint and egg white.
Another win in our eyes was a staple cocktail called the Lavender Lady – it was a little sweeter but so delicious.
The Ivy offers a three course brunch, and – never people to shy away from food – my dining companion and I ended up going the whole hog.
To start, I had the mozzarella di bufala (£8.95). It was soft and creamy like burrata, and worked beautifully with the salty, oily pesto, crunchy almonds and juicy olives.
My dining companion went for an equally cheesy starter, opting for the goats cheese (£6.50) – it was so creamy that it contrasted perfectly with crunchy nuts and endives – but not too many leaves (no one wants too many leaves).
Falmouth: A foodie haven by the sea

Show all 20
Despite the fancy setting, the vibe was relaxed for our Sunday afternoon visit; it was informal (people were wearing jeans) but with a buzz to the place.
And as you'd hope, the service was faultless, the diligent staff wiping away crumbs on our table in between courses.
For her main course, my companion chose the shepherd's pie (£13.50). A mix of lamb and beef (so arguably a cottage/shepherd's pie), with chunky pieces of meat light years away from processed mince.
The mash wasn't too cheesy but it was flavoursome and it came with a rich red wine sauce. The portion wasn't huge, but it was filling.
My portion of roast chicken (£14.95), however, was most sizeable. It was juicy and tender with a lovely rosemary gravy.
For pudding, my co-eater plumped for the sweet, indulgent chocolate bombe (£8.50). Vanilla ice cream and crunchy honeycomb were revealed from inside a chocolate casing, which melted away as lashings of rich salted caramel sauce was poured over the top, all surrounded by soft, fluffy meringue round the side.
I went for the slightly lighter frozen berries served with yoghurt sorbet and sweet, warm white chocolate sauce (£6.95). The sauce melts the berries and provides a welcome sweetness to their tartness.
The perfect end to a classy brunch.
The Ivy Clifton Brasserie; 42-44 Caledonia Pl, Bristol BS8 4DN; 0117 203 4555; theivycliftonbrasserie.com; open daily
Brunching in...
Aussie style potato scones with avocado recipe
Prep:5 mins
Cook:12 mins
Serves 4
For the potato scones
300g leftover mash potato
200g plain flour
1tsp baking powder
3tbsp milk
2 medium eggs, beaten
2tbsp sunflower oil for frying
To serve
4 medium eggs
2 medium avocados
1 lime
1 red chili
In a large mixing bowl add the leftover mashed potato. Add the beaten eggs and milk and beat well. Sift in the flour and baking powder, then season with salt and milled pepper and gently mix everything together.
Heat the sunflower oil over a medium heat in a large non-stick frying pan. Add tablespoons of the batter to the oil and cook for about three minutes on each side. You will need to do this in two batches so as not to overcrowd the pan. Keep the potato cakes somewhere warm while you cook the second batch.
Meanwhile, peel and stone the avocados and mash with the juice of the lime and a little salt. Poach your eggs in a pan of barely simmering water with a dash of vinegar. Pop two potato cakes on each plate, top with the avocado, fresh chili (to taste) and finally the poached egg. Garnish with a little parsley or coriander.
For more recipes, visit lovepotatoes.co.uk
Join our new commenting forum
Join thought-provoking conversations, follow other Independent readers and see their replies