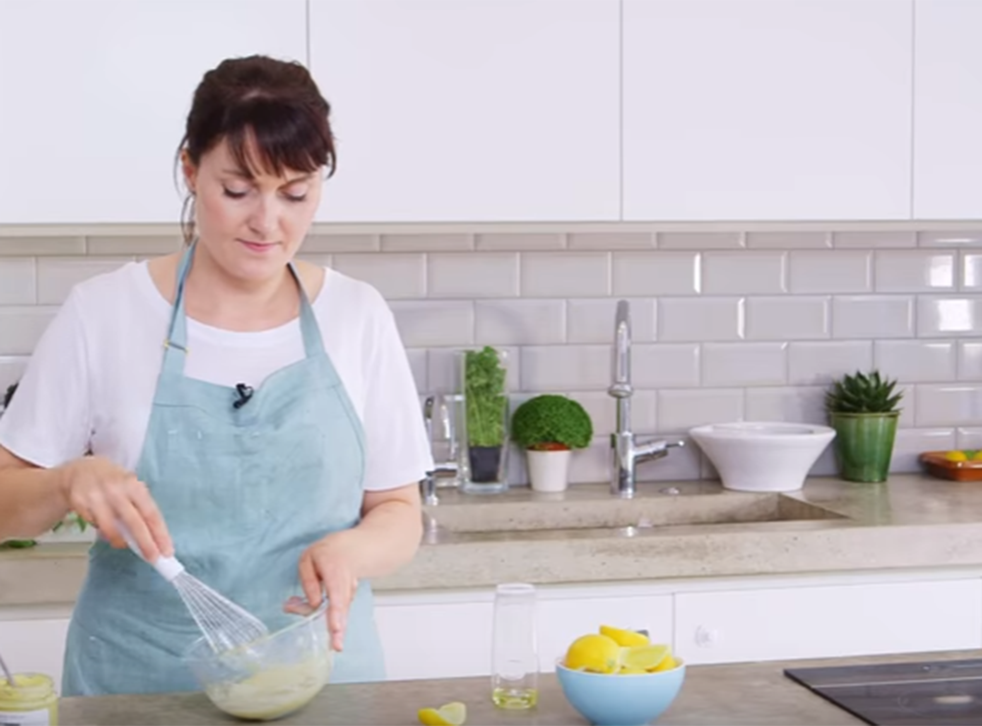 Kitchen essentials: How to make a salad dressing
Our new weekly Kitchen Essentials column guides you through basic cooking techniques and shows you how to make a basic vinaigrette that brings ordinary salads to life
A vinaigrette to me, is one of those little things in which the finished product is greater than the sum of its parts. You take some oil, vinegar and mustard and in the blink of an eye/whisk you have a dressing. Is that not just a little bit magical?
It is a temporary emulsion made by whisking oil and vinegar together. The basic ratio is 3 parts oil to 1 part vinegar. Here we are using a neutral vegetable oil, a Dijon mustard and white wine vinegar. I am using vegetable oil to illustrate the basic technique. Generally I like to use a combination of vegetable and olive, everyone has different taste preferences, so use whatever you prefer.
I like to make a batch and store in the fridge for up to a week. Then when I get home after work it is ready to go and I can use it to finish meals, roasted vegetables, pasta salad, I particularly love drizzling it over warm roast baby potatoes. For me this method captures the simplicity that I love about cooking.
You can then make
The beauty of a vinaigrette is that you once you have the basic technique you can create different dressings by changing the type of oil, vinegar, mustard and adding herbs and spices. With these dressings you can then enhance simple meals – salads, meat, fish, pasta, sandwiches, finishing vegetables. When you are choosing the ingredients, think about what you will serve it with. Try wholegrain mustard with a little honey for chicken. Balsamic vinegar will bring a touch of sweetness – lovely with more bitter aniseed vegetables such as chicory and fennel.
Red wine vinegar makes a robust dressing that you can pair with stronger tasting foods such as peppery rocket and watercress or red meat. In this basic technique I am using vegetable oil for a neutral flavour. You can add an extra layer by using some extra virgin olive oil (using all this type of oil may give a strong bitter taste), aromatic oils (basil, chilli, garlic), or experiment with rapeseed or grapeseed oil.
Take things a step further and just before using, stir in a small handful of one of the following chopped herbs – parsley, basil, coriander, mint or dill. Let's look at spices, now it's starting to get even more interesting – cayenne pepper, some ground cumin, perhaps toasted caraway. In the kitchen I start with the base recipe then begin to change the other elements, sticking to two or three strong flavours that will sing in the dressing. These are just some of the variations I like – over to you.
How to make a vinaigrette
1 tsp Dijon mustard
1 tbsp white wine vinegar, plus a little extra to season 
3 tbsp vegetable oil 
Lemon juice
Sea salt, cracked black pepper
Equipment
Bowl
Spoon
Whisk
How to
Put the Dijon mustard in the bowl and season with salt and pepper. Add the vinegar and mix well. Pour the oil into the bowl in a steady stream until it is all incorporated. Whisk continuously to emulsify. At this stage if the dressing is a little too thick you can add a splash of water. Check the seasoning and adjust as necessary. Finish with an extra dash of vinegar or lemon juice to increase the acidity, if you like.
What to do if
If the vinaigrette splits out when making it whisk well to re-emulsify. If it is too sharp add another pinch of salt or a pinch of sugar to sweeten. You can make the vinaigrette a few days in advance and it will keep well in the fridge for up to a week – it will naturally split out during this time. Simply whisk well to re-emulsify.
Two ways with vinaigrettes
Roast potatoes and leeks with a wholegrain honey mustard vinaigrette
I love to eat this side dish with roast lamb, pork or steak. While it is lovely eaten when warm, it also holds well at room temperature too. I'm using a combination of rapeseed and extra virgin olive oil as I find that using all olive oil can dominate the flavour of the dressing.
Serves 4 as a side dish
4 medium potatoes, Maris Piper or similar, washed and peeled
2 garlic cloves, unpeeled and smashed with the back of a knife
3 tbsp olive oil
2 leeks, trimmed, outer leaves removed and washed
For the vinaigrette
1 tsp wholegrain mustard
2 tbsp white wine vinegar
1 tsp honey
4 tbsp rapeseed oil
2 tbsp extra virgin olive oil 
Splash of lemon juice
Small handful chervil or parsley leaves
Sea salt, cracked black pepper
Preheat oven to 190C. Boil the potatoes in a medium sized saucepan for 7 minutes in plenty of boiling salted water. Remove from the pan and drain. Leave to cool for a few minutes then cut into bite sized pieces. Put the potatoes in a baking tray with the garlic and drizzle with the olive oil. Season with salt and pepper and roast in the oven. Slice the leeks into small rounds. After the potatoes have been roasting for 10 minutes add the leeks to the tray and cook for a further 20 minutes.
When the leeks are cooked through and the potatoes golden and crispy, remove from the oven. Make the vinaigrette by whisking all the ingredients together. Taste and season with salt and pepper. Pour the vinaigrette over the vegetables while they are still warm and stir well. Sprinkle the chervil on top.
Charred kale with a lemon vinaigrette
Now I've no problem with kale smoothies, just perhaps that they are not one of my favourite things to drink. I'd much rather enjoy kale cooked over a high heat until it chars, then dressed with a simple lemon vinaigrette. I love to have an acidic citrus dressing so am generous with the lemon juice. You could also add some toasted sesame seeds for a little crunch if you like.
Serves 2 as a side dish
200g kale
4 tbsp vegetable oil, or oil with a high burning point
For the vinaigrette
1 tsp Dijon mustard
2 tbsp white wine vinegar
4 tbsp grapeseed or rapeseed oil
2 tbsp olive oil 
Juice and zest of 1 lemon, to taste
Sea salt, cracked black pepper
Heat the oil in a large saucepan over a high heat. When the oil is very hot put the kale into the pan, season and leave to cook for 2 minutes on each side until charred. Don't overcrowd the pan or the kale will not colour – depending on how big your pan is you may need to do it in two batches. Try not to stir it too much in the pan as it will stop it charring. I like to eat it quite crunchy, but if you like it softer, pour a dash of water into the pan then cover with a lid. Turn the heat down to low and steam for a couple of minutes. Remove the kale and drain on kitchen paper. Zest the lemon on top.
Make the dressing by whisking all the vinaigrette ingredients together then drizzle over the kale.
Next week's kitchen essentials: How to sweat onions
For more tips follow Laoise Casey: Twitter @laoisecooks Instagram @laoisecooks
Join our new commenting forum
Join thought-provoking conversations, follow other Independent readers and see their replies