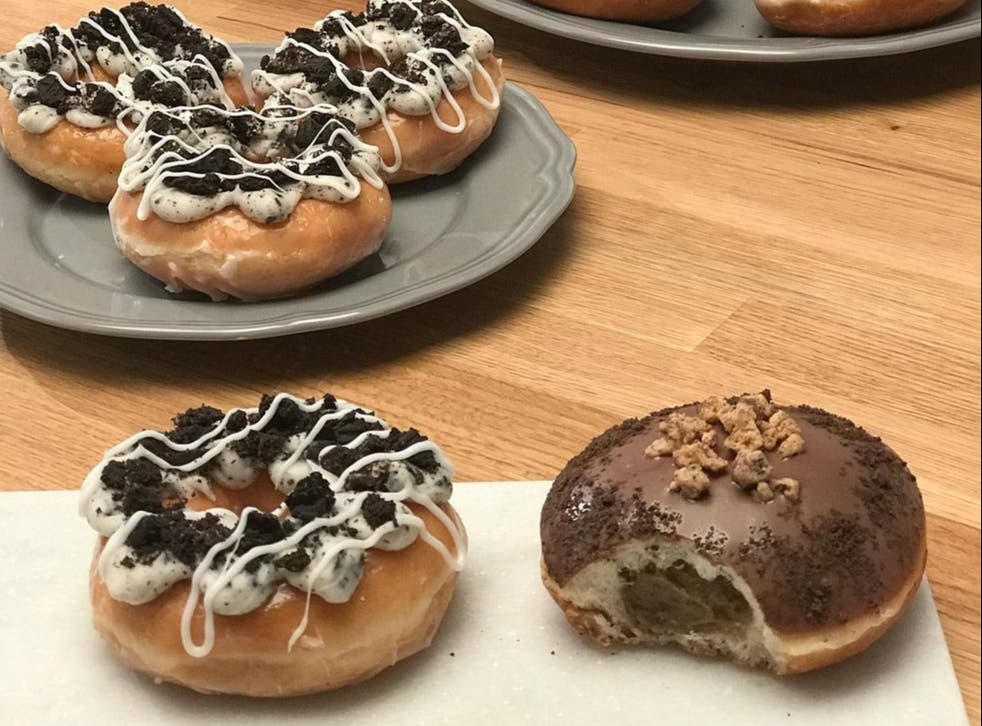 Krispy Kreme launches doughnut with cookie dough centre
The brand's 'Cookie Cravings' doughnuts are available now
Krispy Kreme has released two new varieties of doughnut, both on a cookie theme.
The first is a filled doughnut featuring a cookie dough filling and covered in cookie crumb and choc chip cookie pieces.
The second is a ring doughnut called 'Cookies and Kreme', which is a twist on the brand's classic glazed ring doughnut, topped with vanilla cookie 'Kreme frosting' and cookie crumb.
Fans were eager to try the new products with one tweeting: "That cookies and cream one is calling my name❤️"
Another Twitter user shared a gif of the Cookie Monster captioned, "Did someone say cookies?"
Read more:
The 'Cookie Cravings' doughnuts are available in stores now.
As well as cookie dough, Krispy Kreme has also experimented with Lotus Biscoff spread and Nutella in its other doughnut varieties.
In the US, the brand was embroiled in a controversy last month after it offered a free doughnut to anyone who had been vaccinated against coronavirus for the rest of the year.
Emergency physician and CNN contributor Dr Leana Wen took to Twitter to criticise the campaign and highlight the "health implications" of eating doughnuts.
"Hey @KrispyKreme, I love that you want to thank people for getting the #covid19 #vaccine! Every incentive helps and free donuts may help move the needle," she wrote.
"However, donuts are a treat that's not good for health if eaten every day."
In a statement to The Independent, Chelsea Michael of public relations firm FleishmanHillard said its client Krispy Kreme is "not asking people to get a free doughnut every day, we're just making it available through the end of the year, especially given that not every group is eligible to get vaccinated yet".
She also said that the initiative is just a "gesture that we hope sweetens people's lives as the country accelerates to put this virus behind us".
Join our new commenting forum
Join thought-provoking conversations, follow other Independent readers and see their replies