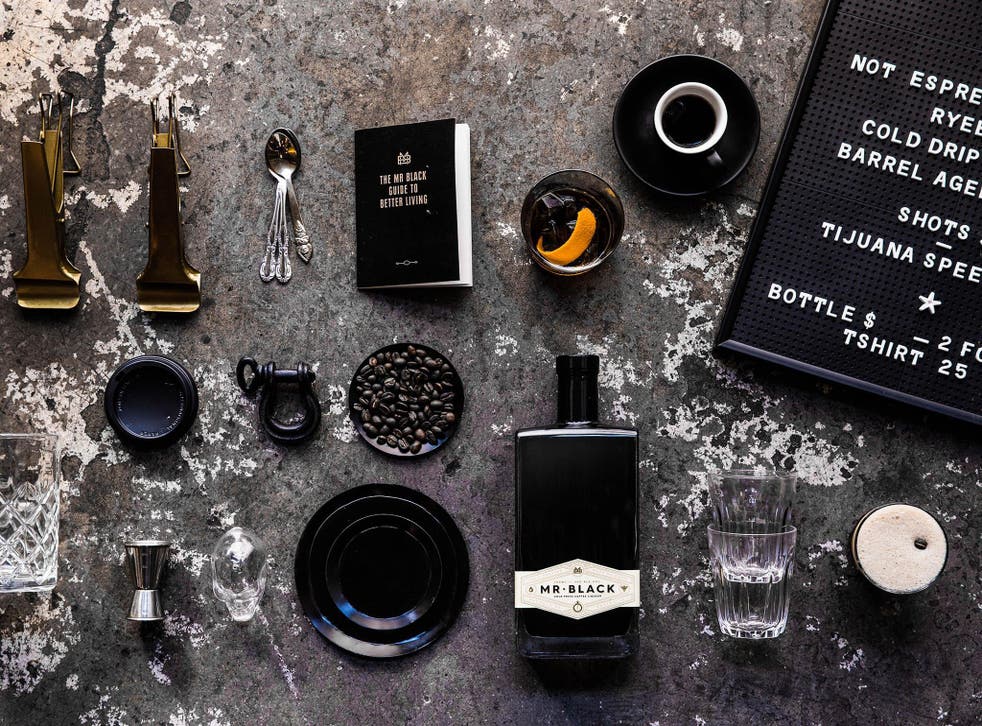 Spirit of the month: Mr Black cold-pressed coffee liqueur and cocktail recipes
This jet-black liqueur from Australia is bold on its own and offers something of a turbo boost to anything you might choose to add it too
Their plan was to take coffee "into the evening". So in 2012 Tom Baker and Philip Moore – two Sydney residents who loved "all things coffee and drinking" – came together to launch cold press coffee liqueur brand Mr Black.
It's become a go-to drink for those in the know, cracking ice straight or complementing a cocktail. True to its name, Mr Black is as black as an ink bottle. It goes well with dark spirits, with its waft of arabica beans from Brazil, Ethiopia and Papua New Guinea, and works with lighter spirits too. Bitter and intense, it is perfectly balanced with the sweetness of toffee and chocolate and is the apt product of a culture that adores both coffee and booze.
"In Australia we love coffee and we love drinking, but no one has put the two together," Baker has said. A designer by trade, Baker worked in product development for big beverage companies before "throwing off the shackles of corporate oppression" and joining Moore, an award-winning distiller, to launch Mr Black.
It took nine months of trial and error – 240 attempts – to create something the pair thought people would want to drink. Their efforts paid off: in 2014 Mr Black won the best coffee liqueur prize at the London International Wine and Spirits competition. The bottles are veritable works of art. In a nocturnal twist, each empties to reveal an owl artwork. They are produced in batches of 300 at the Distillery Botanica in Erina, near Sydney, which Moore has been running since 2007 – a woman called Mandy sticks the labels on one by one.
Creating a coffee liqueur is similar to blending a whisky. Various beans are chosen for their flavour and ability to chill out together before joining for something altogether more exciting. Mr Black uses three different types of bean to create its own balance. The Brazilian arabica bean is key, combining a traditional French roast with a lighter more contemporary roast – it is to this that the drink owes its fresh flavour. While the Ethiopian djimmah, which is a light to medium roast, supplies the fruit, toffee and rich chocolate flavours, the PNG (Papua New Guinea) has a citrus flavour, similar to orange marmalade.
Its production requires cold-extracting at very low temperatures, around 23C. The result is a less acidic brew without added flavours or preservatives. G'day.
Get your own bottle at HarveyNichols.co.uk,£39.50, TheWhiskyExchange.com £31.25
Cocktail recipes
Ingredients:
15ml Mr Black
​10ml Gin
90ml Fever Tree Tonic
Method: You already know how to make this – it's a gin and tonic, but with coffee. Pep the drink up by considering a coffee cup or lavish garnish.
30ml Mr Black
25ml Aylesbury duck vodka distilled with clotted cream
​10ml Cachaça
Honey and absinthe stirred down.
This drink was created by Peg+Patriot in east London
20ml Mr Black
​20ml gin
15ml Campari
​10ml sweet vermouth
Method: Stir with ice. Strain over fresh ice. Garnish with a twist.
"Big, bad, bitter Italian apertif made good with cold press Australian coffee liqueur."
30ml Mr Black
​30ml vodka (or dark rum or tequila)
​30ml espresso
10ml simple syrup
Method: Add ingredients and shake hard – no, harder. Double strain it. If you've got to make more than one in an evening, pre-batch your sugar and espresso.
For more information visit lovedrinks.com/brand/mr-black
Join our new commenting forum
Join thought-provoking conversations, follow other Independent readers and see their replies