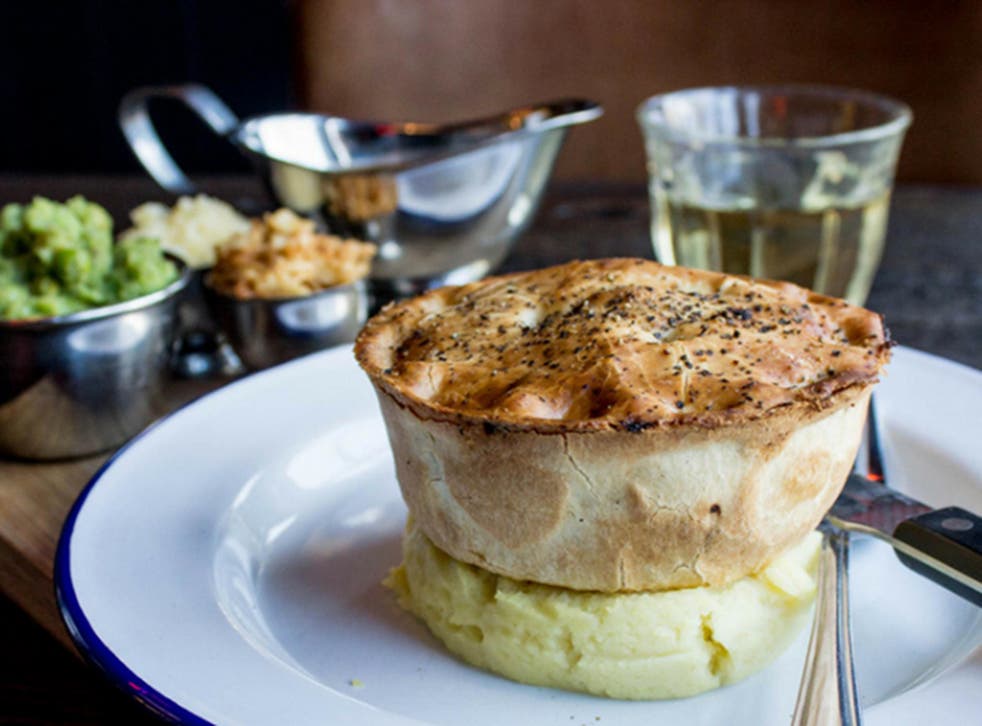 National Pie Week 2017: The best five places to celebrate across the country
Ahead of British Pie Week starting on Monday, Leighanne Bent rounds up where to get stuck in to the best of the crusty creations
Grab a knife and fork, folks. British Pie Week is taking place from the 6 - 12 March, and there's a tonne of tasty pies for you to chow down. From London to Cardiff, DesignMyNight have blown the lid on the UK's best places to celebrate this most momentous of weeks.
The Old Market Tavern - Cardiff
Some people question if a pie is really a pie if there isn't any booze in the title. If you're one of those people, you need to make your way to The Old Market Tavern during British Pie Week. They have two booze-filled pies for you to drool and lust after. Choose from slow-cooked steak with amber ale and mushrooms or the chicken, chorizo and cider pie on their menu, and get ready for a trip to pie paradise. Helping you on your way to five a day, both pies also come served with seasonal greens and honey roast carrots.
Jekyll and Hyde - Birmingham
To kick off British Pie Week, the world's leading pie blog, Pierateers, is making a special appearance at one of Birmingham's hottest hangouts. Head to Jekyll and Hyde's Gin Parlour on 6 Monday to have all of your preposterous pie questions answered by their experts, and to learn the 'seven Cs' of pie rating. If you need another reason to pop down, you can get two pies and a bottle of wine for just £21.95 on the night.
Pieminister - Manchester
Dominating the pie world since 2003, Pieminister have plenty of pastry experience under their belt; and this year they're planning on bringing Manchester to its knees with their two British Pie Week specials. The Guru is filled with lamb Dhansak curry, chana dal, spinach and chickpeas whilst The Big Cheese stars mature cheddar, onion, and a cream cheese and chive middle. And the best bit? These pies will only set you back £5, and they come with a serving of mash. Be quick to grab one though; once they're gone, they're gone.
The Windmill Mayfair - London
Selling approximately 1,400 pies per week, The Windmill Mayfair is a no-brainer if you're looking to celebrate British Pie Week in the capital. To help you make the most of the week's celebrations, they're offering 50 per cent of their potato topped and suet pastry wrapped pies with a prize. They'll be giving away hundreds of gifts to customers buying one of their pies between the 6 and 12 March. Alongside a satisfied stomach, you could be walking away with anything from a Kindle Fire to limited edition merchandise from Chivas Regal whisky.
Although the name of this Reading plot gives a nod to a somewhat sinister story of human body parts appearing in pies, you can expect nothing but brilliant forkfuls from Sweeney and Todd. This year they've decided to give a nod to British Pie Week by cooking some of their all-time favourites that are no longer on the menu. Every day will see a different pie from the past pop up; their perfectly crisp pastry will be filled with everything from liver and bacon to duck and apricot.
For more info on what's on in London, visit DesignMyNight and follow them on Instagram and Twitter; @DesignMyNight
Register for free to continue reading
Registration is a free and easy way to support our truly independent journalism
By registering, you will also enjoy limited access to Premium articles, exclusive newsletters, commenting, and virtual events with our leading journalists
Already have an account? sign in
Register for free to continue reading
Registration is a free and easy way to support our truly independent journalism
By registering, you will also enjoy limited access to Premium articles, exclusive newsletters, commenting, and virtual events with our leading journalists
Already have an account? sign in
Join our new commenting forum
Join thought-provoking conversations, follow other Independent readers and see their replies