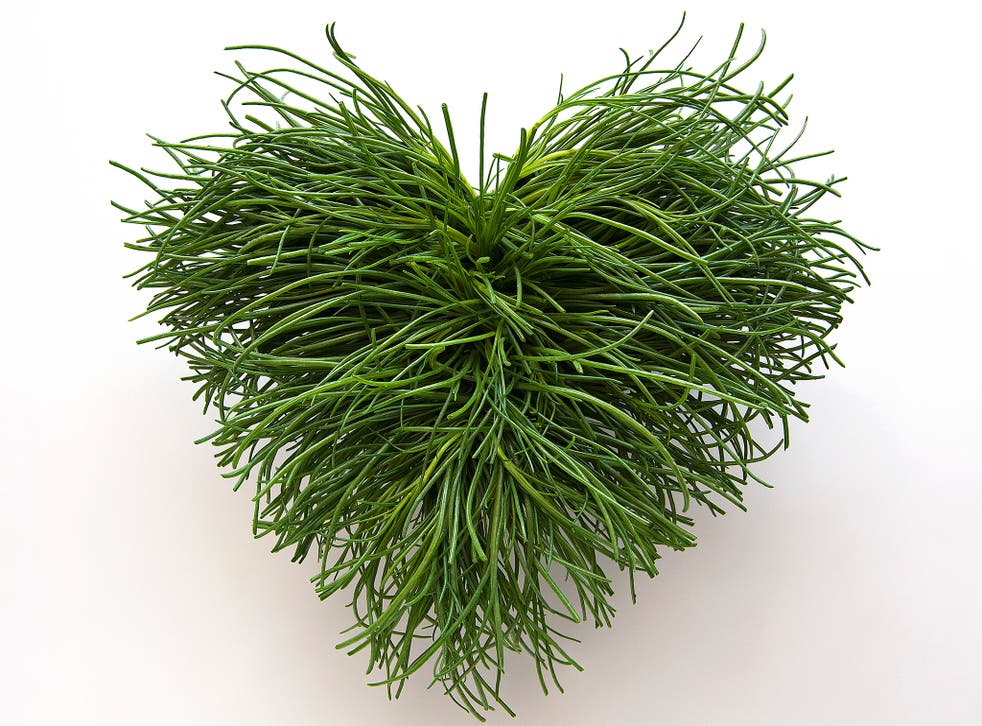 Agretti: the Italian vegetable that chefs are fighting over
Seed supplies for the prized delicacy have run out in Britain, forcing restaurateurs and allotment-keepers to grow their own stocks
The green fronds of agretti were once sought across Europe to be reduced to ashes for use in making glass. These days, the verdant Italian plant is once more in demand – in a somewhat less well-cooked state – to feature on British dinner plates.
Seed supplies for the salt-tolerant succulent prized as a delicacy in Italy have run out in Britain after it featured on television; gourmets and amateur growers rushed in to partake of its delicate mineral taste. Agretti is difficult to find in shops, too, so restaurateurs and allotment-keepers are forced to grow their own stocks.
Otherwise known as saltwort or friar's beard – or "land seaweed", in Japan – agretti can cause mini stampedes in the markets of Umbria and Lazio as Italians dash to get hold of bundles of fleshy, needle-shaped leaves – traditionally served with oil and lemon – in its short early-summer seasonal window. Now it is migrating north, and growing awareness of the plant is provoking a similar battle to obtain seed to cultivate on British soil.
Floods in central Italy last summer mean stocks of the seed, which has a shelf life of barely six months and a germination rate of about 30 per cent, are barely a 10th of normal levels.
The healthy eating trends of 2015

Show all 10
Two of the biggest UK suppliers have exhausted their supplies and remain inundated with requests for seed. They told The Independent on Sunday that even without this year's shortage, demand was outstripping supply.
Paolo Arrigo, director of Franchi Seeds of Italy, said: "We cannot keep up. We've stocked agretti seed for 15 years... but suddenly it has taken off. We're completely sold out. In the past few months it's been mentioned on a few things like MasterChef, so people are wanting to try it. But I think it's also part of a wider trend. People are bored of eating the same supermarket tomato variety... They're looking for things that are different and have a flavour of authenticity."
A Mediterranean native, agretti (Latin name Salsola soda) was first cultivated as a source of soda ash, which plays a key role in glass and soap making. Vast quantities of it were burned in Spain and Italy, until a synthetic process was discovered in the 19th century and agretti withered to become a niche peasant foodstuff in two Italian regions.
Although it is often compared to its relative, samphire, aficionados describe it as closer in taste to spinach. Frances Mayes, author of Under the Tuscan Sun, later made into a successful Hollywood film, describes it as "full of the energy of spring".
Chefs would seem to agree. Pete Wrapson, who manages the garden of Jamie Oliver (who grows agretti for his restaurant, Fifteen, and his own kitchen), said: "The name usually draws blank stares because the plant is not part of our culinary tradition. Hopefully that will start to change."
Ben Gabel, co-owner of The Real Seed Catalogue, said: "It comes down to people wanting more taste out of their vegetables. I think we are realising how wasteful the energy is that goes into growing crops in Spain, driving them to packing houses in Britain, then sending them on to supermarkets only for them to taste like sawdust."
The agretti rush, meanwhile, shows little sign of abating, with orders now being taken for seed in 2016.
Mr Arrigo said: "It's a tremendous crop. Once you get it to germinate you can't stop it. In Italy it's prized in the same manner as truffles and it's catching on here. That said, others still feel differently. In the past we've sent seed to Australia. It gets returned with a big label saying 'weed'."
Register for free to continue reading
Registration is a free and easy way to support our truly independent journalism
By registering, you will also enjoy limited access to Premium articles, exclusive newsletters, commenting, and virtual events with our leading journalists
Already have an account? sign in
Register for free to continue reading
Registration is a free and easy way to support our truly independent journalism
By registering, you will also enjoy limited access to Premium articles, exclusive newsletters, commenting, and virtual events with our leading journalists
Already have an account? sign in
Join our new commenting forum
Join thought-provoking conversations, follow other Independent readers and see their replies