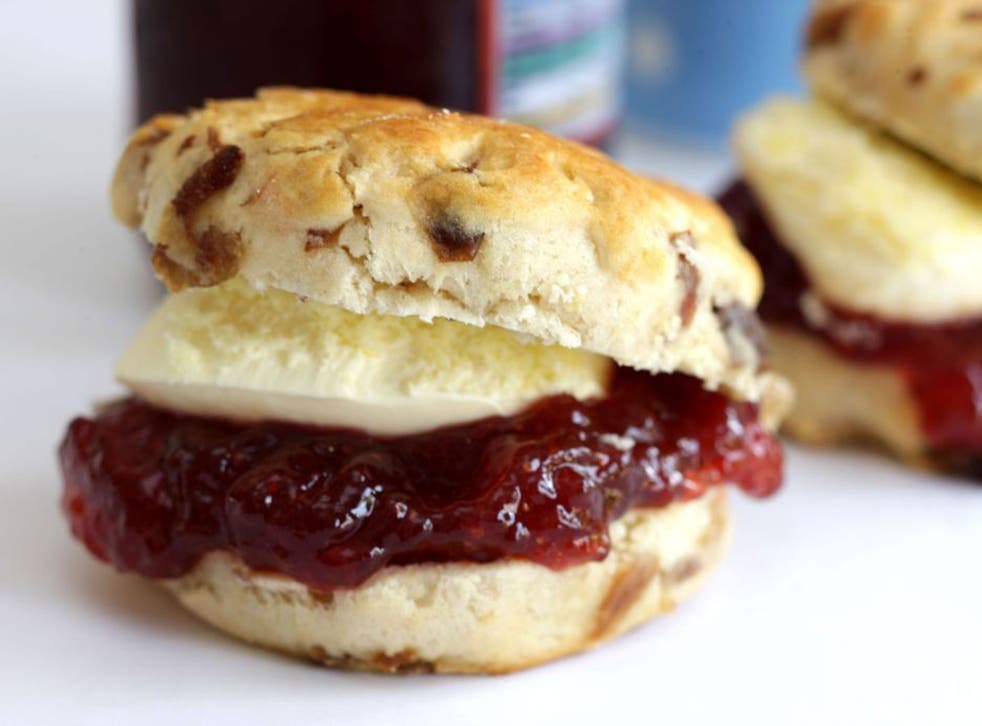 Fighting spreads in cream wars: Rival Cornish dairies argue over proposed changes to the clotted product's protected status
First came the battle over what should be spread on your scone before the other: clotted cream or jam. Now the afternoon tea staple is involved in a fight that threatens to turn sour.
The largest manufacturer of Cornish clotted cream in the UK has accused a rival business of jeopardising the heritage of the product. Rodda's, based in Redruth, Cornwall, has objected to an application put forward by nearby Trewithen Dairy to amend the criteria that allow clotted cream to be classified as a protected designation of origin (PDO) product – the status shared by Stilton cheese and Cumberland sausage.
Since it was awarded PDO status in 1998, only produce made in Cornwall with milk from Cornish cows and a fat content of at least 55 per cent, and cooked using the traditional method that allows it to form a golden crust, can be sold with a "clotted cream" label.
Trewithen Dairy filed an application this month to the Department for Environment, Food and Rural Affairs with a proposal to change the description of the tourist favourite, as well as the way clotted cream is made and how it is labelled in mass-produced items such as fudge and ice-cream.
Rodda's, which has been producing clotted cream since the 19th century, argues that these changes would tamper with the food's authenticity and has called for an urgent meeting with farming minister George Eustice, who is also a Cornish MP.
Trewithen Dairy maintains that the original document is outdated, and updating clotted cream's PDO would "recognise the history and evolution" of the modern practice of churning it into other foods, as well as being traditionally served on its own in small pots for cream teas.
Bill Clarke, managing director of Trewithen Dairy, said that the previous battle over the age-old controversy of what to spread first on a scone gave a boost to the industry, and this new skirmish could do the same. "I can only guess this [protest] is another way of getting attention to our wonderful product," he said.
Rodda's managing director, Nicholas Rodda, said: "We want to protect heritage and the authenticity of traditional foods for future generations. Consumers and shoppers rightly expect that when they see Cornish clotted cream on the label of any product that it is made in the traditional way. The role of a PDO is to protect the traditional foods. Changing it undermines the whole reason for its existence."
Mr Clarke retorted: "The PDO is currently ambiguous. It's a very common problem; there are a lot of PDO descriptions that need to be changed. It's important that PDOs are correct so that Trading Standards can genuinely audit the product. They can't do that unless the description is clear.
"It's just simply the wording of the PDO, which didn't accommodate anything to do with bulk clotted cream. There is no change; it has been going on for decades. I can reassure everybody that Cornish clotted cream is still traditional."
Cornish clotted cream is used in a variety of dishes – indeed, Rodda's has just launched clotted-cream custard – but is best known as an accompaniment to scones and jam. However, its richness lends it to savoury sauces and tarts. Indian chef Maunika Gowardhan says her mother loves eating it with fried parathas. It's not as strange as it sounds: traditionally, it was used to accompany vegetables and was an integral part of the Cornish miner's diet.
Join our new commenting forum
Join thought-provoking conversations, follow other Independent readers and see their replies