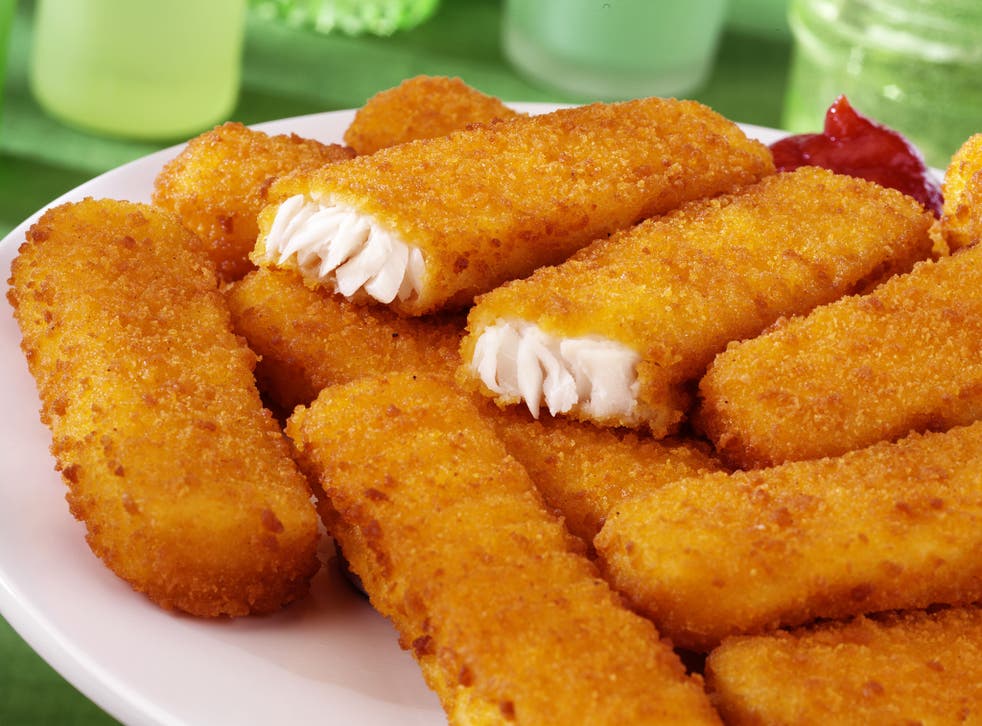 Fish fingers celebrating their 60th birthday: How a simple staple stood the test of time
A teatime staple is 60 years old next week – and it's grown more glamorous with age.  Let's give it a big hand, says Rachael Pells
Rachael Pells
Saturday 12 September 2015 21:58 Comments
From a rudimentary breaded fish stick marketed with the rather unglamorous promise of "no smell, no fuss", to a haute cuisine version consumed at the most exclusive restaurants in Mayfair, the humble fish finger has come a long way.
The first fish fingers were made by Birds Eye in 1955 at its factory in Great Yarmouth, Norfolk and the official launch took place on 26 September that year. And that means that the freezer stalwart of many a harried parent is about to celebrate its 60th birthday.
It's true that in the past couple of years sales have dipped slightly, but fish fingers remain a staple of the British diet. Figures show 28.7 million kilos of own-label and big-name brand fingers were sold in the 12 months to the end of August 2014.
There was a time when the fish finger was modest fare and the only variable was whether it was smothered in ketchup or brown sauce. Not any more. Today's finger is still a student staple, but now you can get ones with wholemeal coating, crispy batter, added omega 3, and a choice of fish.
It can also be found, gussied up and with a variety of fishy fillings, on fancy street-food trucks and on the menu at smart restaurants and almost all gastropubs.
Today's finger has even achieved the status of art: in August 2009, Banksy immortalised the humble dish at an exhibition in Bristol where two mechanical fish fingers swam valiantly around a goldfish bowl.
Top 10 foods that make Brits happy

Show all 10
John Vincent, co-founder of healthy-eating restaurant chain Leon, said he jumped at the chance to add one of the nation's favourite food items to his menu.
"When I was first imagining what fast food in heaven would be like I imagined a fresh, healthy and sustainable Filet-O-Fish that you would eat after an art class with Michaelangelo," he said. The result was Leon's Fish Finger Wrap (top left), an item that became a bestseller almost overnight.
Further up the, um, food chain, the chef Mark Hix has a gourmet van that travels the country selling a fancy version. "We've had fish fingers on the menu for years", he said. "They're one of the biggest sellers. A few years back I set up FishDogs with Kevin Gratton – and we take them to festivals and food markets all over the country."
Fish finger facts
* The traditional British fish finger was first produced in 1955, by Birds Eye in Great Yarmouth
* More than 1.5m fish fingers are eaten in Britain every day
* Around 99 per cent of the fish used in British fingers is imported from Iceland, Norway, Germany and Russia
* The largest fish finger was 6ft long, weighed 21st 5lb and was made in Germany
* An American version known as the 'fish stick' is thought to have been invented in Massachusetts
* The fish finger was invented partly to help fishermen find a market for increasingly large hauls of cod
* In the first year of production, 600 tons of fish fingers were consumed in the UK
* Cod is the traditional fish for fingers, although herring was also used in the product's trial stages
* The first fish fingers were launched at the Brighton Sales conference in 1955 and sold for 1s 8d (8p) a packet
* Fish fingers were initially sold in handmade wax-coated cartons, with each finger wrapped in a printed waxed film
* The first advertising campaign read: 'No bones, no waste, no smell, no fuss'
* Captain Birdseye, introduced in 1967, was played by John Hewer. He starred in more than 50 TV ads in seven languages
Register for free to continue reading
Registration is a free and easy way to support our truly independent journalism
By registering, you will also enjoy limited access to Premium articles, exclusive newsletters, commenting, and virtual events with our leading journalists
Already have an account? sign in
Join our new commenting forum
Join thought-provoking conversations, follow other Independent readers and see their replies