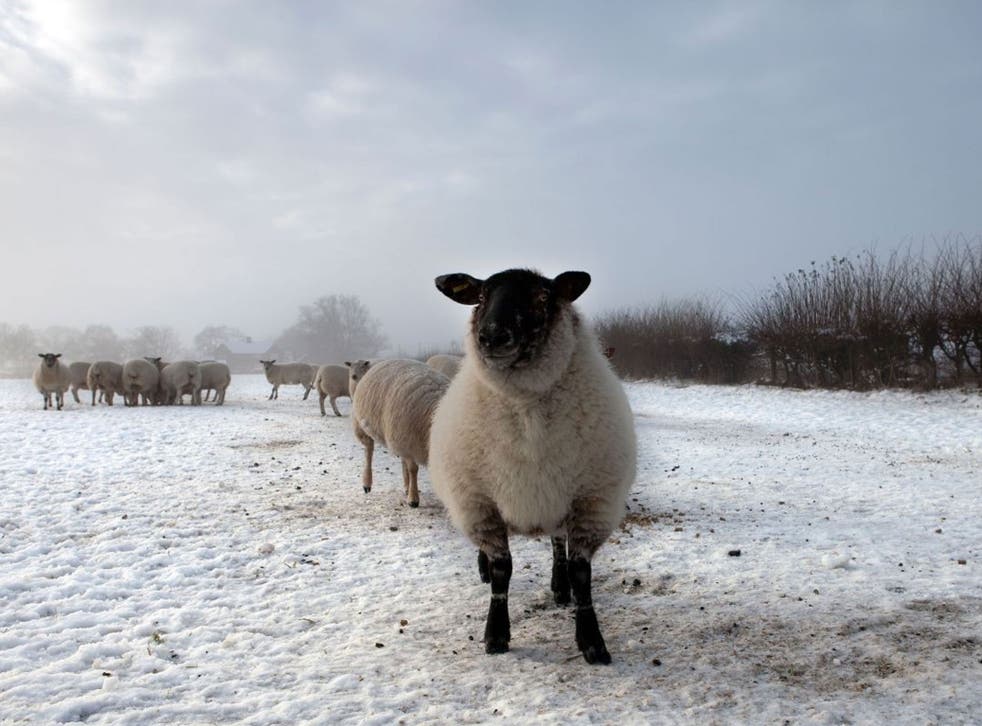 Fleeced by wool: Sheep farmers face Victorian levels of poverty, despite keeping the nation warm and fed
Wool is on a roll. Demand from Chinese consumers for British wool is sending prices skywards, and the sweater business is warming up for a further festive boost this week, when the public is invited to sport its finest Christmas jumpers for charity.
There is a boom in wool-related hobbies, with traditional crafts such as spinning and weaving enjoying the revival that knitting has seen. And an outbreak of festivals is celebrating wool products across the North of England over the past year. One, Yarndale in Skipton, North Yorkshire, attracted so many visitors earlier this year that police had to turn people away.
Despite this, many of the sheep farmers supplying the fleeces are facing Victorian levels of poverty, according to a leading agricultural charity.
Upland farmers are particularly badly affected. Will Rawling, chairman of Herdwick Sheep Breeders' Association, said he was getting about 50p a fleece. It costs him 70p to have each animal sheared; bundling and transport fees take the total cost per sheep up to about £1.50, three times what he gets back. He is not optimistic about future prices. "It is a very challenging time, but then it always has been," he said.
Just how challenging is explained by Philippa Spackman of the Royal Agricultural Benevolent Institution, a charity that has been supporting families of impoverished farmers for 153 years. From January to September this year, it gave help to 292 farmers, nearly three times as many as in the same period last year. The main areas affected have been North Yorkshire, Shropshire, Devon, Montgomeryshire, Cornwall, Somerset and Cumbria.
Help comes in the form of food vouchers, school uniforms, electricity bills and funeral expenses.
"These people are amazingly resilient, and we won't underpin a failing business, but the families need the basic support," said Ms Spackman. "They will often go without themselves rather than let the animals suffer. We are truly talking about Victorian conditions."
An upland farmer earns, on average, only £6,000 a year, which has led to a number of people leaving the industry. About 5,000 men left farming in 2012. It is estimated that 60,000 new entrants are needed in the farming industry in the next decade to ensure its sustainability. But the average age of a hill farmer in Cumbria is 58, and the opportunities for the young to learn the techniques required are diminishing. The price of meat from the sheep is also down, fat lambs fetching about £70 each.
Mr Rawling says farmers are just about breaking even. Feed prices are up 33 per cent and, like everyone, farmers are facing 9 per cent energy price rises.
Now an influential MP has urged the Government to investigate the gap between what farmers receive for fleeces and the shelf price of wool. Tim Farron, South Lakes MP and chair of the all-party parliamentary hill farming group, said: "We need to do all we can to support our farming industry, particularly in the uplands where life can be a real struggle. This support and funding could make a massive difference to upland farmers throughout Cumbria and help show the next generation that there is a real future in a career in farming."
But Mr Farron, national president of the Liberal Democrats, said that he wanted the grocery adjudicator to investigate the gap between the price the farmer received for the fleece and the shelf price, and would put down a parliamentary question for Jo Swinson, the minister for employment relations, consumer and postal affairs.
Join our new commenting forum
Join thought-provoking conversations, follow other Independent readers and see their replies