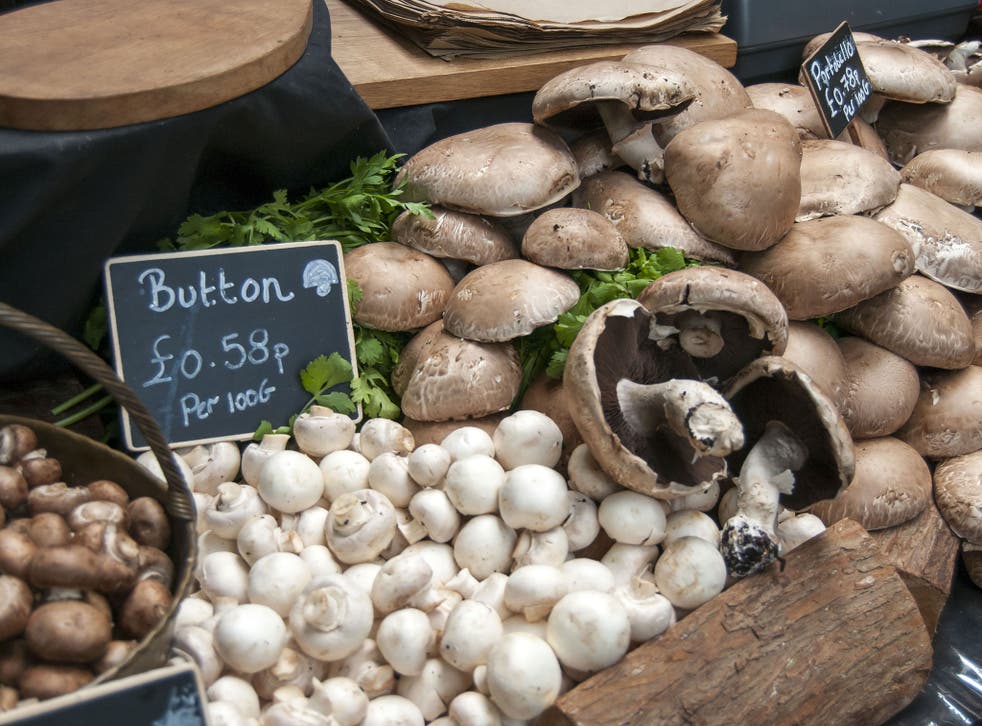 Look what's mushrooming now! Meat-free recipes and food scandals help one growing sector
Supermarkts report increase in sales of British mushrooms
Karen Attwood
Sunday 23 November 2014 01:00 Comments
The humble mushroom is big business. British shoppers' concerns about the provenance of food in the wake of recent food fraud scandals has prompted a surge in demand for home-grown mushrooms and a huge investment in the industry.
The horsemeat scandal, and growing concerns about the environmental impact of imports, have helped the British and Irish mushroom industries enjoy a renaissance, with more than £1m spent on mushrooms every day.
G's Fresh Mushrooms has invested £25m over three years in its new farm outside Ely, Cambridgeshire, while Walsh Mushrooms, based in Ireland, announced this month that it has invested £2m in a new packaging and distribution site at Evesham, in Worcestershire.
Mark & Spencer say that British mushroom sales are up 30 per cent over six months, and Tesco says it has been increasing the amount of British mushrooms sold in store.
Paul Parmenter, the senior commercial manager at Walsh Mushrooms, says that over the past two decades the UK mushroom industry was "decimated due to the push for cheaper imports" from Holland and Poland, which are the biggest European producers.
"This put a lot of growers out of business and led to consolidation in the industry," he said. "But now there is a push for UK products which is to do with provenance, the retailers' preference since 'Horsegate'."
Because of this the company feels confident enough to invest in the business. "It's an expensive investment to go into in terms of building up mushrooms so we want to ensure we are in the game going forward."
Mark Haynes, the managing director of G's Fresh Mushrooms, said: "People are nervous around imports." Although UK mushrooms make up only a third of the market at present, with the current level of investment there will be less reliance on imports, he said.
Stephen Allen, from the Mushroom Bureau, a body set up to support the industry, said: "One of the most interesting trends for us is the increase in younger consumers who are now regularly purchasing mushrooms."
Caroline Davey, a professional forager and chef said: "Britain is an exciting hub of mushrooms – from penny buns to wood blewits, it really feels as if people are ready to embrace more unusual varieties and, as a result, they are some of the most popular vegetables foraged every year."
Louisa Read, M&S's vegetable buyer, said the retailer launched more mushroom lines this year than ever before, including a vitamin D- enriched mushroom, and says their growth in popularity can be partly explained by people wanting to eat less meat: "Mushrooms have an almost meaty texture, particularly the larger flat and Portobello types, and are quite filling, and hence you don't feel meat-deprived or still hungry."
Register for free to continue reading
Registration is a free and easy way to support our truly independent journalism
By registering, you will also enjoy limited access to Premium articles, exclusive newsletters, commenting, and virtual events with our leading journalists
Already have an account? sign in
Join our new commenting forum
Join thought-provoking conversations, follow other Independent readers and see their replies