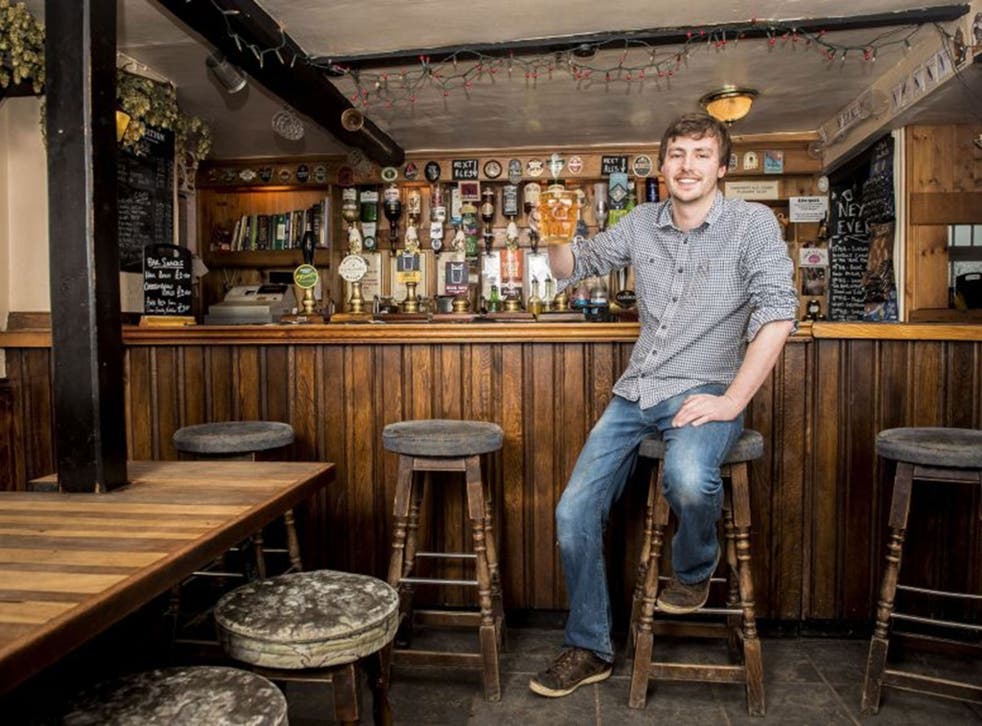 National Pub of the Year 2015: These are the UK's best watering holes
The landlord of the winning pub gave up the rat race to manage the pub with his wife
A rural drinking hole in the sleepy village of Ham, Gloucestershire, has been named National Pub of the Year – less than two years after its landlord pulled his first pint
Peter Tiley, 31, a former business analyst, quit his "five-figure salary job" in the capital, so he and his wife Claire could take over The Salutation Inn.
He told The Independent yesterday that he spent his first nine months as landlord "sleepwalking and having nightmares every night without fail," because he was so worried he might ruin the pub.
But by the couple's eleventh month in charge, their hard work paid off and the pub was voted the best in Ham, before going on to win the regional competition.
Yesterday, their efforts culminated in The Salutation Inn - fondly known by locals as The Sally - making it through to the final four for National Pub of the Year and today, being named overall National Pub of the Year.
The three other joint finalists were The Freshfield in Formby, Merseyside, The Harewood Arms in Broadbottom, Greater Manchester, and The Windmill in Sevenoaks Weald in Kent.
The Campaign for Real Ale, which decides the prize, judges pubs on criteria including atmosphere, customer service, value for money and community focus - with extra weighting given to the quality of their real ale, cider and perry.
Judges were impressed by what they called The Sally's "fantastic" beer selection as well as its welcoming, homely feel – with one judge saying "what struck me most was the welcome – as if I was being invited into a private house as a friend".
CAMRA Director Abigail Newton says that being named the overall Pub of the Year is a massive achievement for any landlord.
"What Peter and Claire have done in the short time they have been running the pub is nothing short of staggering and goes to show that passion, enthusiasm, and a real love of beer are hugely important when running a pub.
"They have hit the ground running and taken what was already a great pub and made it truly exceptional – beating off over 50,000 other landlords from across the UK," she said.
The UK's best pubs
Winner:
The Salutation Inn, Ham, Gloucestershire
Join runners up:
The Freshfield in Formby, Merseyside
The Harewood Arms in Broadbottom, Greater Manchester
The Windmill in Sevenoaks Weald in Kent
Join our new commenting forum
Join thought-provoking conversations, follow other Independent readers and see their replies