The real thing? Coca-Cola water rebuked for its health claims

Show all 3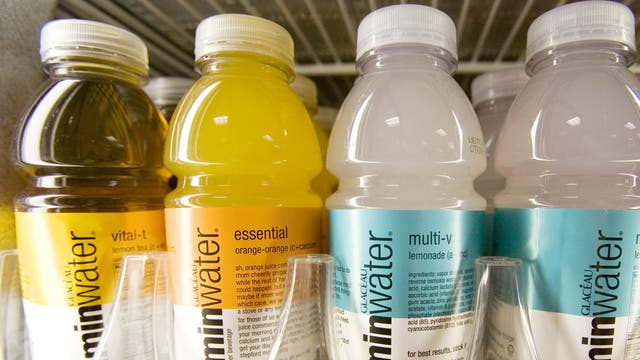 The real thing? Coca-Cola water rebuked for its health claims
Food giant's line of 'enhanced water' falls foul of critics at Children's Food Campaign
Liam O'Brien
Saturday 31 December 2011 01:00 Comments
While the more gut-unfriendly sectors of the fast food industry were content to bring us ice cream burgers and deep-fried butter, leading manufacturers attempted to highlight the health credentials of their fizzy drinks and lolly pops. But firms including Coca-Cola have been rebuked as campaigners highlight the "dodgiest" advertising claims of the year.
First on the list, compiled by the Children's Food Campaign (CFC), was Chupa Chups, a lollipop manufacturer. A colourful animation on its website suggested that its bright yellow creations were made from real lemon juice, when in fact among the sugars and flavourings, there is a juice content of just 3 per cent.
Also in the firing line was soft drinks giant Coca-Cola, which claimed its "enhanced water" range, Glaceau, used "spring water with fruit juice".
Campaigners said that only three of eight Glaceau flavours "contain any form of fruit", and those which did have fruit, used concentrate and not fresh juice. About 142 respondents to the survey claimed the branding was misleading.
Kawther Hashem of the Children's Food Campaign said: "It is unforgivable that junk food companies relentlessly target children, but also shamelessly mislead the public with half-truths."
A Coca-Cola spokeswoman said: "We have reviewed our brands section on our UK website and can confirm that one reference relating to fruit juice and Glaceau Vitamin Water is an incorrect description of the brand's ingredients. We acknowledge our error and have removed this reference from our website with immediate effect."
The survey uncovered what appeared to be one soft drink organisation's rather whimsical approach to food science. The British Soft Drinks Association (BSDA) garnered 180 votes for an educational pack espousing the notion that "variations in climate and sunshine levels" mean sugar might need to be added to "achieve desired sweetness".
However, Jill Ardagh, the director general of the BSDA, said the CFC "is misrepresenting information in our educational material which relates only to fruit juice.
"Under the law, only a tiny amount of sugar may be added to fruit juice ... in order to take account of natural variations in sweetness. The CFC should be clear about its facts before it accuses others of making erroneous claims."
Also singled out was Britvic, which attracted 161 votes for an "educational learning zone" on its website which claimed dentists said not drinking enough can lead to tooth decay.
A television advertisement for Nutella, which lionised its ingredients of hazelnut, skim milk and cocoa, took 127 votes for not mentioning the high sugar content in the product.
The Claims: What They Say
Chupa chups
Implied lollipops were made only from real lemon juice; they contain just three per cent juice
Coca-Cola
Said its Glaceau water range used fruit juice; just three of eight flavours "contain any form of fruit"
Tango
Makers Britvic did not state the effects of soft drinks on teeth, when they said lack of drinking could lead to decay
Register for free to continue reading
Registration is a free and easy way to support our truly independent journalism
By registering, you will also enjoy limited access to Premium articles, exclusive newsletters, commenting, and virtual events with our leading journalists
Already have an account? sign in
Register for free to continue reading
Registration is a free and easy way to support our truly independent journalism
By registering, you will also enjoy limited access to Premium articles, exclusive newsletters, commenting, and virtual events with our leading journalists
Already have an account? sign in
Join our new commenting forum
Join thought-provoking conversations, follow other Independent readers and see their replies