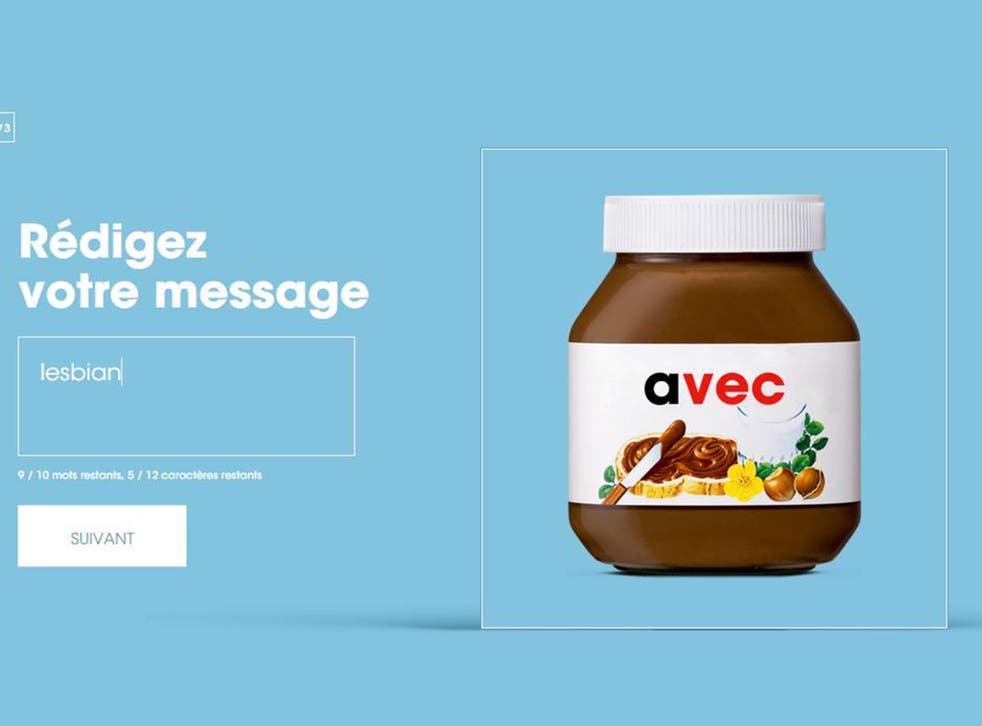 Nutella bans the words 'Muslim' and 'lesbian' from its virtual jars in French marketing campaign
Other banned words include 'massacre', 'smoking' and 'toilet'
A Nutella advertising campaign that allows people to write their own messages on a picture of its jar has come under fire for banning the words 'lesbian' and 'Jew', among others.
'Gay' also featured on a list of other banned words for its 'Say it with Nutella' campaign, including 'Muslim', 'Christian' and 'Jewish', according to Pink News.
A spokesperson for Ferrero, the company that produces Nutella, said the algorithm had been designed to ban words it believed could be used to form negative or offensive messages.
Other banned words reportedly include 'Hitler', 'genocide', 'massacre' 'smoking', 'monster' and, bizarrely, 'toilet' , according to a translation of the source code. Any words relating to drugs or sex were also banned.
The phrase 'palm oil' was also reportedly prohibited, a controversial ingredient used in Nutella.
Ferrero said in a statement: "The negative or insulting messages were directly removed from the field of possibilities, the idea being to use the jar of Nutella as a communication medium to share enthusiasm.
"Similarly, words of communities that are often subject to attacks by malicious people were removed from the proposals."
Adidas was criticised last year when it banned the word 'gay' from its customisable trainers, shortly after announcing Tom Daley as the new face of their NEO label. Lesbian was also restricted - but the word 'straight' was allowed.
A spokesperson for the clothing brand said 'straight' was permitted because it is more commonly used in other ways, rather than solely as term to describe someone's sexuality and was also less likely to be "abused or used in a derogatory context".
It added that the decision to ban words alluding to a person's sexuality in order to prevent homophobic or offensive terms on its trainers reflected "the sad reality of the society we live in".
Register for free to continue reading
Registration is a free and easy way to support our truly independent journalism
By registering, you will also enjoy limited access to Premium articles, exclusive newsletters, commenting, and virtual events with our leading journalists
Already have an account? sign in