The other Jamie on a food mission: Meet the chef teaching people in the East to love Western food

Show all 4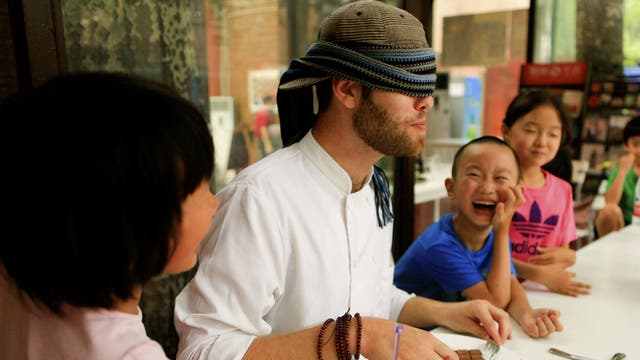 The other Jamie on a food mission: Meet the chef teaching people in the East to love Western food
Jamie Bilbow has peddled falafels from a bike in Beijing and taught the Chinese to try fish and chips, he tells Lu-Hai Liang
You've probably heard of Jamie Oliver, but to thousands of Chinese people, Jamie Bilbow is the Western chef they turn to for cooking advice. With a book coming out next year, a number of TV programmes under his belt and more to come, the 25-year-old's profile is rising fast. He even has the distinction of being one of the few foreigners to have worked in North Korea, where he taught chefs Western cuisine in the capital, Pyongyang.
There are many examples of intrepid foreigners foreigners who have found fame and fortune in the Far East, some through lucky accident. Bilbow, from the start, chased his dream. Using clever tactics, he is on his way to achieving it. One such strategy got him national media attention when he was just starting on his journey. "A friend of mine gave me a three-wheel bike," Bilbow says in a café in Beijing. "I took that and turned it into a mobile kitchen machine."
He then rode around Beijing, stopping in tourist hotspots. Calling out in fluent Mandarin, trying to attract custom in the traditional Chinese manner, he drew big crowds and eventually newspapers and TV programmes started to take notice. And all from peddling falafels to the Chinese public.
"From a business point of view, it was a great marketing exercise," he says. "My costs were low, risk was low but the exposure was high."
This was never a business, but a means to "generate buzz", something that is key to Bilbow's ambitious plans. In two years, he has built himself something approaching a media empire­ in a country he now calls home.
Born in Leamington Spa, his British parents moved to Hong Kong for work when he was a year old. "Hong Kong in the Nineties was experiencing an economic boom," he says. "It was a vibrant and buzzing city. I certainly attribute a lot of my work ethic to the surrounds I grew up in." He lived there until he was 18. "When I left for university, my biggest regret was that I hadn't learnt any form of Chinese."
He enrolled at The School of Oriental and African Studies (SOAS) in London to study Chinese and business, graduating in 2011. Cooking has been an interest since the age of six. "I spent a lot of my youth watching cooking shows. Jamie Oliver in particular was an inspiration."
On his four-year degree course, he spent a year in Beijing. This is where the opportunity to work in North Korea arose. At the time, Bilbow's father worked for the British Council in Beijing, where part of his job was overseeing projects in Pyongyang. The British and Swedish ambassadors wanted someone to train their North Korean chefs in Western cuisine. Bilbow was up for it.
Only 19 at the time, he spent a month tutoring two older North Korean women ("they took notes on everything I said"). Much of his time was spent on the embassy compound accompanied by a translator. He taught them how to cook meatballs, soups, hamburgers, pastas, pastries, a roast and to make ice cream, plus curries, samosas and Thai food. He wrote a recipe book for them that to this day remains somewhere in the secretive, Communist state.
The year spent in Beijing proved pivotal and the decision to study Chinese was an invaluable investment. His love of languages, food and engaging with people has meant he's steered away from the traditional chef's route of hard hours spent in a professional kitchen. "My father, a professor, has always instilled the importance of academia. He advised me to keep cooking as a hobby and at university develop my other passion: languages. And so I put the TV chef dream on the back burner. I did manage to refine my cooking skills doing an internship in the Marco Polo Hotel in Hong Kong."
It was during university that he resolved to be the best Chinese-speaking Western chef in China. "My first tactic was to get used to being on Chinese TV, speaking in Chinese." He entered a Mandarin speech competition that was televised and came second. Making connections with producers, he has presented a few cooking shows introducing Western food and exploring Chinese cuisine, and was the subject of a Chinese documentary aired in August.
The young chef owns a kitchen in a traditional part of Beijing (name: "Dami Chufang", which translates as "Jamie's Kitchen"), where he gives cooking classes in Western food. "It's home cooking to a high standard; classic dishes from different countries­. I like to do fusion snacks and to incorporate Chinese ingredients myself, like I do a Sichuan pepper ice cream, and Chinese-style burgers."
There are also contrasts in technique. "We tend to make a reduction to make a thicker sauce and for a stronger flavour. Whereas in China, they get the flavour first then add corn starch to thicken," he says.
His current project is a book, a Western food "Bible" (written in Chinese) that he's labouring over and is due next year. "It's about building a name. I'd like to be the go-to guy for Western cooking in China. Then in maybe five years or so, I'd like to do the reverse. Be the Chinese-food expert in the UK."
It's a kind of reverse engineering. Get experience and become famous in China, using your Chinese language skills and knowledge of Western food while learning Chinese cuisine on the side. Then come back to the UK leveraging that hard-won expertise. It's an ambitious but marvellous plan. Though while British cuisine has seen a revival on these shores, the trend has not reached China. "I am constantly having to defend the British corner," Bilbow says. "There is still a prejudice against British food. Chinese people say, 'my friend went to England and hated the food', and sometimes people think because I'm a British chef that I can't be very good."
His classes are a beginner's guide to Western food, but a lot of dishes are still alien to his Chinese students. Cooking pasta, for example, will often be a new experience: "They're often surprised because it's very simple." Bilbow likes to challenge preconceptions: "When I talk about fish and chips, they'll laugh. They think it's hilarious. Then I'll actually make it. I use fresh fish, a light batter with saffron. It goes down a storm."
Mushy peas "go down a storm", too. And fruit crumbles are definite winners. "I tell them it comes from Britain and they're like, 'Oh, it's quite nice actually'. For some reason, though, Stargazy pie is famous. They find gnocchi completely foreign, the idea of potato dumplings." Fish pies are also well received even if his students find the potato layers (a very foreign idea) highly amusing.
Bilbow has met Oliver, one of his big influences. "It was during university. He was doing a Sainsbury's advert outside SOAS. I had a little chat with him. I said I'm a chef as well. My name is Jamie as well. He said, 'You must get a lot of shit for that'. I said, "Yeah, I do". I'd love to meet him now. He is coming to China. I don't think he has as big a name as he could do in China. So I don't know if I could be of assistance..."
Join our new commenting forum
Join thought-provoking conversations, follow other Independent readers and see their replies